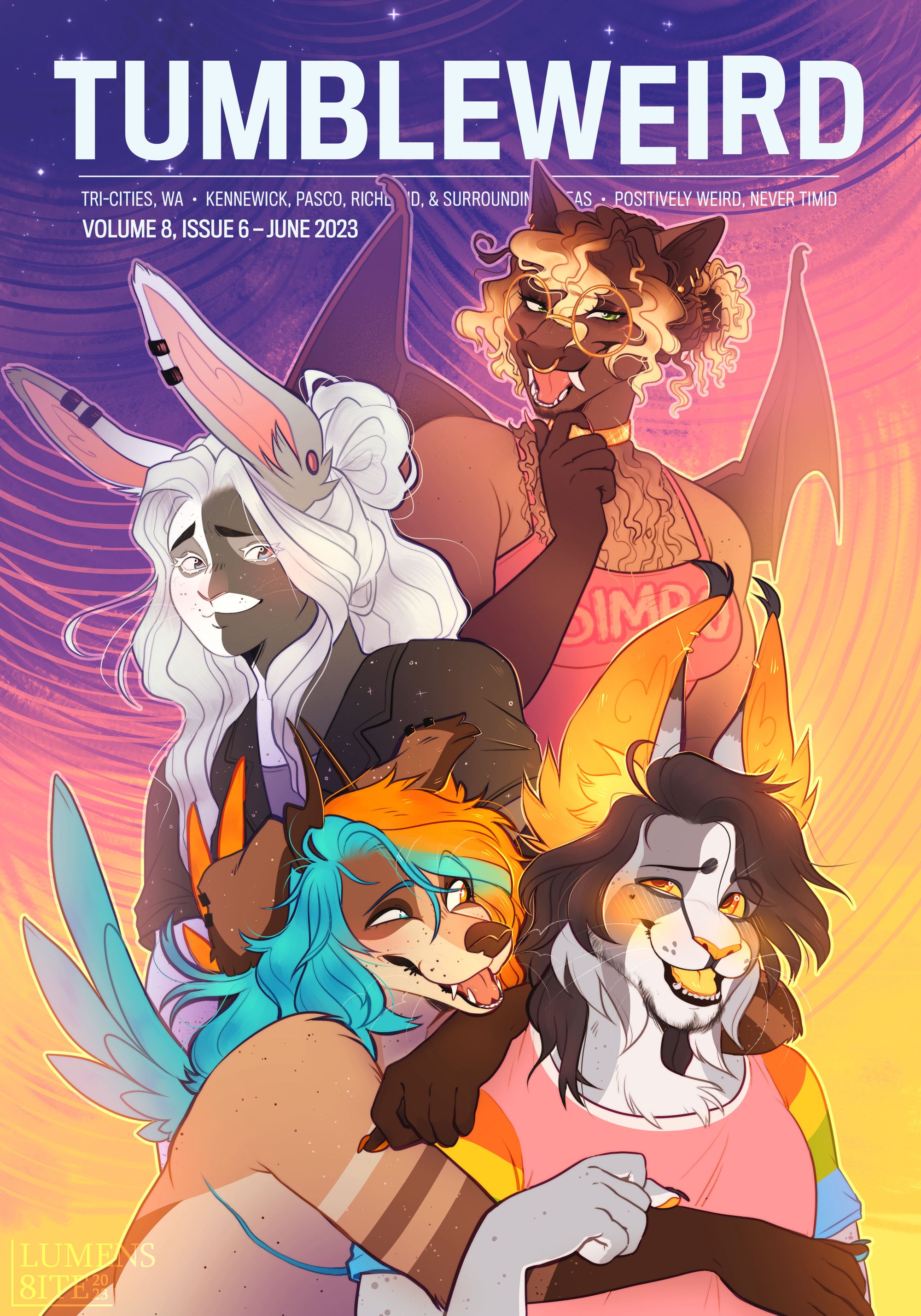 Sunbeam System by Rhidley de Léon, Something from Sunny
Instagram: @‌LUMENS8ITE
Rhidley is a Pasco-native artist that explores themes of love, identity, and
mental health.
***
Thank you to our top sponsors: Steve Lee and &yet! 🏳️‍🌈💜🏳️‍🌈
We also want to show gratitude for our $100+ sponsors: Jeremiah Griffith, Sara & Brendan Quinn, and Ted Miller; our $50 sponsors: Jeff Kissel & Casey Branson; and our $30+ sponsors: Henry & Cris, Logan Moonman, and Lucky Flowers.
Please support us on Patreon so we can keep bringing the weirdness!
You can pick up a copy of Tumbleweird from the following locations:
KENNEWICK:Dragonfire
Dragonfire
Green2Go Tri-Cities
Indaba Coffee Roasters
Lucky Flowers (one of our sponsors!)
Mid-Columbia Libraries (Keewaydin Park & Union)
Moonshot Brewing
Rockabilly Roasting
Taylored Living Magazine
PASCO:
Blylee's Natural Pet Food, Supplies and Grooming (Pet Medical Center of Pasco)
Downtown Pasco Development Authority
Mid-Columbia Libraries (East Pasco & West Pasco)
Sage Brewing
RICHLAND:
Adventures Underground and Caterpillar Cafe
Allied Arts Association: Gallery at the Park
Atomic Alchemy
The Emerald of Siam Thai Restaurant and Lounge
Empowered Health Institute
Fuse SPC
Richland Public Library
WEST RICHLAND:
Lazy River Taphouse
Mid-Columbia Libraries W. Richland