I love poetry. When poetry is spoken out loud, particularly when performed by the poet, it can be deeply impactful. I think that's why I have been a fan of Urban Poets Society from its inception. I interviewed Bryan and Daishaundra Hearne of Urban Poets Society about UPS and their upcoming event, RISE: A Juneteenth Celebration Fundraiser.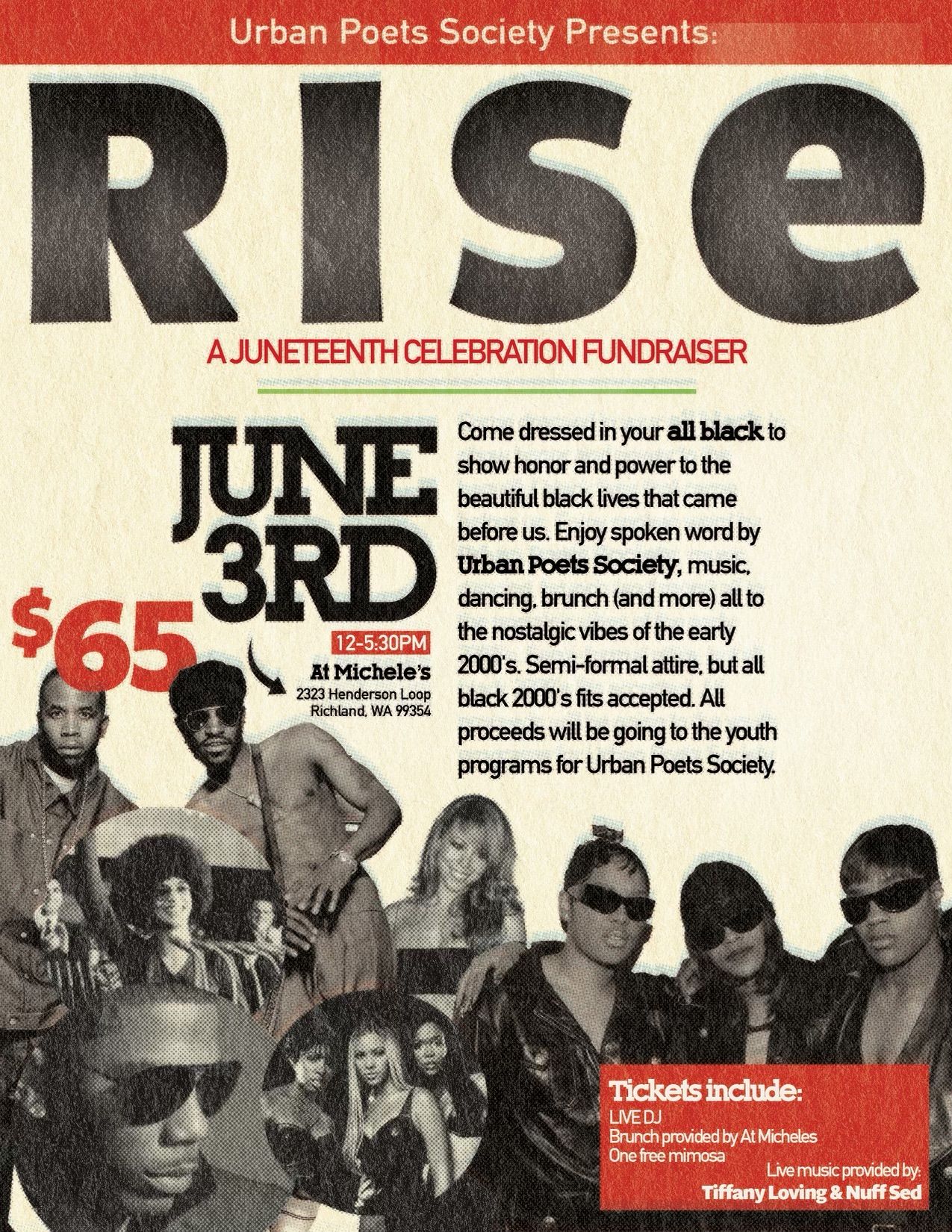 Thank you so much for taking the time to answer a few questions. I'm a huge fan of Urban Poets Society and am looking forward to RISE. Let's start by talking about Urban Poets Society. How would you describe UPS? What is its mission?
Urban Poets Society's mission is to create an organized support system — to uplift the community and the youth through mentorship and leadership programs. We believe that all mediums of art are poetry, and strive to give the voiceless a voice through their creations. We support our community and youth through scholarships, mental health support, and BIPOC-centered opportunities to use the arts to enhance their lives, experiences, and abilities.
We believe that when the community is given opportunities to contribute to their environment in a creative way, they discover how valuable and indispensable their talents are to the world around them.

Tell me a little about the history of UPS. How did it start? I know the organization was impacted by the pandemic, and you had to take a break from open mics and spoken word events. You participated in an Earth Day event this year. Have you returned to hosting regular poetry events?
Urban Poets Society was founded by Jordan Chaney and has been an organization running for the youth for over ten years here in the Tri-Cities. We met Jordan back in 2019 wanting to start a spoken word organization, and it was clear to see that we all had the same exact heart for the arts. Jordan, who was on his way out of the Tri-Cities, asked us to adopt and take over UPS, and we did, enthusiastically. But we had no idea the pandemic was on its way, and it definitely halted our progress. This is the first year that we've been able to get the ball rolling again and we're very excited. Since 2019 we've had some small art shows and a June fundraiser, but our regular poetry events will be starting up again after RISE this year, which is on June 3rd.

I remember my first spoken word experience with UPS, about eight years ago, that featured UPS youth member D. J. Willard and his poem "Glass." All of the UPS performances at that event were amazing, but "Glass" really got me. In 2016, composer Reginald Unterseher set "Glass" to music for a spoken word and song concert that featured both UPS poets and the Mid-Columbia Mastersingers. Several other youth poets performed their spoken word poems at that concert. It was such a great collaboration of organizations that you wouldn't expect to see working together. Do you have any ideas or plans for collaborations with other local art organizations?
Yes! We want to work with as many organizations as possible! Leaning into community is true liberation and we hope to build amazing and long-lasting partnerships and relationships. The youth also need to know that your art and spirit of creation doesn't just end after the age of 18, so our community partnerships are also vital to making sure that we can provide events specific to all of our age ranges. Art is the heartbeat of every city, and every place, and UPS strives to help our three cities (and beyond) to have a strong one.

UPS includes a number of mentors to work with the youth in our community. What is that like? Do you pair mentors with specific youth?
We like to run Urban Poets Society with a center on mental health and social justice. We feel it's extremely important that the youth have guidance especially in today's climate. Our adult mentors play a big part in the expansion of UPS. They will not only continue to dream and create as adults but inspire, lead, and mentor the youth through their personal lives and also in leadership. Our youth match with mentors they feel most inclined to learn from, and then go on to lead themselves.

I'm really looking forward to your upcoming event RISE: A Juneteenth Celebration Fundraiser. How did that event come about?
One of our biggest plans in the adoption of Urban Poets Society was to have a big charity art show filled with music, spoken word, and talent. We were given a nudge in 2022 that we should turn our idea into an annual fundraiser for Urban Poets Society, so with a fiscal sponsor, we made it happen. We curated and created the entire show and feeling of the event and it was exactly how we envisioned it. RISE is the integrity and purity of our vision. We hope to move forward and stay true to the art of spoken word and its history in Black culture. Each year, we plan to have a different theme for this fundraiser and really just hope to raise funds for our youth and youth programs every year. This year the theme is the early 2000s, and we are so excited to take a walk down memory lane with everyone.

Tell me more about the event itself. Tell me about the hosts, the performers, and what attendees can expect.
RISE is a Juneteenth kickoff celebration. Juneteenth is a holiday celebrated on June 19th to commemorate the day in 1865 that all enslaved Black people centered in Texas learned that they had already been freed years prior. We want to honor that by celebrating some of the culture, from Def Poetry Jam to the sounds of Erykah Badu & Common. We saw some pivotal beautiful moments in Black culture in the early 2000s. Moments that our ancestors back in 1865 had been fighting for for a long time and would have dreamed to see.
Our hosts are Gary L. Gray and Reka Robinson. Gary is an actor that graced our screens throughout our childhoods. Knowing his work in the early 2000s, you can see why we think he is a perfect fit! Reka is a well-known figure in the Tri-Cities, an ICONIC voice, and an amazing personality. Together, I'm sure the energy will be so beautiful for our event. Our guests will get to relax in the beautiful scenery of At Michele's Winery and enjoy a beautiful brunch. They will see talent from artists like Yel & Nobi, spoken word from UPS youth and mentors, dance, and so much more! After our art show, we even hope they feel inspired to get up and move a little bit to the sounds of DJ J.O. Dolla, an incomparable DJ hailing from Charleston, North Carolina by way of Brooklyn, New York.

RISE is to raise funds for youth programs. Who is eligible and how can students apply?
Our youth membership is from [ages] 15–18, and all of those ages are eligible to become a member of UPS! You can find Urban Poets Society on all social media platforms where you'll be sure to find a link to join! We look forward to having any and all youth invested in the arts, whether you've never even written a poem and want to start, or you're a pro and have been doing it for years. We're also a home to painters, rappers, and dancers. Everything is poetry.

How else can our readers support Urban Poets Society? What would you like them to know about UPS?
Support UPS by coming to our various events around the Tri-Cities. Join our team or donate to our cause. There is only one Urban Poets Society, and we hope to continue to create an inclusive and phenomenal culture that you will only find with us! Urban Poets Society is a home to all of our Tri-Cities artists, and we hope to make some beautiful creations in these cities.  

Thank you for being such a positive force in our community! I know UPS is only one of the many amazing things you do to make this town a better place for all.
---
RISE: A Juneteenth Celebration Fundraiser is on June 3, 12:00 to 5:30pm
At Michele's, 2323 Henderson Loop, Richland, WA

For tickets check out the Facebook event or go to eventbrite.com/e/rise-a-juneteenth-celebration-fundraiser-tickets-611470644157

For more information about Urban Poets Society, follow them on Facebook and Instagram.