Why advertise with Tumbleweird?
Tumbleweird offers an unmatched opportunity to reach a diverse and progressive-minded audience in the Tri-Cities via durable, sharable print media. Our publication is read and contributed to by multiple leaders in local arts, culture, community building, and civic life.
Our readership is estimated at 10,000 people per month. More than 2,000 people download Tumbleweird's PDF each month. Our publication is distributed at many communal places like coffee shops, restaurants, and bars, getting re-used and shared throughout the month.
Ad sizes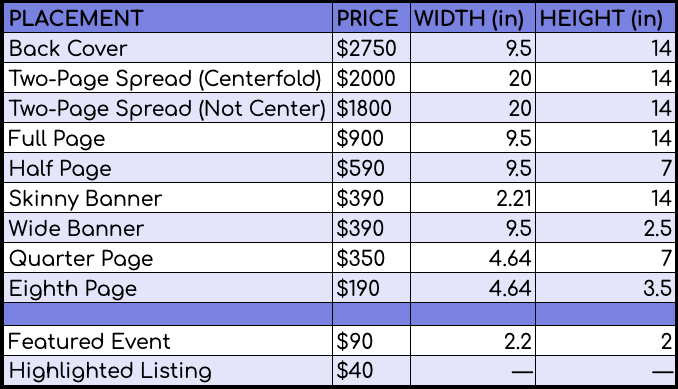 To order your ad, fill out this form: forms.gle/DvUQNkNi4wRY55H37
For events, use forms.gle/CgXtGPwCEf6HEPN87. We will also share your event on social media if you provide us with a link. In general, events are shared two weeks prior to the event date.
If you have any questions, reach out to ads@tumbleweird.org
Scroll down for TEMPLATES.
Additional ads information
Images must be 300dpi. Be aware that they will be printed in CMYK.
For full-bleed ads, include a 0.5" bleed on all sides.
Ads orders must be placed by the 15th of the month in order to appear in the next month's issue. Issues go out the week of the 20th.
More things you should know:
We offer a 10% discount for ordering 6 or more months in advance.
If you are a nonprofit or community organization with a limited (or nonexistent) ads budget, contact us at editor@tumbleweird.org and we'll see what we can work out! :)
You can request special placement: on a certain page, near and article, etc. (+50% of the base cost of the ad placement if we are able to accomodate you).
Templates
---
---
---
---
---
---
---
---
Tumbleweird depends on advertisers like you 💜
We want to work with you, so email us at contact@tumbleweird.org if you want to propose some kind of trade or discounted ad situation.