Environmental justice issues are often linked to social justice. We have to pay attention to the actions of our cities, from what training our police departments have, to what the zoning laws are. Surely everyone knows Pasco has the most People of Color in the Tri, and maybe you know Black people were not allowed to live in Richland or Kennewick. But did you know Pasco is in the middle of their Comprehensive Planning Process?
What does a Comp Plan have to do with environmental justice or racism?
Distribution of affordable housing, the location of grocery stores and jobs, access to transit or safe walking and biking routes, that's what!

Those all come into play in a Comp Plan. According to Pasco's website:

The Comprehensive Plan is a statement of goals and policies that outlines the community's vision for the future. The Plan guides city decisions on where to locate new jobs and build housing, how to improve the transportation system and where to make capital investments – from animal shelters and libraries to sidewalks and utilities for water.

Historically, a practice called redlining  prevented People of Color (POC) from getting mortgages in certain neighborhoods. While that is now technically illegal, the lack of mixed housing types in most towns forces POC and low income residents to live in the "poor" parts of town.
Pasco is primarily looking West, to grow. For the next 20 years, the main focus of growth will be on the areas between Road 68 and the Columbia River north of the interstate. The "preferred future alternative" does call for areas of higher density housing, and allows for accessory dwelling (or granny) units throughout the community. Ideally that will create more affordable housing.
But on the east end, along the river, there are plans for boutique hotels and other high-end facilities. If they are successful, and spread, one could easily imagine gentrification south of A Street. The little neighborhoods and mobile home communities could be pushed out for higher value properties with river views.
If affordable housing isn't sprinkled across the city with access to bus or bike routes, people who work in the new businesses off Road 100 will be forced to own a car. Cars cost families about $8,000 a year to maintain, money that could go toward better housing, college, or healthcare. In other words, a lack of safe, affordable housing—close to jobs or safe ways to get to work—keeps poor people poor by forcing them to own a vehicle. Lack of safe places to recreate or buy healthy groceries leads to chronic health conditions like obesity and diabetes (part of why Black people have higher rates of COVID deaths).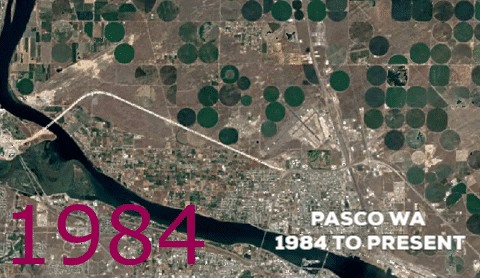 Urban planning and  racism are historically connected. It's not just issues like housing affordability. Pasco residents are exposed to more noise from the airport and highways, and are exposed to diesel dust and air pollution more than others in the Tri-Cities. How Pasco and the entire region grows can either improve or worsen those conditions.
For example, whether the city invests in trees or requires developers to include them in all new commercial and residential developments can have an enormous impact on people's health. The 2030 Agenda for Sustainable Development pledges to "provide universal access to safe, inclusive and accessible, green and public spaces, in particular, for women and children, older persons and persons with disabilities."
Why trees and green spaces? Imagine being a manual laborer or farm worker, being outside all day for your job, then coming home to a baking hot apartment. People in lower income brackets can't leave their air conditioners on all day when they're gone, and may not even be able to run them at night. Houses or apartments that are carefully shaded may be up to 10 degrees cooler. While exposed pavement holds heat well past midnight, shady neighborhoods and apartment complexes will cool down. That means people will be able to spend less money on A/C and sleep better. Getting a good night's sleep is important to heart health and job safety.
In addition, treed neighborhoods have lower asthma rates, and lower crime rates. Access to nature makes people more caring and builds community. Climate models project that by 2050 we will have as many as 14 more days each season above 100 degrees. We can fight to eradicate institutional racism and hope for more equality in 20 years. But the presence or absence of trees could actually mean the difference between life and death in poor neighborhoods.
The Comprehensive Plan is organized by topic and clearly written, you can view it here. As you read, make a list of the elements that you want to support or challenge. Think about how the underlying assumptions in the Comp Plan will impact future growth, how you move about the city, whether you can safely walk or ride bikes for errands, or if your children can get to school on their own. If you submit the comments a few weeks prior to the meeting, the council members should get them in their meeting packet. You can also comment during the meeting.
You could demand Pasco address future extreme heat, and ask what climate resilience plans they've put in place. You could request that a plan be added to build more city pools or splash parks where families can safely escape the heat. Residents could suggest that the city invest in recreation facilities that can be used as cooling centers during extreme heat events. Those cooling centers could also be equipped with high quality HEPA air handling systems to protect people from wildfire smoke.

Area residents may also want to prevent housing sprawl, to preserve the small farms north of Pasco. In the years between 2001-2016, Washington lost almost 98,000 acres of farmland. Areas zoned "low density residential" are extremely vulnerable to being converted from farmland to housing tracts. Nationwide, Latinx farm workers are becoming farm owners, putting their skills to use growing more diverse, often organic produce while supporting their families and communities.
Pasco residents may even want to explore creating a new farmland trust zoning option to protect precious farmland from subdivisions. Outside Spokane, the Green Bluff District has a remarkable 31 farms engaged in agri-tourism.
West Richland, Richland, and Kennewick recently updated their Comp Plans, so it will be a while before residents of those cities can weigh in on local plans. But as Tri-Citizens, anyone can comment on Pasco's Comp Plan. The cities are integrally connected. If oppressive zoning or unsafe streets hurt our Pasco neighbors, they hurt us all in the end.
Residents can contact Pasco City Council now to let them know your vison for Pasco's future growth. The next Council Workshop is Monday June 22. Alerting your council member to your questions and concerns as early as possible allows them to do some research and think about their decisions. There will be a meeting (online of course) of the Pasco City Council July 16, with the Comp Plan Update on the agenda.
Talking points might include:
Reinvest in existing neighborhoods and businesses such as historic downtown Pasco.
Ensure compact urban growth areas that are well designed and well furnished with amenities, encompassed by natural resource lands and a rural landscape.
Design walkable neighborhoods with the densities and a mix of zoning to support local businesses and safe streets, with bike lanes and frequent transit to promote environmental and community health and reduce traffic congestion.
Provide for a long-term capital facilities plan that will ensure that taxpayers in existing Pasco neighborhoods do not end up subsidizing the public facilities and services in these new neighborhoods.
Protect agricultural lands—do not expand the Urban Growth Area (UGA) into farmlands.
Do not plan for increased residential development around the Tri-Cities Airport (the current zoning map restricts high density - big - apartment complexes next to the airport and railroad).

---
Photo by June Admiraal