Tiffany and Mike Wills were happily awaiting the birth of their first child when they got the news. Tiffany had Hodgkin's Lymphoma. Her prognosis is good, the cancer treatable, but she has to start her chemotherapy directly after giving birth.
Tiffany shared on social media: "Although the road ahead is going to be a bit crazy, I'm so glad we've been given this time to focus on just being pregnant and getting ready for our girl before the chemo has to start."
Despite their positive outlook, Tiffany and Mike still have a long road ahead. After being induced at 38 weeks so she can start treatment that much sooner, Tiffany will have to receive 6–8 hours of chemotherapy every 2 weeks for 6 months. And Washington Paid Family Leave will run out before she is done with treatment.
"That's why I started the fundraiser," Chiarra Lohr explained. "I want Tiffany, and hopefully Mike as well, to be able to take time off work to take care of their family and go through treatment without having to worry about paying the bills. Taking care of a newborn and going through chemo is enough to deal with."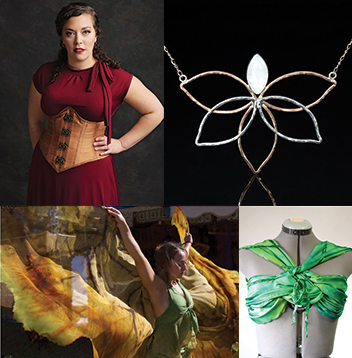 The fundraiser features hand-dyed silk, handmade jewelry, hand-sewn corsets, and other artisan and vintage items donated by Tiffany and Mike's friends. All the money raised will go directly to Tiffany. You can see the items and learn more details online at support-tiffany.square.site.
"They don't have family in the area to help," said Chiarra. "I just want them to be able to stay home, take care of Tiffany, and enjoy their first few months with their new baby girl."
---
Chiarra Lohr can be reached at contact@chiarramarie.com
See all vintage and handmade items at support-tiffany.square.site