Earth Day reminds all of us of the essential role our environment on Earth plays in sustaining human existence. Since 1970, tens of millions of people gather every April 22nd to acknowledge the wonders of the environment and call for its protection from pollution, overuse, and inadvertent impacts of accepting mitigation over restitution. Earth Day started in the United States but expanded worldwide in 1990.
In 1996, Gail Everett of Kennewick, who now works for the City of Richland, started organizing the annual Earth Month Mid-Columbia. Activities have included reuse and recycling campaigns, free saplings, alternative energy and transportation fairs, kids' video and art contests, e-vehicle and e-bike shows, and ecology education. Some of these activities were extended year-round by Go Green Tri-Cities.
In 2016, Earth Day was recognized in the Tri-Cities by a Celebration of Science, in which some of the many scientists in the Tri-Cities spoke about the essential role that science can play in mitigating environmental problems such as the ozone hole that opened the stratosphere to radiation that has induced climate change. The tradition continued until COVID-19 closed down public assemblies across the world. In 2021 and 2022, Sustainable Tri-Cities and Drive Electric organized EV events at the REACH Museum.
The 2023 Earth Day event in the Tri-Cities is a partnership including Battelle Memorial Institute, Ben Franklin Transit, Tri-Cities Chapter of Citizens Climate Education, Sustainable Tri-Cities, Life@PNNL, and the REACH Museum. Sponsorship from Battelle allows the REACH to offer free admission between 10 a.m. and 2 p.m. on April 22nd.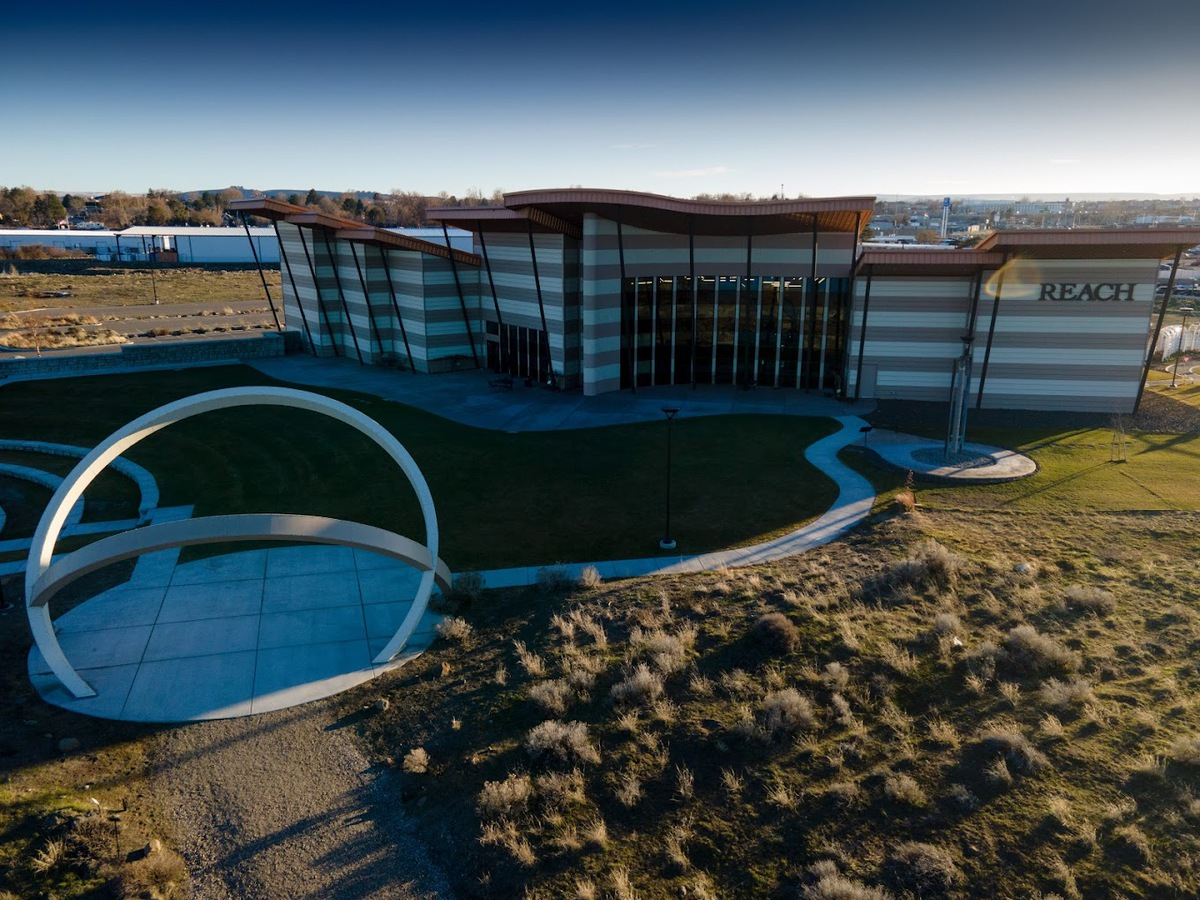 The theme will be HEALTHY PEOPLE, HAPPY PLANET. Our goals are to engage all ages (especially kids) in adopting ways of living that are healthy for themselves, for their local environment, and for the global climate, and to make the event accessible to those without motor vehicles. With grant support from WA Ecology, Ben Franklin Transit (BFT) will declare a fare-free day for April 22nd, pending approval by the BFT Board on April 13th, to ensure that people from all walks of life can attend the Earth Day celebration at the REACH. We encourage all forms of eco-friendly travel, like walking, biking, and ridesharing, so that Earth Day participants actively reduce vehicle emissions on April 22nd and beyond to support a happy planet. Parking will be limited, so extra bike racks will be available for secure bicycle parking.
We've invited local organizations with relevant missions to table at the REACH, including Pacific Northwest National Laboratory's STEM Ambassadors, who will present science demonstrations for kids, and scientists from the lab, who will lead research-based discussions called Tri-Talks.
Additional activities include a student poetry competition hosted by Urban Poets Society, games, surveys, service projects, and a climate simulator.
Taco and Thai trucks will be available to provide food, and entertainers will play Earth-care songs and traditional music.
Join us at the REACH Museum: 943 Columbia Park Trail, Richland, WA 99352 — 10 a.m. to 2 p.m. on April 22nd.
---
M. Rogers is a chemist and environmental advocate bridging science to climate action!