We use our senses to learn.
That may seem like a no-brainer, but Elizabeth Porter — along with the rest of the board of Language With the Five Senses Education — takes that idea pretty seriously. "The more senses we use, the better we are at learning language," says Porter. "And using immersion instead of translation, people are able to pick up a second language within about nine months."
Founded in 2020, Language With the Five Senses (LW5S) is an experiential language organization. A group of eight global language specialists from multiple countries makes up the board. They are a multi-lingual team that speaks five languages between them.
Right now, LW5S is focused on building a better educational ecosystem. "This goes beyond learning a language," says Porter. "We actually train a 21st Century education force. Teachers form whole generations." Porter adds that having an immersion experience outside of the U.S. will broaden the cultural responsiveness of educators.
LW5S is also a United Nations committed organization, says Porter. "We follow sustainable development goals, and believe that human rights education should be equitable."
…
The U.S. doesn't have enough teachers, and the situation is worsening. More teachers than ever are leaving the profession. Local teachers have written about this problem on a local level.

The 2021 Educator Shortage Report released by the Washington Student Achievement Council also notes another issue: "The diversity gap is of particular importance given the outcomes experienced when students of Color can see themselves reflected in their teachers. For example, according to the Learning Policy Institute (2018), when students of Color are exposed to a greater diversity of teachers, they are more likely to have improved attendance, improved academic outcomes, increased graduation rates, and are more likely to attend and be successful in college." Right now, half of the student population in Washington State are People of Color, while only 13% of the teachers are People of Color.
LW5S is helping to address some of these shortages with their undergrad program, Global Classrooms, Future Teachers, which is designed to increase the number of people of diverse backgrounds entering the teaching profession while also providing a pathway to higher education.
Global Classrooms, Future Teachers is an 18-month program in which students are placed in cohorts of up to ten undergraduates with a mentor teacher who manages all of their coursework and their programs, and supports them in their education for the entire 18 months. The educator coursework is focused on teaching diverse populations of students, and the program connects each student with international communities of teachers.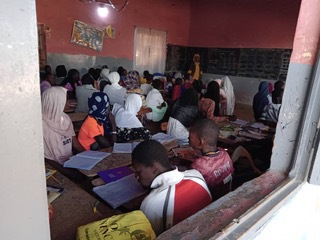 As part of the program, students study language here and also in a partner school in Senegal. While in Senegal, students also get real-world experience teaching English to Senegalese elementary school children. Upon returning to the U.S., each student will be placed in a classroom where they teach language and culture to elementary school students.
And, of course, the future teachers are learning methods of teaching language that engages the senses. "Language is human connection, and we cannot learn a language proficiently without human connection," Porter says in her TEDx Talk. "We must engage our senses in order to make those connections in the brain."
LW5S partners with Empire State University, which does a credit evaluation of students in the Future Teachers program. The average number of credits earned by students — credits which can be transferred to any college or university — is 34, but some students earn up to 93 credits. Upon returning, students will also take a STAMP test in order to obtain a Global Seal of Biliteracy. The certifications earned through the Future Teachers program are important for college and job applications, and completing the program makes students eligible for special scholarships and tuition discounts at Empire State University.
A number of Washington State teachers are in the most recent group of future teachers, including one from Richland.
…
LW5S offers other programs, as well, including a Master of Education degree in Culturally and Linguistically Diverse Education and a Bilingual Theater program. They also have individual courses for graduate credits for those students who are not looking for a full degree.
"This is what we mean by 'educational ecosystem'," says Porter. "All of these programs work together. It's a systems approach. We bring teachers from here to there, but we're also doing 'global classrooms' to pair classrooms internationally. We are helping make American teachers better, and also providing opportunities to the Senegalese."
Right now, LW5S is looking for sponsors and donations to help build a Global Learning Academy in Senegal.
"We have procured some land in the Thies region of Senegal, in the community of Diass in the village of Daga Tanguiss. On this land, we hope to build a unique school that will answer many of the problems we are currently facing in education," says Porter. The academy will be a hub for training teachers in 21st Century skills such as innovation, creativity, and bilingualism, and providing education to students worldwide. Senegalese children in the community where the school is located will be able to attend for free.
For more information on becoming a sponsor, visit ​​lw5seducation.com/sponsorships
---
Images courtesy of Elizabeth Porter and Language with the 5 Senses Education
Sara Quinn is the Editor in Chief at Tumbleweird. She makes pixel art, writes stuff, reads A TON, and plays a lot of video games ;)