This March, the Gallery at the Park presents a new 2D and 3D art exhibition from mixed media artist Rae Ella Long and ceramics artist Erin Markee.
Rae Ella Long began painting at 12 years old "out of a necessity for a form of expression and comfort." She has always found it easier to express herself through painting than to do so with words. As she grew older, she became interested in pushing the boundaries of how far she could go with her art while using the materials she had been given.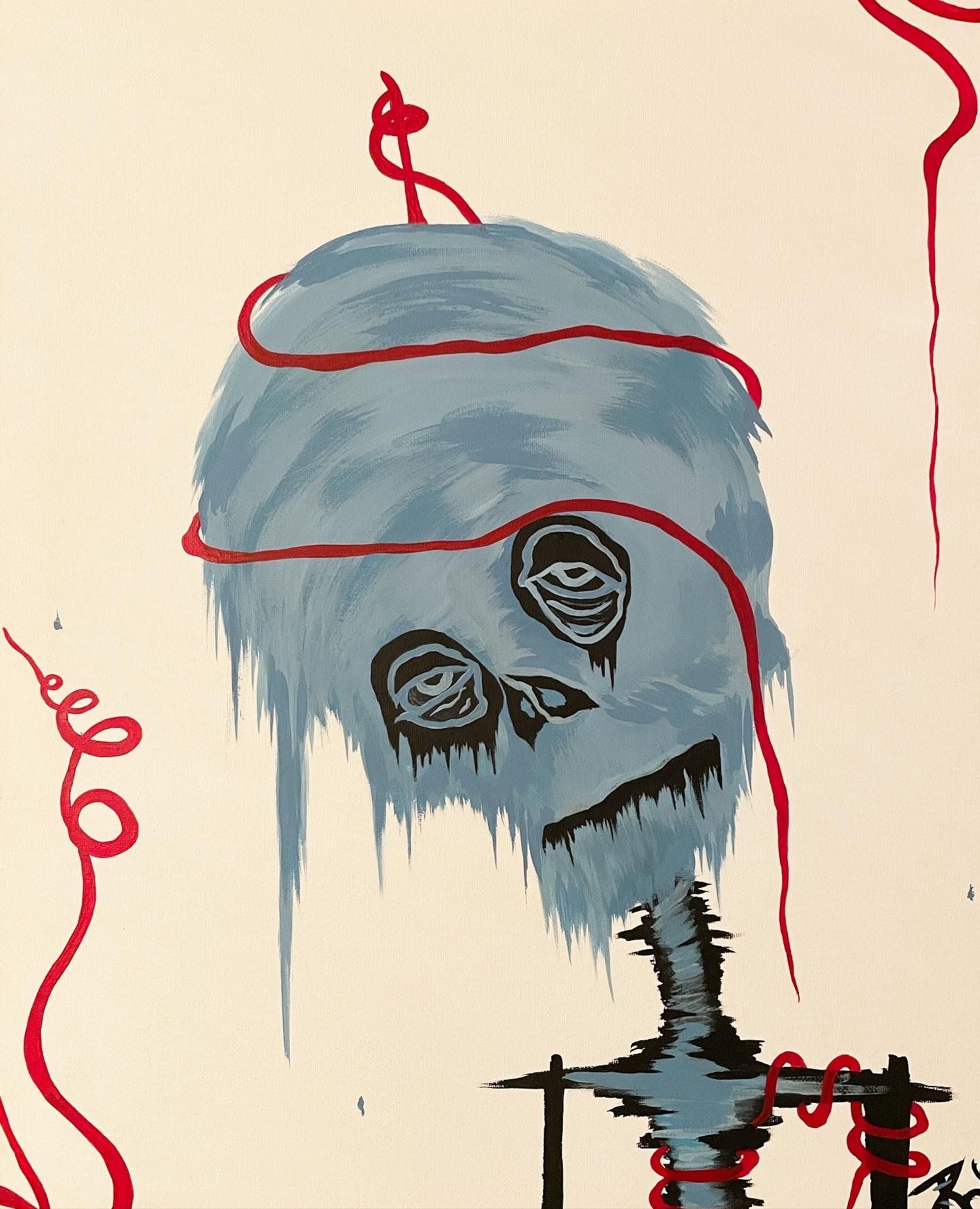 When she was in high school, Long spent time as a teacher's assistant for elementary school art classes, where she saw the teacher and students continually asking, "Why not?" about their artistic endeavors. Witnessing their incredible imagination furthered Long's notion that art should have no limitations.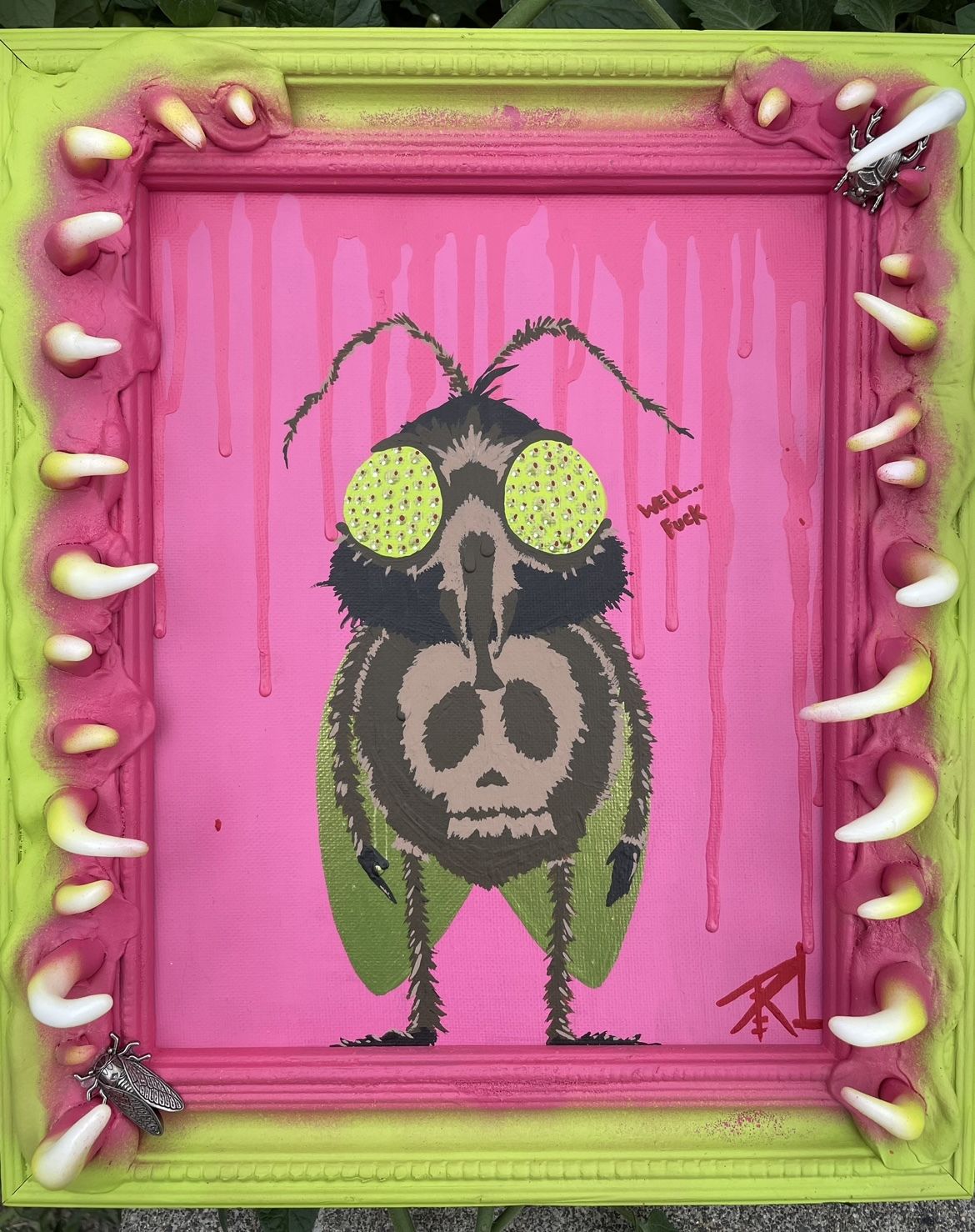 Long often adds 3D objects to 2D surfaces, creating art pieces that have a mix of textures, mediums, and repurposed objects. She draws inspiration from all things creepy and unusual, and she enjoys combining dark themes with bright colors and hidden meanings. She also has a softer side to her art, inspired by friends and family.
See more of Rae Ella Long's work on Instagram at creepy.in.color_rl and queen_of_copper23.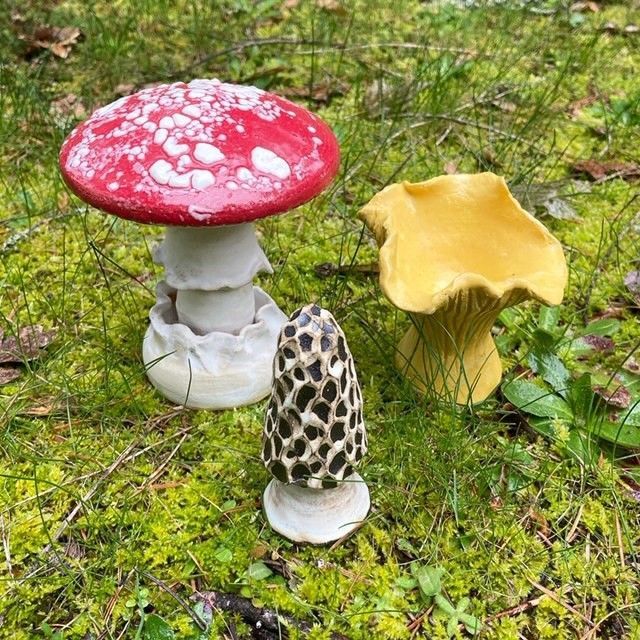 As a ceramicist, Erin Markee is attracted to working with clay because she finds the entire creative process of throwing, carving, glazing, and firing to be meditative and uplifting. She particularly focuses on how she has to use earth, water, fire, and air, referring to the union of the four elements as "extremely magical."
Some of Markee's most popular works have been her realistic mushroom sculptures. She believes fungi are an integral part of the natural world, spreading information between trees in forests and creating links between plants, trees, animals, and humans. Fungi give nutrients to plants, but they can also kill them. Folklore even tells us of mushrooms formed in circles to create portals to the spirit realms.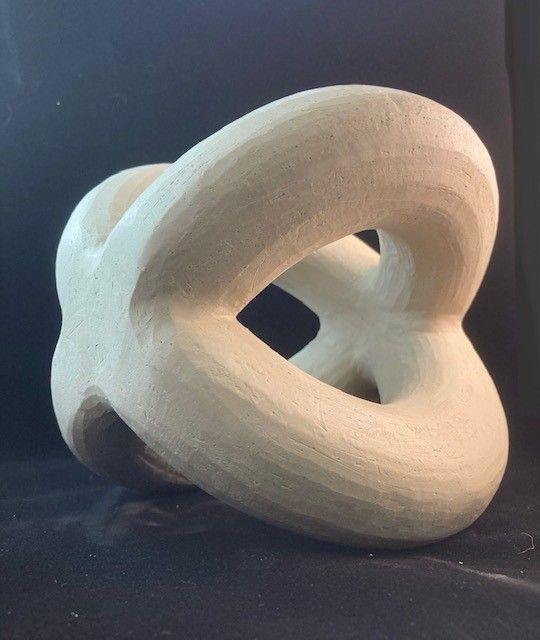 For this exhibit, Markee explores the motif of a ring, which can symbolize life cycles, the flow of nature, harmony and unity, infinity, symmetry, and balance in nature. She keeps this shape in mind as she finds inspiration in flora and fauna, drawing connections between the natural world and their cycles.
Markee also aims to create a sense of duality within her work. You should be able to see something different from each side of a piece or by turning a piece upside down, hopefully encouraging people to view their own reality from a different perspective.
This magical, imaginative exhibition from Rae Ella Long and Erin Markee will be on display at the Gallery at the Park March 1 through 26. The open house will be on Sunday, March 6, 1-3 p.m., and will feature live music from Joe Winters.
Visit the Gallery at the Park at 89 Lee Boulevard in Richland or online at galleryatthepark.org. Its hours are Tuesday through Saturday, noon to 4 p.m.
---
Main image art by Rae Ella Long.