"As an artist I want to create something that connects with an audience. It doesn't have to be in the way I think it will, but some kind of connection is important to me. I am frequently surprised by the connections someone will make about my work that I had never even considered." —Emily Richman
Can you tell us a little about your current project?
I find that my visual art projects go through distinct phases. I am primarily a performing artist, so since finishing my submission for the show I Don't Know Who Needs to Hear This I have been focusing more on performance. But being around so many artists and experiencing the current dismantling of our liberties has me thinking about future pieces.
Can you share a little bit about your technique?
Because a lot of my work is mixed media or found objects, I generally imagine it in my head but don't have a sketch or anything like that. I arrange things in numerous ways until I find something that feels aesthetically pleasing while still reflecting the message I am hoping to convey. I love a lot of white space.
Do you have any particular routines or rituals that get you into a creative headspace?
Not really. I will say that if I don't have the right music playing or if there is background noise, it can really distract me. This means that sometimes I take a while to find the right sound to get me in the right headspace and then I can dive in and be mentally unavailable for several hours.
What does creating this body of work mean to you?
An opportunity to challenge the cis, heteronormative, misogynist, puritanical ideas of what it means to be a woman. Any opportunity to challenge the 'rules' that we all are indoctrinated with is something alluring to me.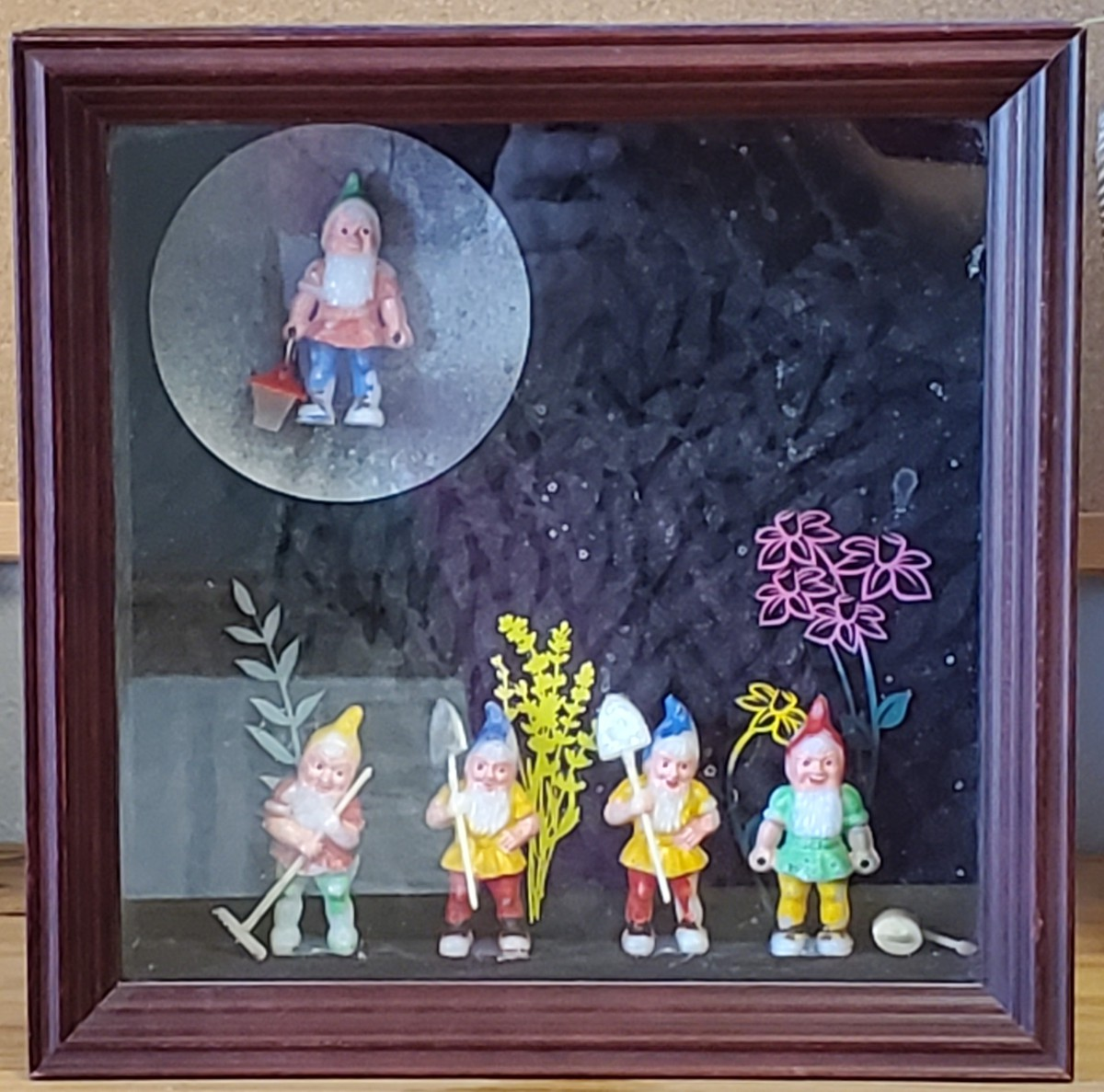 When you start a new piece, does it typically begin because an object has called to you, or do you have the objects you hope to use in mind and set out to find/collect those objects?
It's a little of both, I would say. For Are we all met?, I fell in love with the gnomes and knew I would put them in the shadow box but didn't have the official idea of what it was until I was creating it. For my series on Artifacts of Womanhood, I had initially created the birth control piece many years ago because I liked it aesthetically. The rest of the pieces were conceived by thinking about what other 'artifacts' one might associate with womanhood, and I collected them to create the series.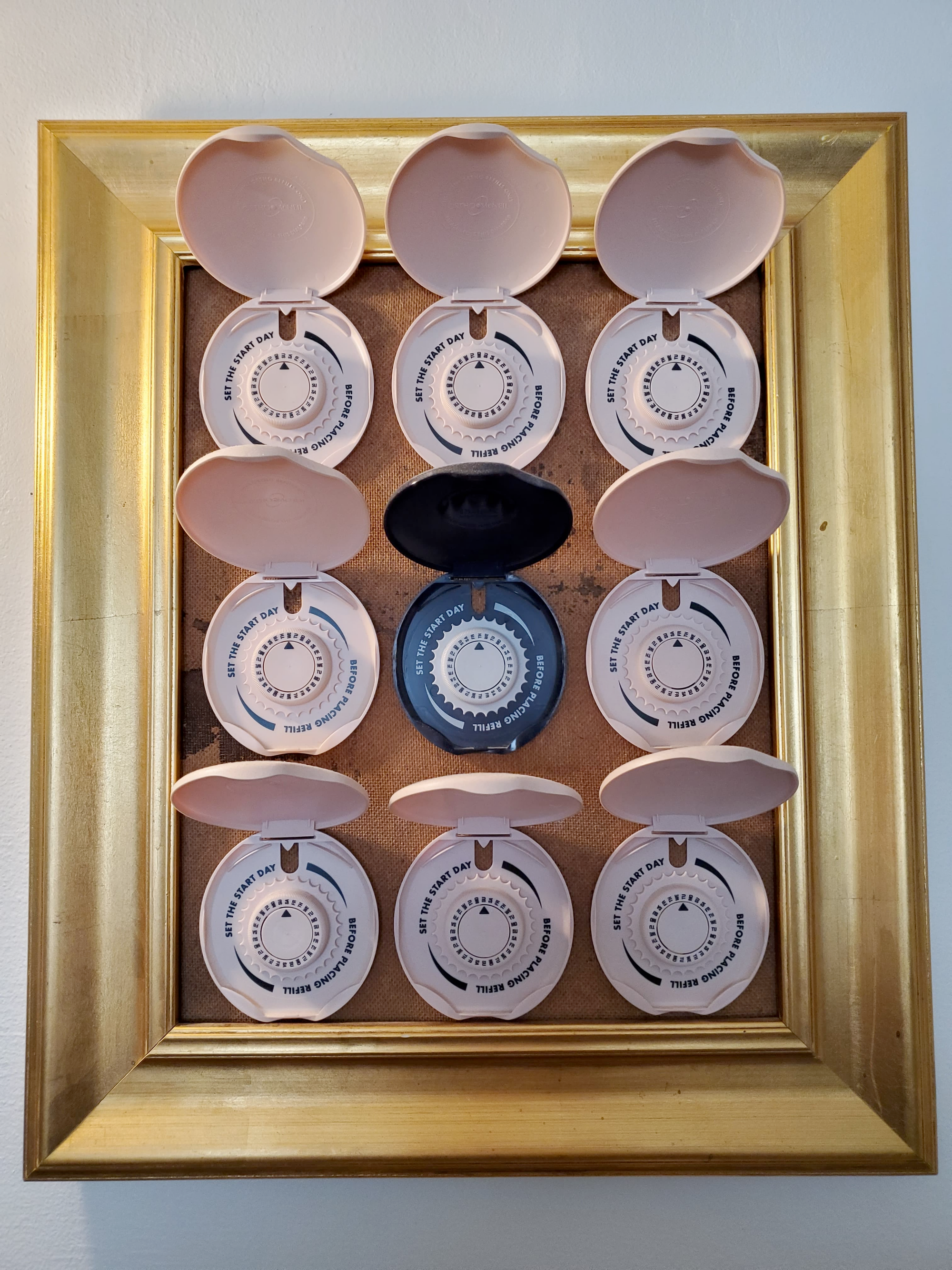 What inspires you?
Vulnerability. Perseverance. Growth. Connection. Ah-Ha moments.
I LOVE that. Can you share an Ah-Ha moment that was particularly inspiring for you?
The first time I showed my birth control piece and talked with people at the show, there were so many strong connections that others made to their own experience with birth control and what it means to be someone who uses it. It was a real Ah-Ha for me because up until that point, I had honestly just enjoyed it aesthetically, and as something that felt a little bit provocative given the materials. Those conversations are what led me to create the whole series. I saw it in a whole new light.
How have personal challenges impacted your work?
My awareness of the experience of marginalization across diverse experiences has come directly from mine as a fat woman. I think this impacts my work because I want to, as much as possible, have people feel seen through my work. Even if it's just a tiny spark of "Oh, I've felt that way." I want to create things that would have made me feel more connected when I was coming up.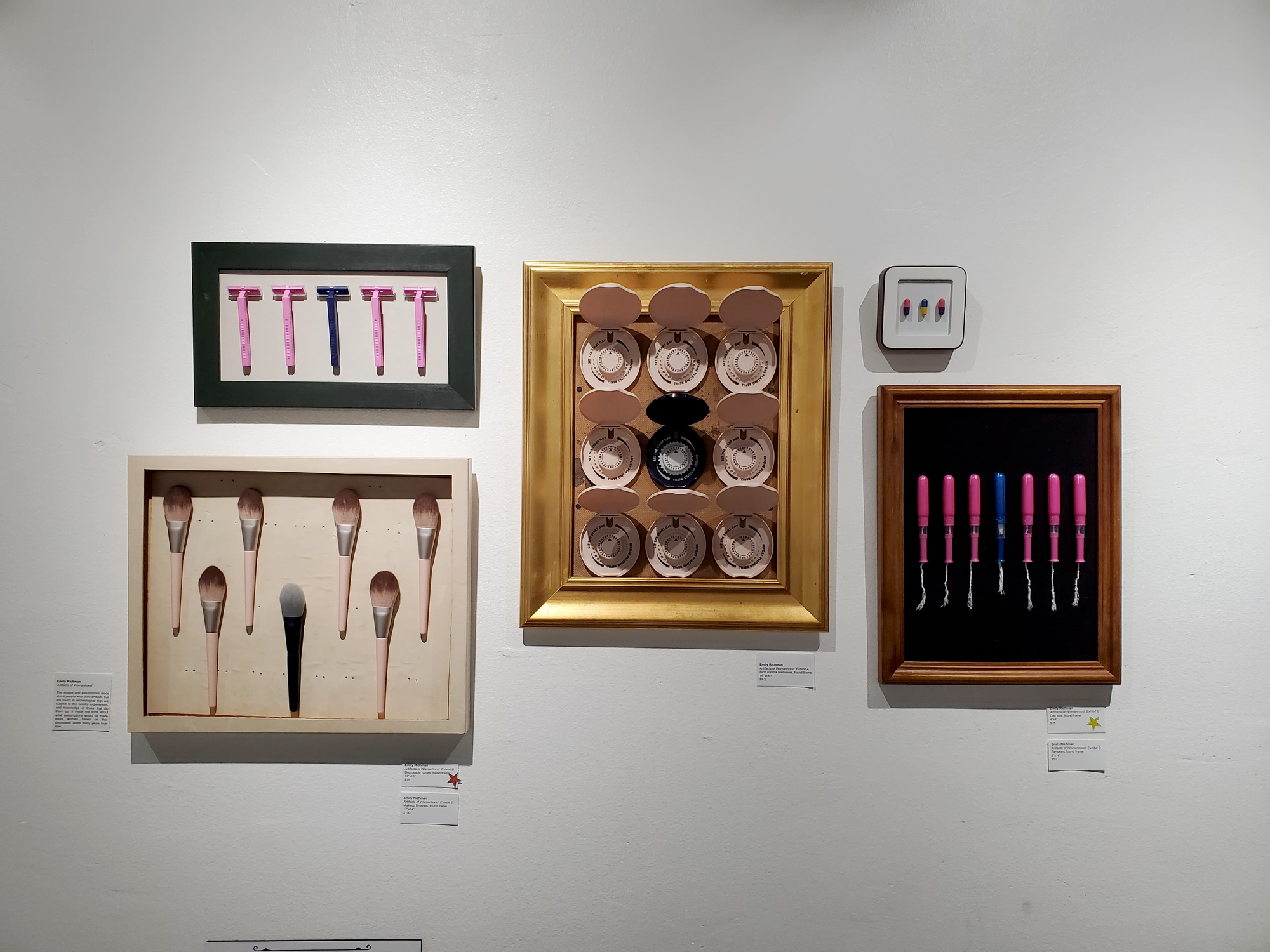 This is really powerful; it is a great reminder of why representation matters. Can you share a moment when a piece of artwork made you feel seen?
Because I'm a performing artist first, seeing myself represented in TV, film, and on stage have been the most meaningful experiences. The show Shrill showed very plainly the experience of being a fat woman in public and how your body becomes public property for people to comment on. The difference, though, was this time it showed the reality of how condescending and dehumanizing it is rather than making the commenter some kind of hero.
Dietland was the first time I felt my anger and pain at being marginalized for my body reflected on a screen. Rutherford Falls presents a fat, indigenous woman as a main character who ends up in a romance with a thin, white, attractive man. It was the first time I had seen that pairing portrayed in a way that wasn't a joke. Movies can be harder, though. Fat suits are still widely used in film rather than casting actual fat actors. I'm sure this has been done in television. I'm just not as acutely aware. In the Dreamhouse by Carmen Maria Machado made me feel very seen as a domestic violence survivor, which is something else we normally hide away and don't talk about.
Can you describe your artistic philosophy?
The definition of 'art' is debatable, sure, but each person knows what stirs them and they decide what art is to them. For me personally, art is something that sparks a reaction from me. Sometimes that spark is a smirk, and sometimes it's intense weeping, and that's very cool.
Yes! Who are some artists that typically elicit that reaction or feeling for you?
There is an illustrator called Tara O'Brien who creates really fun and beautiful characters, many of them fat, many of them doing active things like swimming. I love their work. I am lucky to know a bunch of local visual artists and all of their work regularly sparks something for me. I feel very moved by many comedians. It's such a great form for social commentary, and that always gets me thinking — Maria Bamford, Chris Gethard, Tig Notaro, Sofie Hagen, Hari Kondabolu, Issa Rae.
What does being an artist mean to you?
For me personally, being an artist means that I've included creativity and art into my everyday life. Essentially, calling myself an artist means that I'm acknowledging that the lifestyle I choose includes art in some manner every day. It also feels like it means being acknowledged for something that has always felt natural for me, which is creating things and playing make-believe.
How do you think art has the potential to effect change?
If you think of art as a delivery method for challenging ideas and experiences and thought paradigms that we may never have embarked on, then it's an extremely effective way to promote change. One of the things I always find so fascinating is that many people do not want to be lectured to or even taught ideas that challenge their preconceived notions of how the world is, but they will sit in a comedy club for an hour and a half. That means that in that moment, comedy is an incredible way to introduce new ideas, and also, it's a way to do so while disarming them with humor. I think this is true for most art forms that exist, and if we can find the way to harness that, there can be significant change on both an individual level and for the masses.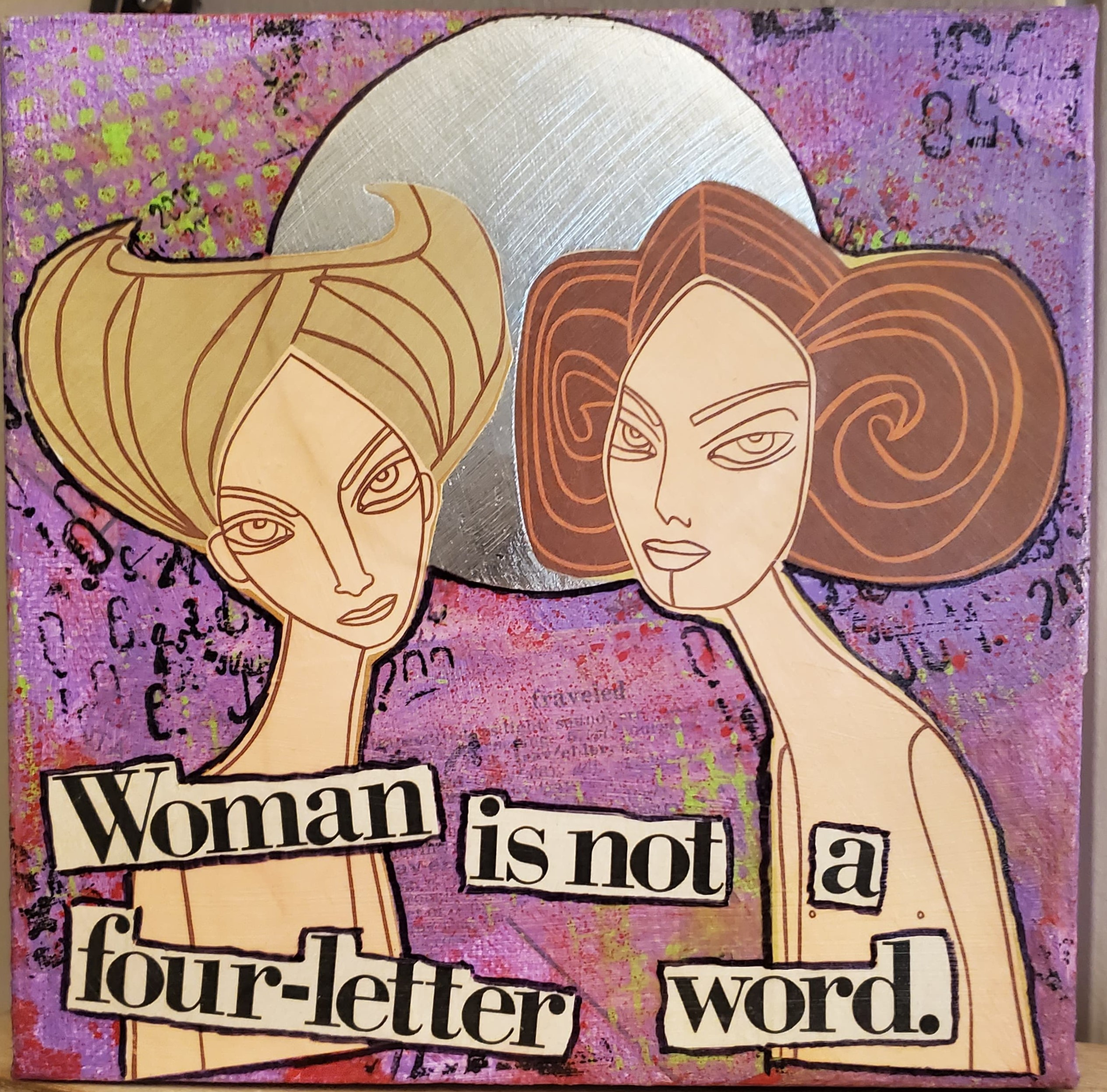 How can our community better support artists?
Attend art events — both visual art and performance art — and support monetarily those artists that you're able. I host a free monthly open mic night for standup comedy, and we regularly have only a small handful of people. But one of the ways that comics work out their material is to perform it over and over again, and coming to just watch open mic and laugh at those jokes could make a real difference for those artists. I've also found several pieces at various art shows around town that are not extremely expensive, and I was able to get my own art collection started with pieces that cost me $25 or $50. I recognize that's not within everyone's budget, but if you have the ability to do so and you see a piece that you like at an art show, please buy it. It can make a world of difference for that artist to know that their work is valued and sought after.
What would you like to see from the art scene in the Tri-Cities?
There are two things that I think about a lot. An all fat actor theatre company and an art show of pieces by fat artists. I'm obviously biased, but seeing fat people celebrated through art would be a really incredible thing.
---
Ashleigh Rogers is the Creative Director at DrewBoy Creative.
She is an artist, art instructor, and facilitator in Tri-Cities, Washington. Her work explores the themes of connection and intergenerational stories through experimentation in painting, photography, installation, and sculpture. Ashleigh is passionately dedicated to facilitating accessible arts programming in her community.
Website: ashleighrogersart.com Facebook: fb.com/AshleighRogersArt Instagram: ashleigh.a.rogers