I started painting because my neurologist told me I needed to find ways to relax, in the hope that doing so would allow us to decrease the extreme debilitating effects of my migraines. My previous artistic expressions had been in basically every form except painting or drawing. Anything I'd tried to do with a pencil or paintbrush looked like crap. I had ideas, but what was in my head never translated into an acceptable outcome. Several decades of brain disease later, I knew I would make crap, plus lose use of my hand and arm for the effort, thanks to paroxysmal dyskinesia.
Knowing that you are incapable of following the understood rules, and having to make up your own, is very liberating. I got to discover a new way to do something that had been around for a millennium. I let myself have fun and experiment. I blew on the paint, scratched it, poured it, and danced around with the canvas so gravity could do the work. I let myself play.
It was when I decided to illustrate one of my activism poems that I hooked into something deeper within myself. The problem with going deeper is that we can't always control what may emerge. Many of the pictures that I made, I liked. However, there were a few paintings that I didn't want others to see, and I didn't know what to do with them. The images had come from me. The flavors of the colors, the painting methods used, how the supplies were obtained (using money from a job I hold in defiance of expectations) — all were glimpses of parts of me.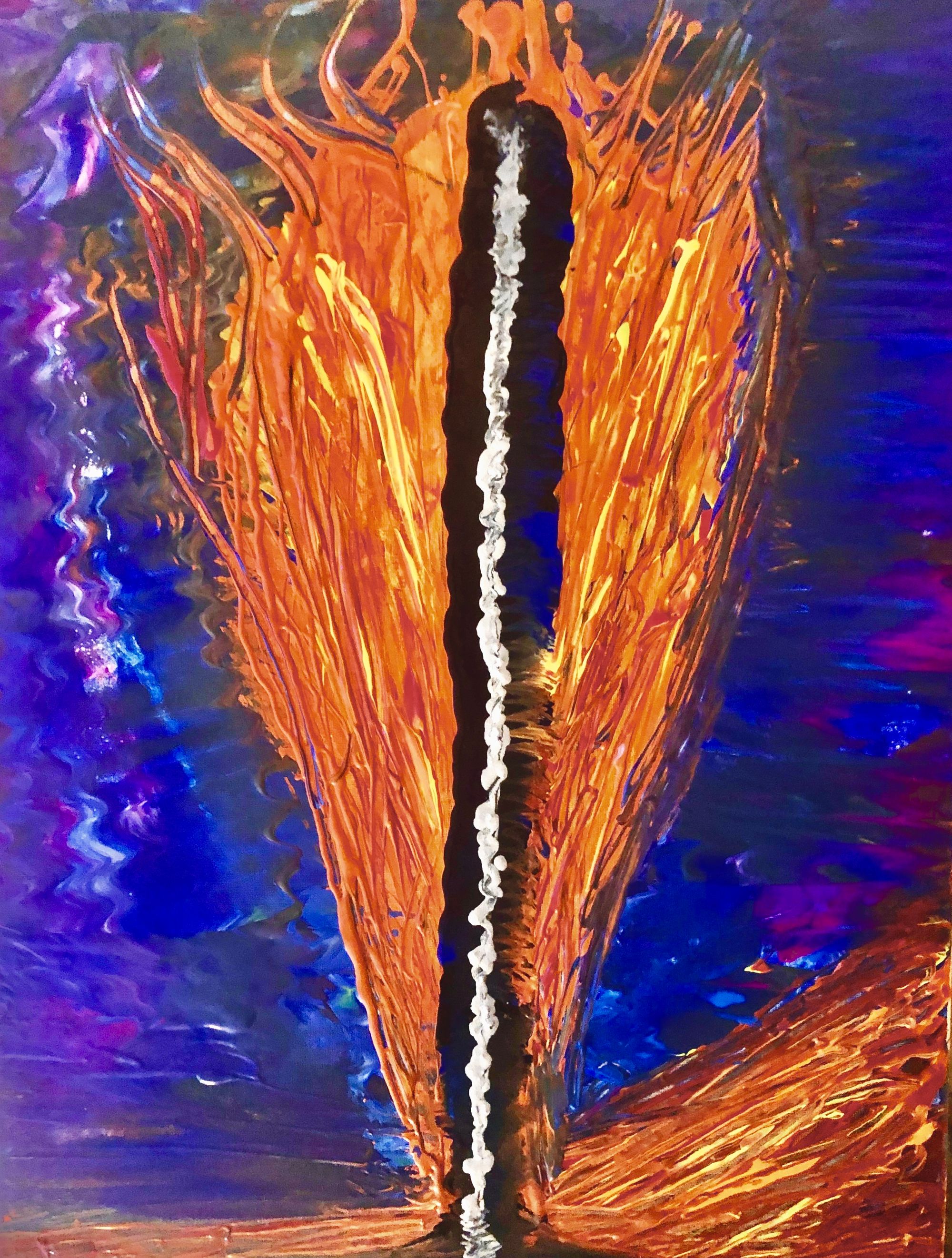 I didn't want to hang the pictures up, but throwing them in the trash felt like lying. I couldn't paint over them, because the paint was so thick that the image I laid over the top would be just a thin disguise over what was obviously beneath the surface.
So I looked at the pictures that I didn't like until I found the joyful parts of them that were worth keeping. I cut away all of the clutter surrounding these bits, until what was left from the ugly paintings were the building blocks for something entirely new, something surprising, something that made me happy when I shared it. Within the paintings, I found flowers. Not just flowers, but painting flowers. I can't force them to be flowers or paintings, but I can let these reflections of myself bloom in their own best way, and be joyful in that.
---
Nancy is a civil rights activist in Eastern Oregon and Eastern Washington. Due to progressive paralysis from a lifelong neurodegenerative disease, they create art using unconventional materials such as scalpels, prescription bottles, and syringes.