It was only after they filed an objection to an optional fourth grade reading assignment that Reverend Jane Schmoetzer, Rector at All Saints' Episcopal Church in Richland, learned of the existence of a local chapter of Moms for Liberty.
At the July 12 Richland School District board meeting, members of Moms for Liberty Benton County challenged a short story called Adventure in El Yunque by Christopher Rodriguez about a girl named Ana hiking in a rainforest with her family on her birthday. The Moms for Liberty group takes issue with the fact that Ana's parents are both dads.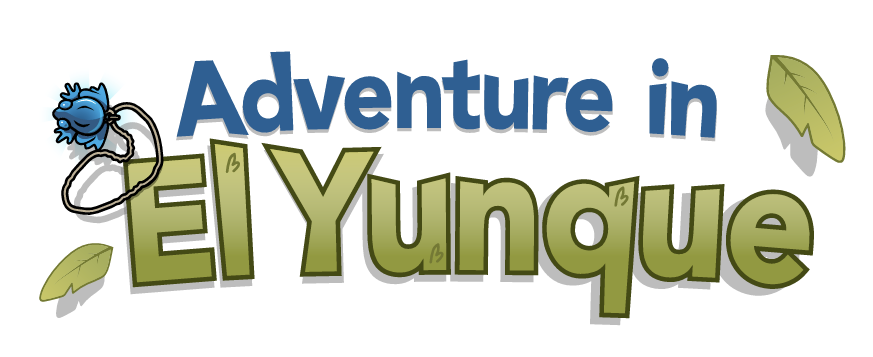 Schmoetzer said that banning this book would be unreasonable, given that many parents in the school district are not of the same persuasion as the Moms for Liberty group.
"I have kids in my church that go to Richland schools," said Schmoetzer. "And as the grandmother of a child at Enterprise Middle School, and two more who will be in the school district in a couple of years, I don't feel it is acceptable for another parent to limit what our kids are exposed to and challenged by.
If we remove things from the curriculum that we find objectionable, because we think they're not appropriate for our children, or that it's something that somehow threatens our value system, then that educates the children in our community in such a way that they fit into our value system," said Schmoetzer. "We would deny them the opportunity to become critical thinkers. The only way that their minds grow and they become strong and vital, and rightly critical thinkers, is to have ideas come at them that they aren't expecting and learn how to cope with them." 1
So Schmoetzer decided she had to speak out.
And she was delighted that she was not the only one to speak at the school board meeting. 2
Zoe Smith, an RSD constituent and Hanford High graduate, was the first speaker of the evening:
"There is nothing inappropriate in the story. There is nothing inappropriate about loving caretakers taking a special birthday hike with their children, be it two dads, two moms, a mom and a dad, just one dad, or just one mom. To say otherwise is just blatant homophobia.
There are children with two moms and two dads in RSD classrooms. Not just children with gay parents, but children with divorced parents…. Having a short story like this available to children allows them to feel respected and supported and aligns RSD classrooms with its core values. Students like my mom, students like me, and students like my future children deserve to be seen and respected and loved in the Richland School District. I implore you to shut down this parent's obvious bigotry."
Reverend Schmoetzer spoke next, saying in part:
I want our children to grow to be strong. I want them to be courageous, critical thinkers. I want them to learn to hold fast to what they believe is right and true; and when they discover they are wrong, I want them to learn better and do better. They cannot do those things unless they are challenged.
If a parent somehow feels threatened by an idea and wishes to protect her child from being exposed to it, that is her prerogative. But she should not have the right to prevent my granddaughter from moving beyond her own limits.
Reflecting on the board meeting, Schmoetzer added:
"I think banning the materials that were discussed at the meeting is unfair. I mean, there was one line in one paragraph about families going on a hike where they identified a child with two dads. And that was all. There was no discussion about why this particular child had two fathers; it might have been a same-sex marriage, it might have been a parent / step-parent situation, it might have been a lot of things. But to simply identify a child having something other than a traditional nuclear family — with mother and father and children in residence together — as something that is not acknowledged in their literature paints it as something shameful.
The kids in our schools come from a wide variety of family structures. I come at this not only as a priest and grandmother but as an adoptive parent. I have two children, one by birth and one by adoption. There is no reason for either of those children to be ashamed of the ways they became part of our family. That's not okay — to shame a child because of the way his or her or their families are formed. That is unacceptable to me. And that's why I had to speak up."
After Schmoetzer sat down, other community members, teachers, and parents spoke up about the hatred and anti-LGBTQ sentiment fomenting in RSD.
Darcy Brightman called out Semi Bird specifically for having Moms for Liberty in his booth collecting signatures against the LGBTQ community, and for supporting anti-trans legislation. Bird appears to be capitalizing on the outrage generated by Moms for Liberty to further his ambitions for the governorship. Brightman said:
"I don't understand why it's on the agenda today. Like the two speakers prior, we have families that identify as LGBTQIA in our community. They're not going away. I have had same-sex families in my classroom, and they're just as loving and affirming as heterosexual cisgendered families."
A recent RSD graduate named Mae Bolling spoke about being queer and trans in Richland, and how having representation in their learning environment would have made a positive impact.
"If the Richland school district truly believes that students learn best when they feel safe and secure, and that students learn best through relationships built on compassion and respect and a supportive learning environment, and that they want to meet all students' needs, then that means the RSD community needs to firmly shut down this appeal. Queer kids and kids with LGBTQ+ families deserve to be respected."
Then Shelly Burt, one of the moderators of Moms for Liberty Benton County, got up to say that parents should be able to opt out of curriculum with "controversial topics." Tellingly, her post on Facebook about Adventure in El Yunque reads: "Richland parents, here is the response from your IMC [Instructional Materials Committee] from my complaint about this story about a kid's two dads…. Just telling parents to opt out because it's supplemental is not an adequate response."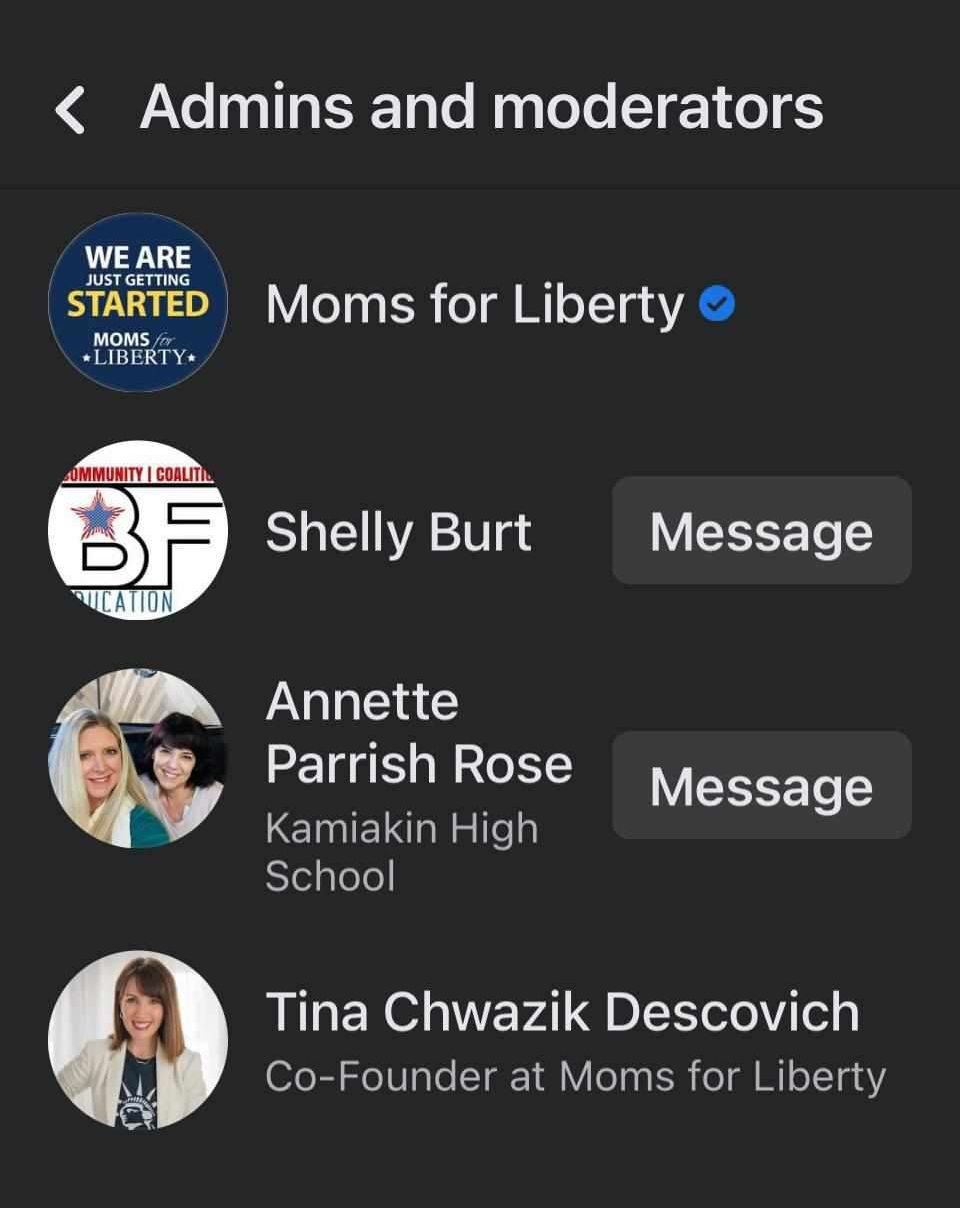 It is also worth noting that Burt defended her original complaint by stating that all of the public comment at the meeting was proof that this story was a "controversial topic" — when, in fact, she is the one who created the controversy.
After more discussion, mostly about the policies around challenging materials or curriculum, Rick Jansons of Richland School Board spoke about the original parental complaint form that started the discussion.
"There are some assumptions made there. I also know families with two dads where the child is in an open adoption. I know families with kids with two dads who are part of divorced families. And I know lots of kids with a mom and a dad. And all of that is legal. All of that is okay for our kids.
To me, this is not a controversial issue any more than someone who came in and said 'We should only talk about Christianity in our schools, and if you talk about anything else, that offends me, and that's controversial.' Or, 'We only can talk about white people in our schools. If you talk about anybody else, if they are in our books, that's controversial.' No, it's not. And neither is this."
Mr. Jansons mentioned that since no students accessed the 'controversial' story, he didn't know why it had been targeted in the first place.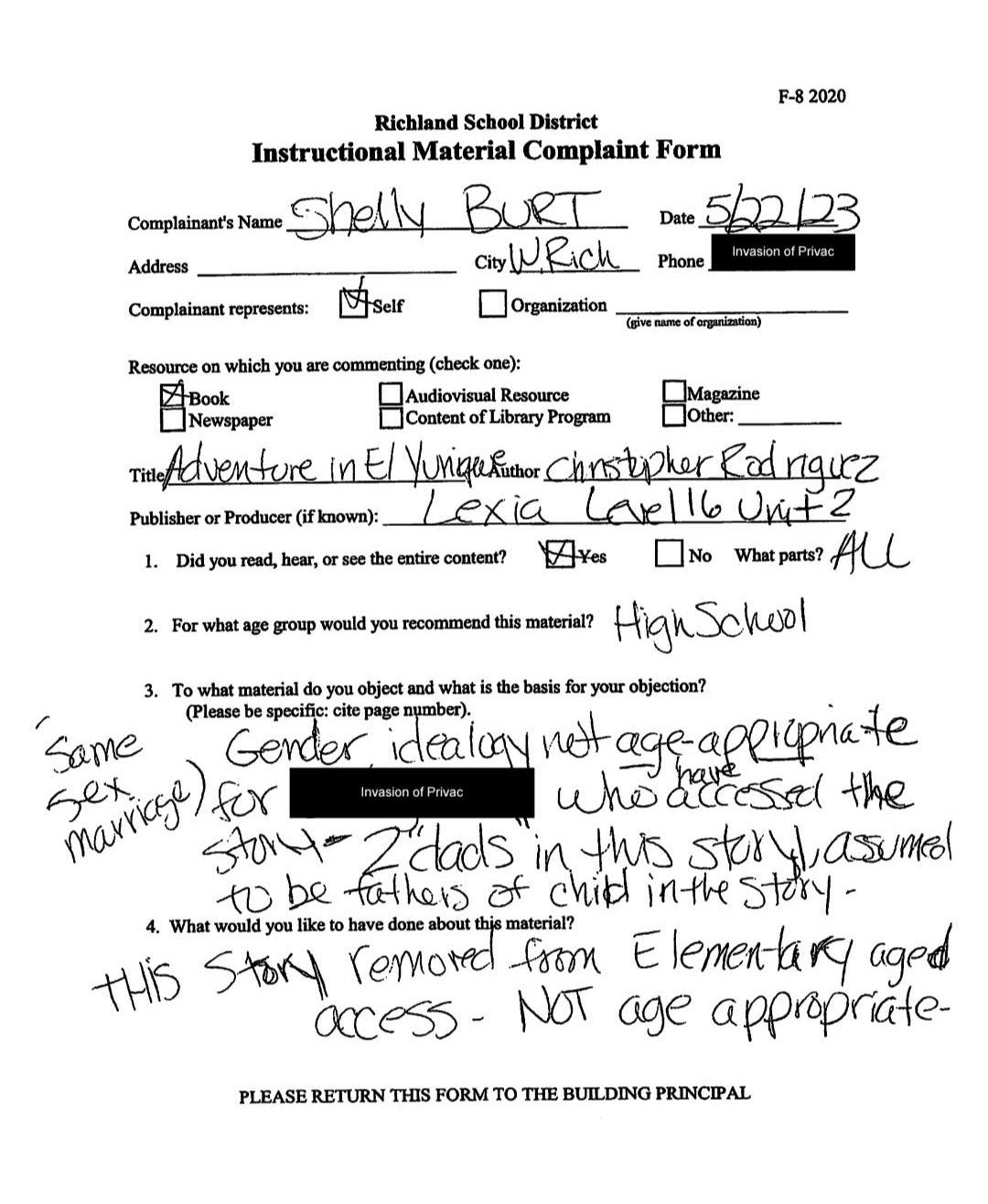 Books and other reading materials like Adventure in El Yunque are circulating on lists distributed by Moms for Liberty. Although Moms for Liberty deny that they are book banners on their website, a Book Riot article from February goes into detail about Moms for Liberty's book-banning efforts across the nation. The article links to book ban lists and shows many overt examples of the organization's dishonest attempts to push their agenda on parents that may not look too closely at the information Moms for Liberty is feeding them. The information they give parents is very carefully curated to prey on their fears.
"I was not expecting that they would make such a direct attack on the work of our schools as this, and I'm very grateful to say that the school board chose to act wisely and not to enforce those limits," said Schmoetzer.
Ultimately, even the self-described conservative members of the board followed the guidance given in RSD policies and procedures and voted to uphold the decision of the principal, the IMC, and the superintendent to retain the story in the curriculum.

While Burt was exercising her First Amendment right to petition her government, she did not have the right to deny access to an inclusive story for every other student in the district. And as a known member of Moms for Liberty, her motivations for filing the complaint are suspect, especially given that no student in the district had accessed the story.
---
The Reverend Schmoetzer, Jane. Interview. Conducted by Sara Quinn, July 27, 2023.
Recording of Richland School Board Meeting, July 11, 2023.
Other references:
RSD minutes: https://resources.finalsite.net/images/v1691602412/rsdedu/tlcujutblzij9f2blevj/July112023.pdf
RSD agenda:
https://app.eduportal.com/share/023ea596-1ce0-11ee-9af6-06c64aa3b8d4
---
Sara Quinn is the Editor in Chief at Tumbleweird. She lives with her amazing spouse (Brendan), and her doggos (Lila and Jewel). Sara makes art, writes stuff, reads A TON, and plays a lot of video games.