Last year, the Womxn's rally centered around the voices of local Women of Color, activists, and political influencers. Inspired by the #SayHerName campaign that arose on what would have been Breonna Taylor's 27th birthday, the Tri-Cities Womxn's March Team accepted an invitation to collaborate with Blackformation in an event that elevated women and local leaders within the Tri-Cities and Yakima Valley.
The speakers included local artists, activists, organizers, and business owers: Vanessa Algarín-Benítez, Cherissa Boyd, Ginger Baird Wireman, Ana Ruiz Peralta, Lesshelle Leann (Internet Bae), Kim Lehrman, Shayla Rixter, Rocío Carrión, Raleigh Hawthorne, Marisol Lister, Amber Rodriguez, and Eugene Vi.
As the outcry for justice in the deaths of both Ahmaud Arbery and George Floyd took the mainstream media by storm, and interest sparked all around the nation questioning the egregious crimes, brutality, and use of deadly force by police, the deaths of two women were lost in the shuffle.
Breonna Taylor was murdered on March 13 (two months prior to George Floyd's death), and Vanessa Guillen (thought missing at the time) was found dead June 30, yet no mainstream media source covered either death.
One consequence of centering the stories and perspectives of BBIPOC (Black, Brown, Indigenous, People of Color) women in regard to the impact of discourse pertaining to police violence is the recognition of our message: we are saying that our lives matter. This community is bearing witness to the stories of women who fight for justice, suffering not from the consequences of silence, but rather proving through the emboldening utility of our stories that this place is where reform is realized; reform that, in turn, benefits social transformation and changes how Women of Color are perceived. We are debunking the historical nature of a narrative wherein police don't recognize us, People of Color, as the sisters, mothers, and friends of those whose lives are valuable.
On the other hand, another consequence of the focus on Black lives is a heightened wave of anti-Black propaganda targeting both the Black and Latinx communities. The attention on us has increased, so the danger to us has increased. There is potential to destabilize the unity of POC—the unity that is desperately needed to dismantle the systemic oppression exploiting People of Color.
In following our history of struggle and our fight for civil rights, it is evident that it will take more than the momentum of the Black Lives Matter movement to create change. Creating a safe space among BBIPOC and allies alike is a requisite of empowering the Tri-Cities, especially during these politically polarizing and pivotal times.
On August 1, 2020, powerful women spoke to deliver a message of resilience and hope for the future despite the disheartening social climate. This rally, much like the sentiments of the Tri-Cities Womxn's March earlier this year, showcased a diverse array of Womxn unapologetically confronting topics like Anti-Blackness, systemic racism, the journey to citizenship, how to be an effective ally, paths to running for office, radical self-care, and love.
The event was interwoven with bold messages of shared oppression and resilience, powerful, sentimental art, and uninhibited performances that captivated the audience. The Tri-Cities listened attentively while speakers like Cherissa Boyd spoke from the heart on her experience as a multi-racial Black woman in America who simply loves all people.
Activists like Rocío Carrión informed the audience that, "many of us put ourselves on the front lines just by existing in our skin," imploring allies to do more than listen to BIPOC. She gave insight as to when it's appropriate to use their voices when having uncomfortable conversations regarding race and politics. "Take space when you hear something ignorant, take space by voting for those that care about BIPOC and hold them accountable," Rocío stated.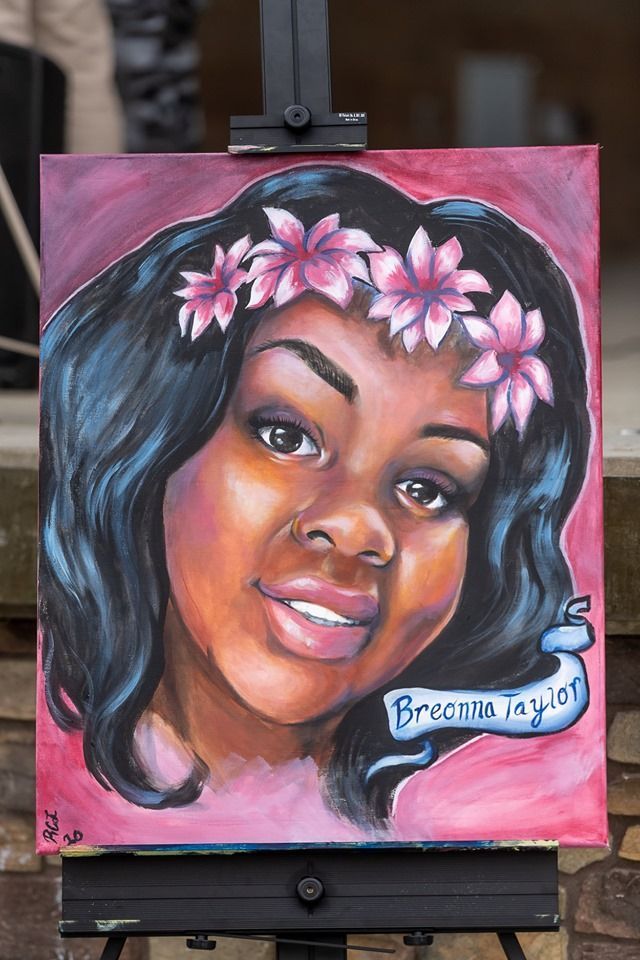 There are so many parallels in the world of our shared experiences when we step back, listen, and watch. "I would invite you to look a little more into what the immigration system is set up to be like," said Marisol Lister when discussing the paywalls to citizenship. "I feel that, a lot like the prison industrial complex, the immigration system is not broken, it's set up to work exactly the way that it's set up to work." The current political and social climate is forcing our neighbors and friends to examine their hearts for personal biases.
It's going to take the life experience and grit of mothers like Anna Ruiz Peralta and Kim Lehrman—who were involved with students in schools long before running for County Commissioner—to empathize with the mothers who fear the needs of their children will not be acknowledged with financial support.
We need a generation of educated Afro Latinx women with determination and education that help the movement in telling stories of their victories, like Vanessa Algarín-Benítez. Despite the plight of Brown skin in America, Benitez and others like her work every day to acknowledge and dismantle Anti-Blackness.
It's going to take the ownership and public denouncement of systemic racism by people like Ginger Wireman to influence tone-deaf white people of the disparities directly caused by the idea of white supremacy and systemic oppression.
My hope is that with this work, we make space for fearless aspiring artists like Lesshelle (Internet Bae) and poets like Shayla Rixter to show up as their authentic selves, vocalizing their unfiltered experience and passion for change, and influencing the next generation with tools of empowerment and self-awareness.
In the face of our collective outrage towards police violence and the harmful standard of whiteness held by those in power, we will teach our children to love themselves boundlessly. As a community, we need to be willing to meet those truly seeking to learn about the oppression of BIPOC with patience.
As active members of society, we will incorporate this momentum and get involved in the voting process. Like Raleigh Hawthorne said, "Wherever we do go from here, we have to do it side by side, hand in hand, and 100% with each other together."
In doing good work, don't forget self-care. Here's a reminder that taking care of your spiritual, mental, emotional, and physical health is an act of radical activism. The journey to freedom is unclear and the expected time of arrival is unknown. We know the women we mourn because of social movements like this—we know that our lives matter. We tell our stories without media distortion, and continue elevating and uplifting one another.
---
Amber is a Wellness coach, Community Organizer, Activist, and youth mentor who specializes in trauma informed care and building connections with womxn.
Painting of Breonna Taylor by Ray Lechelt.
#blackformation #blacklivesmatter #sayhername