This will be a difficult task because there are still a lot of movies that won't be out until late November or December. Get out to the movie theater for one or all of these late-year releases! The releases include some potential blockbusters and/or critically acclaimed darlings: Eternals, French Dispatch, Harder They Fall, House of Gucci, King's Man, Last Night in Soho, Nightmare Alley, Matrix Resurrections, Red Notice, Spiderman: No Way Home, and West Side Story.
For my best, excluding the list above:
Judas and the Black Messiah (R, 2h 6m): LaKeith Stanfield stars as Bill O'Neal, a car thief recruited by the FBI to infiltrate the Chicago Black Panthers. Bill's focus is on the Panther's charismatic leader, Freddie Hampton, and his inner circle. Daniel Kaluuya, as Freddie Hampton, gives an electrifying and Academy Award©-winning performance in this tense, beautifully photographed film, which has excellent performances all around. **
Promising Young Woman (R, 1h 53m): Carey Mulligan plays Cassie, defined by a traumatic event that took the life of her best friend, Nina. Cassie has revenge in mind and plays it out. A powerfully intense movie about the fallout of assault on women's lives. Nominated for five Academy Awards©, including Best Performance by an Actress for Mulligan and winner of Best Original Screenplay.**
Free Guy (PG-13, 1h 55m): This movie was delightful. Ryan Reynolds plays The Free Guy in an AI-controlled virtual game who discovers he can do more than his cookie-cutter character ever thought. Jodie Comer plays Millie, the original AI game developer of Guy's game. They meet in the game and together they discover a plot to destroy the game. What a fun ride!
Dune: Part One (PG-13, 2h 53m): See review below. This is a gorgeous and beautifully acted take on Frank Herbert's classic novel set. It is a feast for the eyes and the ears. I can't wait for part two.
No Time to Die (PG-13, 2h 43m): See review below. Daniel Craig's last time as Bond lives up to the hype in an emotional and satisfying film.
Black Widow (PG-13, 2h 14m): Natasha Romanoff (Scarlett Johansson) is forced to revisit her dark past and her family in this rock 'em sock 'em action picture. Natasha delivers just fine by herself.
In the Heights (PG-13, 2h 23m): This lovely, entertaining musical from Lin-Manuel Miranda has a Latin heart and plenty of soul to make it an excellent family film. You'll be singing along with them.
Barb and Star Go to Vista Del Mar (PG-13, 1h 47m): This silly and slightly bawdy romp is nonstop sunshine all the way through. Embrace the ridiculousness and have a great time with Barb and Star.
Cruella (PG-13, 2h 14m): Did we need an origin story for Cruella de Vil? Yes, we did! Emma Thompson and Emma Stone give excellent performances in this stylish (OMG, the costumes!), witty, and endearing portrait of a young Cruella. Great fun.
Godzilla vs. Kong (PG-13, 1h 53m): The movie had epic fights, epic carnage, epic effects, and two of the biggest, baddest monsters EVER. Long live the King!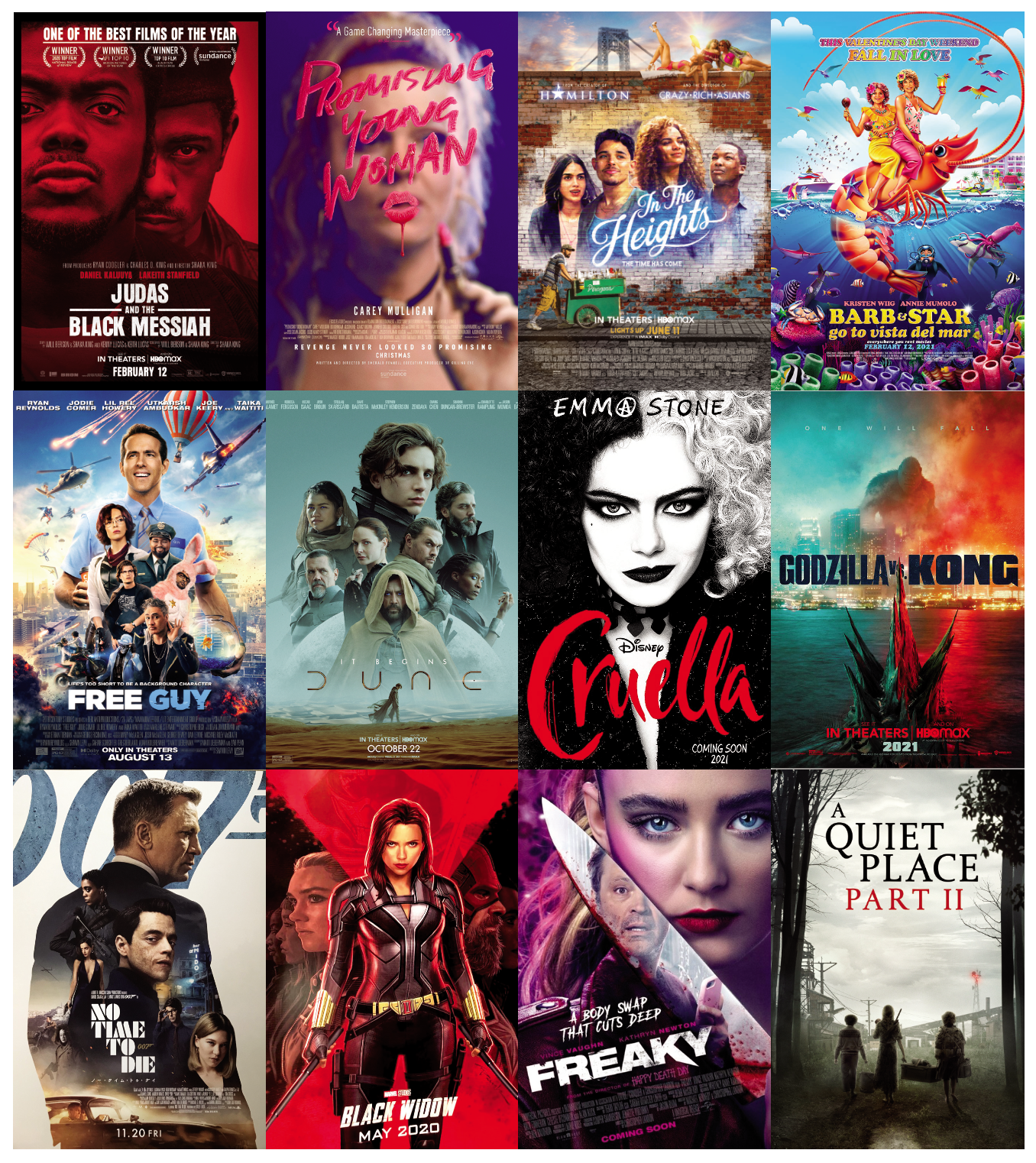 Honorable Mentions
Army of the Dead (R, 2h 28m), French Exit (R, 1h 53m), A Quiet Place Part II (PG-13, 1h 37m), Raya and the Last Dragon (PG, 1h 47m).

**Academy Award© rules for 2020 allowed releases through Feb 28, 2021. This year's Academy Award© eligibility rules return to almost a calendar year, March 1 through Dec 31.
---
Dune: Part One  PG-13, 2h 53m
Duke Leto Atreides (Oscar Isaac), his wife Jessica (Rebecca Ferguson), and son Paul (Timothée Chalamet) are given orders by their emperor to take over the critical spice-producing planet Arakis. The spice allows wormhole-like space travel, and the fight to control the planet that produces it is designed to take down the house of Atreides. House Harkonnen, which previously held control of the planet, will not leave the lucrative spice planet without a fight. House Atreides seeks to build a bond with the natives of Arakis, the Fremen, to strengthen its hold on the planet. When Duke Atreides is viciously attacked by the Harkonnen, Jessica and Paul are forced to flee into the dangerous desert. They soon encounter the Fremen and Paul must fight the Fremen for their lives.
This version of Dune's world is fantastically and clearly elucidated by director Denis Villeneuve (Arrival [2016], Blade Runner 2049 [2017]). It is a visually gorgeous film with excellent acting and a haunting soundtrack by Hans Zimmer. I can't wait for part II!
MUST SEE for the fantastic visuals, excellent acting, and incredible world building!
No Time to Die  PG-13, 2h 43m
James Bond (Daniel Craig) has retired and is living with Madeleine (Léa Seydoux), who you may remember from Spectre (2015). As they relax in a Greek town, Bond decides to visit the grave of Vesper Lynd, which is close by. James fell in love with Vesper in Casino Royale (2006). As he stands in front of the grave, the tomb explodes, nearly killing him. This kicks off an incredible action sequence as he tries to get back to the hotel where Madeleine is. He believes she has betrayed him and puts her on a train, telling her he'll never see her again. She's clearly devasted. Cut to five years later: CIA colleague Felix Leiter (Jeffrey Wright) approaches Bond with a deal to find Safin (Rami Malek), who has a new DNA-based weapon. Bond agrees. When Bond arrives in Cuba to meet Leiter, he is met by a local CIA recruit Paloma (Ana de Armas). After a particularly wild pursuit of the villain, Leiter is dead and Bond has barely dodged his replacement, 007 Nomi (Lashana Lynch) in Cuba. Bond returns to London and discovers M (Ralph Fiennes) is pursuing the stolen deadly weapon that MI-6 created. Bond discovers Blofeld (Chistoph Waltz) is behind the weapon and Madeleine is implicated as well.
There's kidnapping, general Bond mayhem and a final action extravaganza in this surprisingly emotional end to Craig's run as Bond.
See It If Your Down With: Bond movies, international spy movies, action movies, Daniel Craig, Léa Seydoux, Ana de Armas, Jeffrey Wright, Rami Malek, Ralph Fiennes, Christoph Waltz.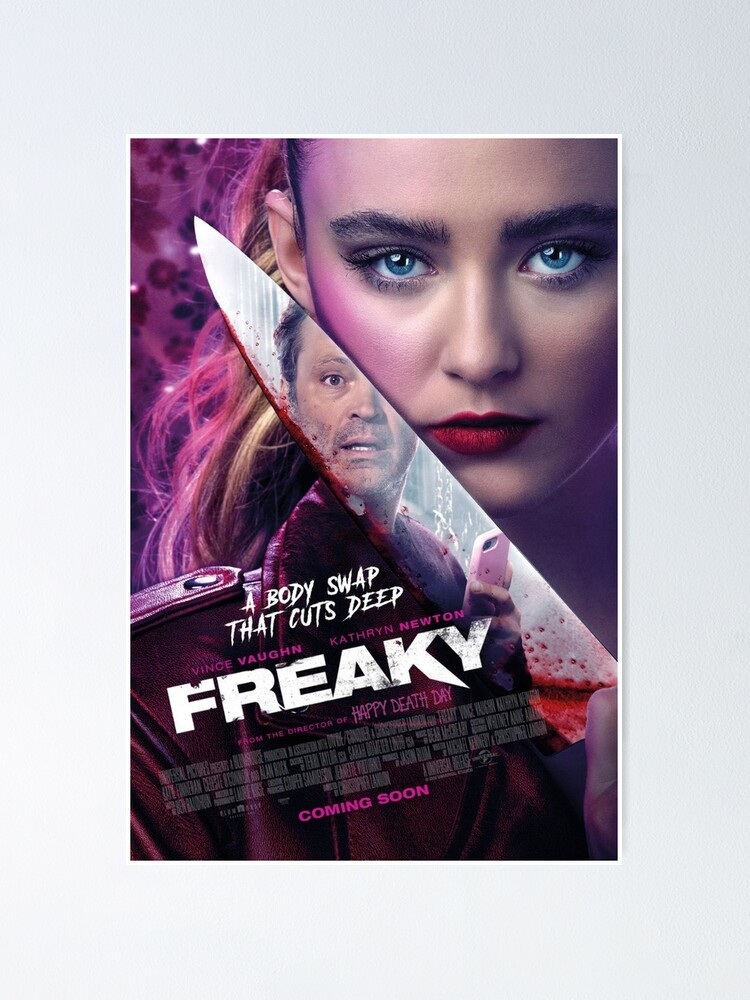 Freaky  R, 1h 42m
In a stimulating, gory, and humorous take on Freaky Friday (2003), high school senior Millie (Kathryn Newton) isn't attending homecoming in her small town because serial killer The Butcher (Vince Vaughn) always murders on homecoming night. When The Butcher attacks her while she's waiting for her ride to arrive, he stabs her with a sacred Aztec knife and they switch bodies. Millie and her friends discover they have 24 hours to find The Butcher and switch her back to her original body. There are some incredibly violent sequences, but this was an original take on 'switching bodies' movies, and Vince Vaughn was perfect.
See It If You're Down With: Slasher films, switching bodies movies, high school movies, Vince Vaughn, Kathryn Newton.
---
Alanna Smithee is a former employee of the Academy of Motion Picture Arts & Sciences and a lifelong movie fan.
Main Photo by Denise Jans on Unsplash