In his 14 years working at Richland Public Library, Gavin's career has seen the creation of a new Teen Advisory Group in Teen Services, the running of Summer Reading Programs for both teens and adults. As RPL's Adult Services Librarian, he has helped seniors with Alzheimer's access as well as valuable social and mental stimulation in the Memory Cafe, and is currently providing support to the LGBTQIA+ community with craft programs and reading clubs. Last year, Gavin helped Richland Public Library become the first local library presence at the annual Tri-Cities Pride Festival. Whether it be through general creativity, library programs, or just day-to-day interactions in and outside the library, Gavin finds great meaning in providing help and inspiration to our community.
Did you always know art would be an integral part of your life? Can you share about your early experiences with art?
My parents both have artistic ability, but my dad is the more active one. I have always enjoyed drawing, but I think there is an extra drive within me to also use art to win my dad's positive attention. I started drawing before preschool and eventually stick figure monsters started showing up, including on my dad's fancy drafting table. Dang kids! I knew I would never stop drawing those monsters, and I never did. I found endless inspiration from Garbage Pail Kids trading cards, books, MAD magazine, comic books, toys, graffiti (only viewing), skateboard art, music album covers, tattoos, video games, movies, etc. I even wanted to be a horror special effects artist for a while, but I've never developed that much patience.
How does art show up in your everyday life?
As far as seeing art, whether it be one of my action figures, library exhibits, stickers, bathroom stall art, or even landscaping, there is always something to look at. As far as creating art, my drawings and zines, flyers I make for the library, library Book Tasting videos, doodles, stuff displayed in my house, online, etc.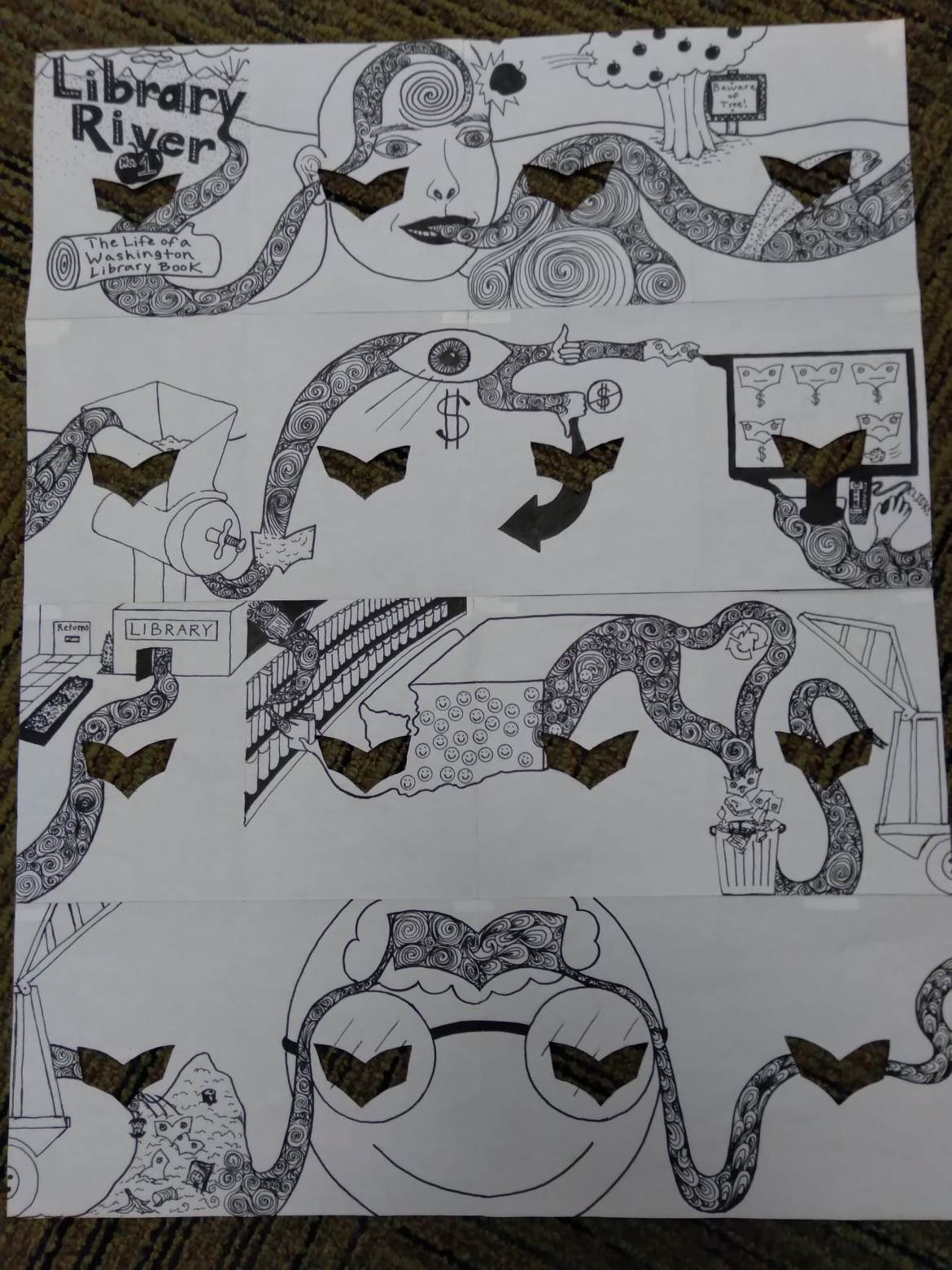 I like what you said about zines making art more accessible. What are other ways our community can make art more accessible?
Art needs room to grow. I think events/classes/programs without too much structure are important. I started running a 13+ LGBTQIA+ craft social at the library. It has free snacks, and you can bring projects, use our supplies, or just hang out. It has become another important safe space where a threatened minority can connect and be inspired by each other without fear of being threatened or ostracized. It is an environment where art is allowed to thrive, and people, especially young adults, are getting the support that is so crucial for learning to connect and grow within the community.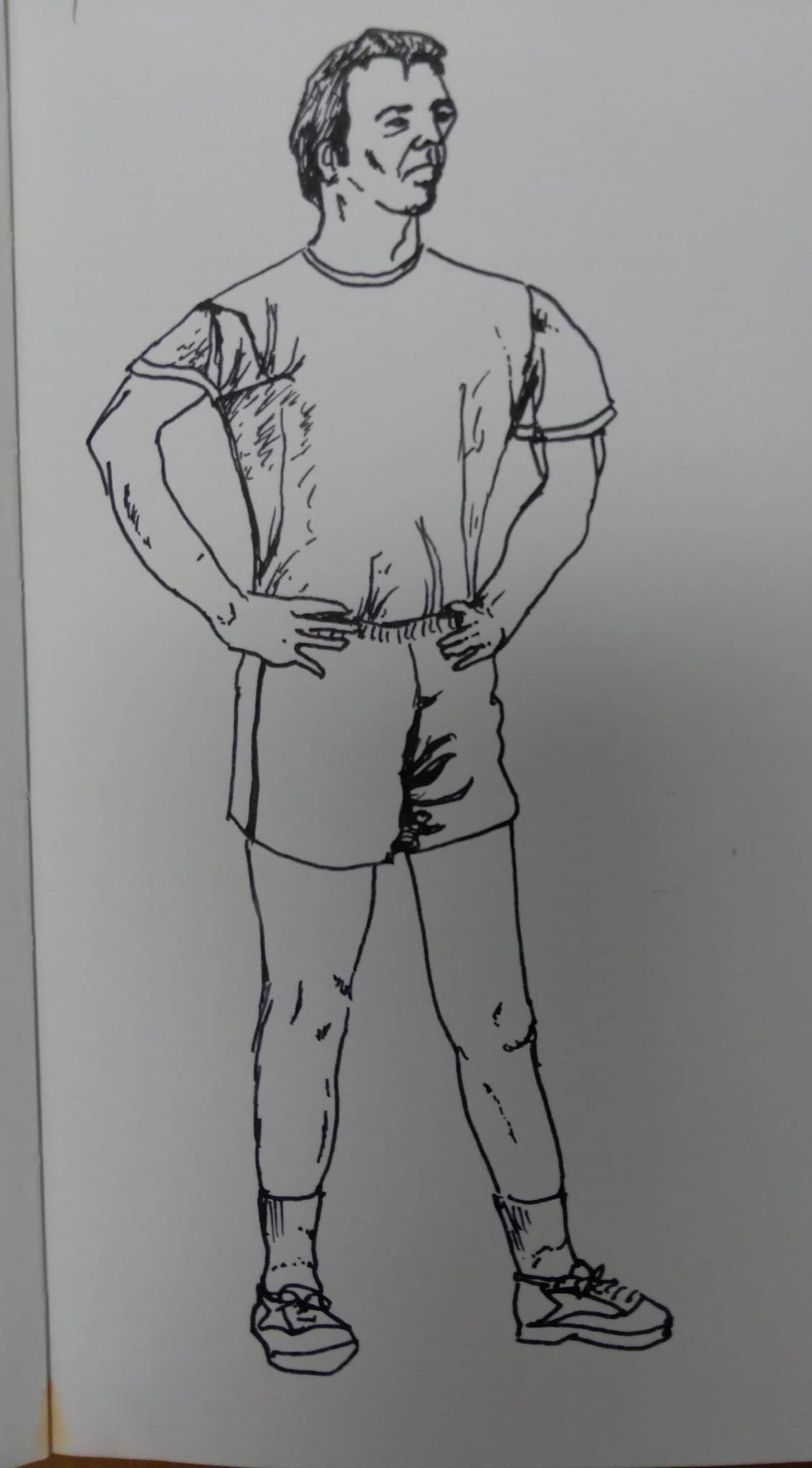 Who are your favorite artists?
This makes my head explode! Painting and Illustration: M.C. Escher, Salvador Dali, Da Vinci, Bosch, R. Crumb, Shell Silverstein, Jim Phillips (Santa Cruz skateboards), Basil Wolverton, too many MAD and Heavy Metal magazines artists to mention, John Pound and Tom Bunk (Garbage Pail Kids trading cards), William Stout, Ed "Big Daddy" Roth, Jhonen Vasquez, H.R. Giger. Special effects artists: My favorite [is] Rob Botin (The Thing, 1982). I also like Ray Harryhausen, Stan Winston, Rick Baker, the Chiodo Brothers, Tom Savini, and many others.
Can you think of a time when a piece of artwork shifted your perspective on something entirely or profoundly affected you in another way?
I was profoundly affected by M.C. Escher. My mind was blown when I was introduced to his work in high school geometry class. When things are tough and I want to give up, I try to think of Escher. In one lifetime, he drew the impossible and animated infinity.
Do you have a routine or ritual that helps you get into the 'zone' so to speak?
My favorite thing to do is just start drawing and let the zone find me. Sometimes I go the other way and allow myself a little quiet time before drawing. The quiet and calm help me escape my analytic brain, making it easier to practice life drawing before moving on to my usual spontaneous work.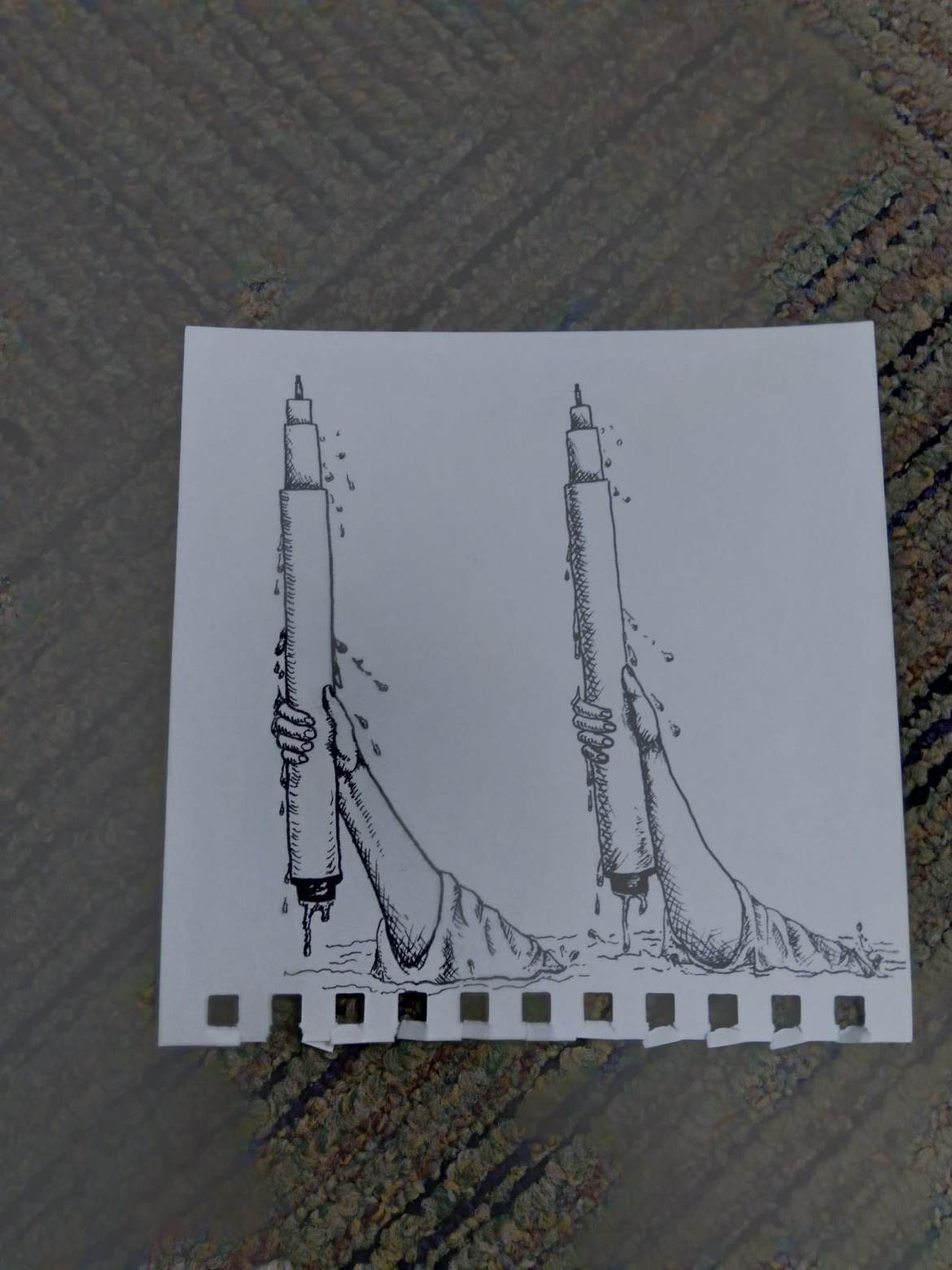 How do you cope with periods when you are finding it hard to create?
In some respects I am lucky I don't do art professionally. I don't have the same level of pressure to put out a product. When I get artists' block, I just stop drawing or just abandon whatever concept I was working on and switch directions. Much of my art is unfinished due to this habit. My challenge has always been to do art frequently enough to progress and commit to creating more finished pieces as opposed to doodles. It makes me wonder: do prisoners finish a lot of projects? Maybe self-imposed prison is the answer. Food, water, bed, toilet, art supplies!
I love that, and wholeheartedly believe it as well. Can you share a bit more about how you see art as connection?
I feel the experience of art not only connects people to each other, but also to themselves. In one way or another, art is an invitation to share in the universal conditions that make us all human. Though there exist many different walks of life from economic status, gender, orientation, race, etc., art does not discriminate. Anyone can make art and all art can connect with someone, even if just with its creator.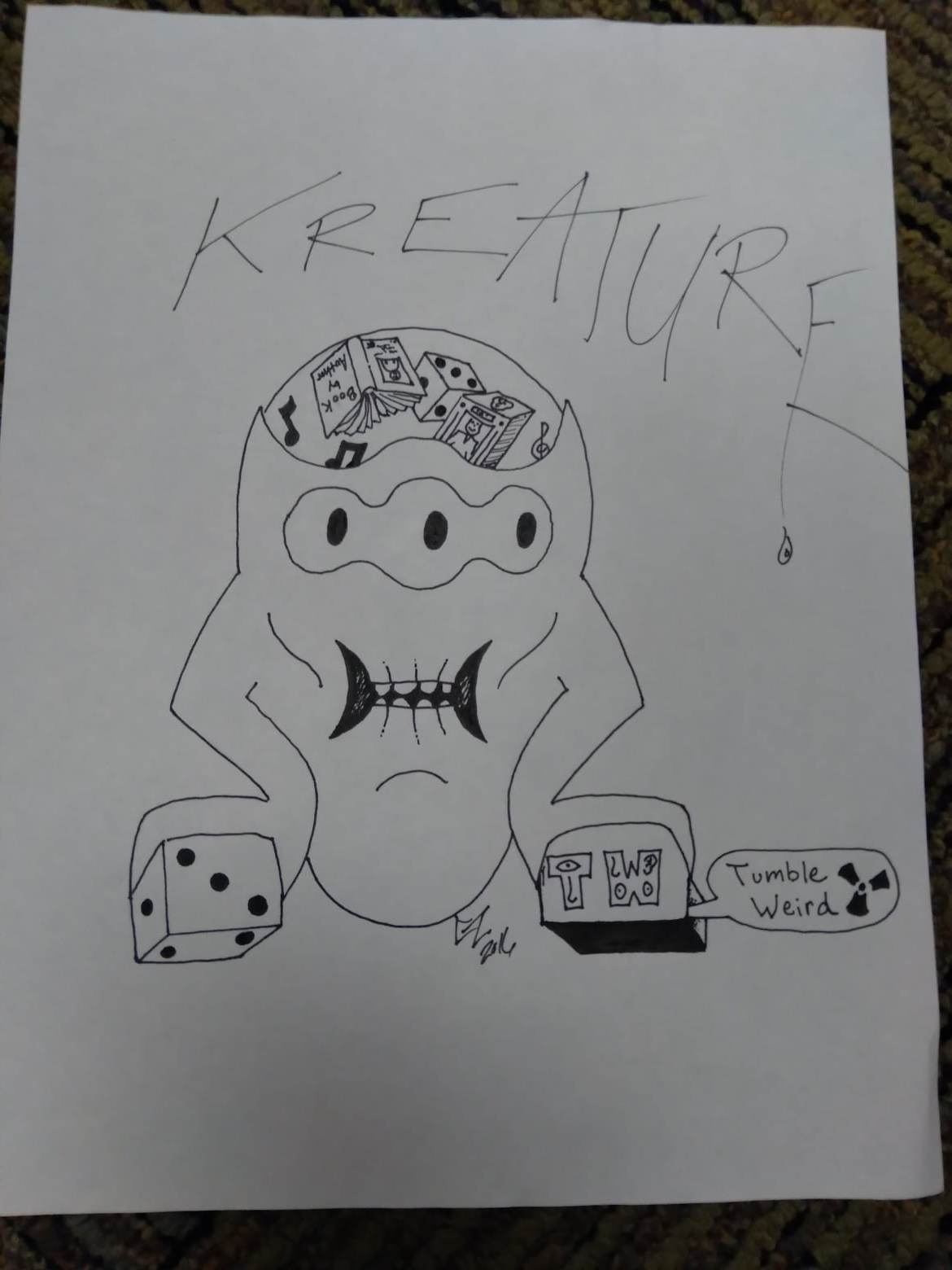 You work with the public and are always creating opportunities to bring art experiences to our community. How can the community help you continue to do this?
Again, in the spirit of connection, I believe getting people together is important, but library staff is limited and we need more people who can organize and lead programs and events. Outreach is also important, as some people need the programs brought to them. We must work together. The community can help by spreading the word about things like the RPL LGBTQIA+ Craft Socials happening every month and offer instruction or donations or other such things. Conversely, I think it would be neat to hold some library events/programs at the art spaces/galleries to draw folks in. Just one example of the kind of reciprocal partnerships where we can combine forces to reach people. Sponsorship is huge and getting monetary support for programs opens whole new possibilities. Getting butts in seats is what really matters in the end. Our programs can't exist if people do not come. So tell us what will keep you attending or keep you from attending library art programs and what types you would like to see. If you want to lead something, give us a call or email. We would love to hear your ideas and tell you about what we have to offer!
How does art improve our community?
I am a fan of the 'village' concept where everyone plays a part in maintaining the health of the community. We are all different, so no two villagers are affected by art in the same exact way. One role of artists in the village is to keep people talking and thinking about their art. Another role, which truly connects the whole village, is [about] art's power to distract us from ourselves. Art allows a moment, however brief, when one can let go and witness something outside our day-to-day world. I believe the artists, via these distractions, provide micro bits of relaxation and revelation that act as a social lubricant, always in action behind the scenes. Art is one of the most important parts of a community, continually creating new discussions and collective connections.
What would you say to someone interested in starting a creative practice?
Keep an open mind. Experiment to figure out what you like most and least. Enjoy yourself, and let the art go where it wants. The more often you make art, the easier it becomes to express your visions. It is good practice to mimic and copy other artists, as long as you respect their work and follow copyright rules. There is no good or bad, so when it comes to other people, only hold on to what is positive and useful to you.
How can our community better support artists and the arts?
Support young artists. Just as Richland residents help the library turn kids into life-long readers, they also have the power to help the arts community create the next wave of life-long artists. The level of support Richland gives to today's young artists will dictate the amount of arts support those children give to the Richland of the future.
---
Ashleigh Rogers is the Creative Director at DrewBoy Creative. She is an artist, art instructor, and facilitator in Tri-Cities, Washington. Her work explores the themes of connection and intergenerational stories through experimentation in painting, photography, installation, and sculpture. Ashleigh is passionately dedicated to facilitating accessible arts programming in her community.
Find her on Facebook: fb.com/AshleighRogersArt or Instagram: ashleigh.a.rogers