I have only been painting or released my inner creativity within the last 15 years. Until that time I was under the impression that most "real" artists were formally trained, and you actually had to be able to draw. An artist friend of mine was buying art supplies in Michael's and suggested I buy some canvas and paints, and see what I come up with.
What I have discovered is that art is individualistic. Whatever you create, especially if you are pleased with the outcome, is your art, and each person has their own style. I doubt any of my pieces will ever hang in the Metropolitan Museum of Modern Art, but I like seeing what I have created on my own walls.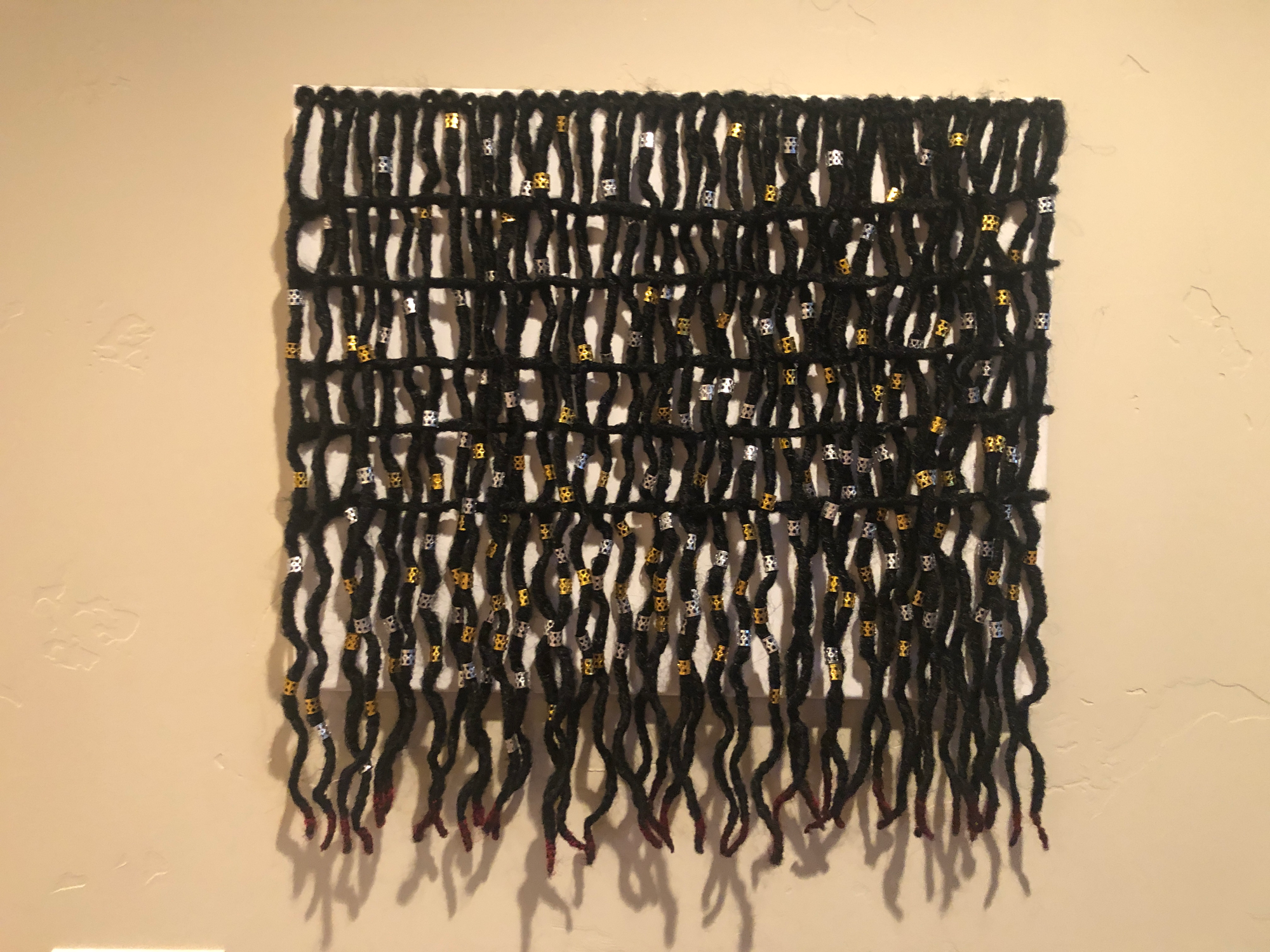 What medium are you currently working in?
Generally, I work with canvas and acrylic paint. Some of my recent projects have included Styrofoam balls, faux hair, and bullets.
Wow! That is such an incredible range of materials! What inspires your use of materials? Do you usually have a vision in mind for the finished product and seek materials that fit the vision, or do you see a certain item and think, 'I've got to use that to create something'?
That is an easy question. Many times, I have a vision or idea of what I want to create. Other times I may see an item on sale, such as a bag of faux pearls, and buy it. Then I think of how I can turn that item into a work of art.
What inspires you?
Most of my ideas come to me in dreams. I have had the opportunity to visit the great art museums here in the U.S. and Europe. I appreciate the works of the old Masters, but I am drawn to abstract works. I may see something I like and then put my own twist on a piece I admire. I get new ideas from traveling the world and looking at art created by indigenous peoples. Some of the most beautiful art I have seen has been created by Aboriginal artists in Australia.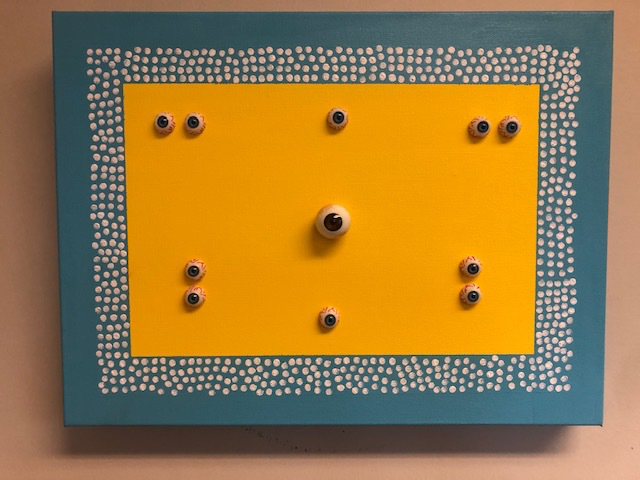 Can you recall a time that a piece of artwork profoundly shifted your perspective on something?
This is going to sound dark, but the killing of Trayvon Martin had a profound effect on me. My piece dedicated to him was the first time I had ever used real bullets in a work of art.
Who are your favorite artists?
I am inspired by the works of many artists, but my favorites include Picasso, Alma Thomas, Elizabeth Catlett, Alexander Calder, Mark Rothko, Miro, Jasper Johns, and my aunt, Yvonne Lawson, an artist/art teacher.
I love that you have ideas come to you in dreams. Can you share a little more about that?
There are times when I cannot turn off my brain at night. I may be thinking about a past trip, images from nature or from a magazine. Lately, I have dreams that I can fly. Haven't quite figured out yet how to how turn that a work of art. Stay tuned.

Do you have a routine that gets you in the frame of mind to create? Certain music, a space in your home, a ritual?
Unfortunately, I do not have a studio, which is on my wish list. So, I throw a painter's tarp on the floor of my den and paint. For smaller works, I sit at my dining room table. I generally have NPR on in the background. Such a nerd!
How do you know when a piece is complete?
Once a piece is finished, I let it sit for about a week. I do this to see if I get any new ideas. Most of the time I do not make any changes — so the piece is done.
How have personal challenges impacted your work?
I am a physician, and working during COVID has been a stressful time for most of us in the health care profession. Painting or creating a work of art is relaxing and allows me to take my mind off the problems of the world.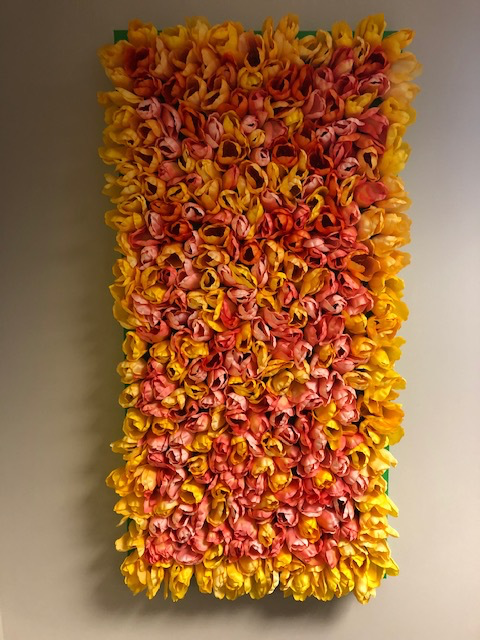 Has your experience as a physician chapped the themes in your work?
I generally avoid incorporating anything related to medicine or health care in my work. I create art as a way to 'escape' medicine. The one time I did create a work even remotely related to medicine was my COVID variants piece. The chance to incorporate the spike protein into an art piece could not be missed.
What would you say to someone who is just starting out in their artistic journey?
I say just create and express your talents. Being creative should be fun. Most of us will never reach the heights of Picasso or have our work displayed at the Guggenheim Museum, and that's okay. Make your journey unique to you.
You submitted several pieces to the AACCES Art Show. Can you share a little bit about that work?
I just want to encourage people to attend the show. I will let the art speak for itself!
What does this art show mean to you?
This art show gives me the opportunity to share my creations with the local community, and perhaps I can inspire someone else to let their creativity flow.
How can our community better support artists?
Go to art shows, show interest in artists, and talk to them about their work. And yes, if you are so inclined, buy a piece of art.
---
Main image: Denise Algood.
Ashleigh Rogers is the Creative Director at DrewBoy Creative. She is an artist and art instructor living in Richland, Washington with her husband and four children.
Find her on Facebook:
fb.com/AshleighRogersArt or
Instagram: ashleigh.a.rogers
African American Community Cultural and Educational Society (AACCES), in partnership with DrewBoy Creative, invite you to join us for an evening of art, music, poetry and more, January 14, 2022 from 4-9pm at The Space,1384 Jadwin Ave, Richland, WA.
This show will feature an incredible group of artists who have created work to highlight African American contributions through culture, community, and education to the Tri-Cities and Pacific Northwest.
Food and drink will be provided by Charcuterie by Bree and Fidélitas Wines.
As always, entry is free, but if you have the ability to give we accept donations at the door.
The art show is proudly sponsored by the Group Health Foundation, &yet, Fidélitas, and Emma & Jon Barnes.