In the rural community of the Walla Walla Valley, people from all backgrounds come together to make this place their home. Color Our Community On Awareness (COCOA) is proud to take part in an event that brings people together. Since 1776 when the Declaration of Independence was authored, Black Americans have fought for the freedoms promised in that document. It wasn't until the Emancipation Proclamation in 1863 that enslavement was deemed unconstitutional. That is the day we celebrate.
Juneteenth has historically been recognized in Black communities around the country and we are thrilled that we can celebrate as a valley. This is a time to appreciate our differences and honor our ancestors' fight to bring us together. While we fully understand that racial divide exists, and that there is significant work to be done, intentionally coming together to amplify Joy is vital to a thriving community. Last year was the first year we hosted the Juneteenth Jubilee. More than 500 people joined in the festivities, and we knew that this was something we wanted as a tradition in our area. Working this year with a variety of people has been great, and we are excited to see how this year unfolds. If you would like to be part of planning, we would love to talk to you!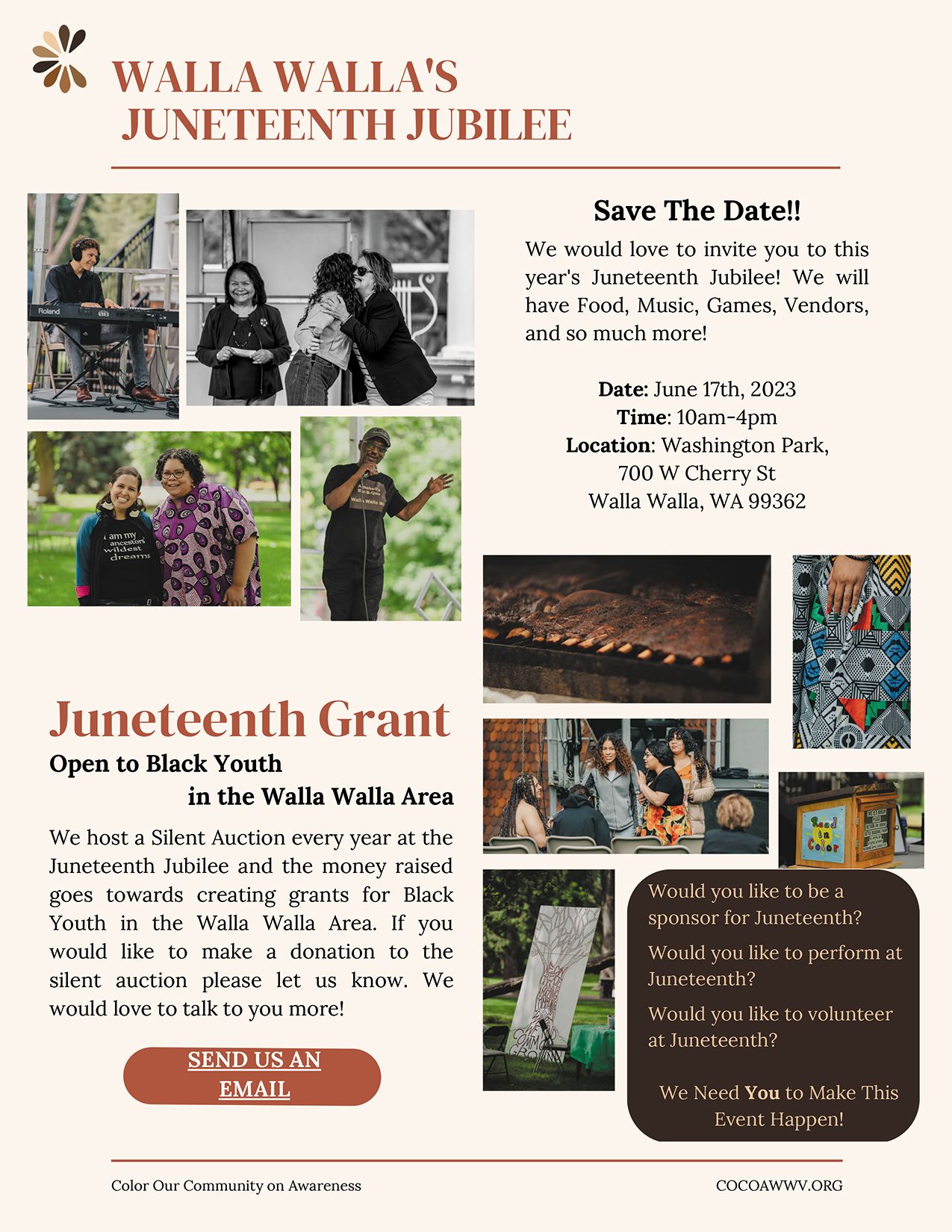 The Walla Walla Juneteenth Jubilee exists to bring people together, share culture, and celebrate freedom for all. COCOA is excited to announce that The Juneteenth Jubilee 2023 is on June 17th at Washington Park in Walla Walla, Washington. This is an event for people of all ages, and will have free food, live music, fun activities, a silent auction, and so much more. We look forward to seeing you there!
---
Kaelyn Pyke
COCOA Leadership Team
Juneteenth Coordinator kaelynpyke@gmail.com
Facebook: @cocoawwv Instagram: @cocoawwv