B5 youth outside the Skyline Adventures building at Bluewood Ski Resort
I haven't been skiing in about 18 years. Back then, my brother worked at a ski resort in Vermont and when I went home for the holidays, we'd spend a day on the slopes. I was never very good but I would happily spend the day on the green and blue runs. On a particularly good day, my brother convinced me to try a black diamond trail, with moguls. After falling down every six feet, I proceeded to take off my skis and walk down the hill (which became a memory my brother would never let me forget).
Many years later, I have a ten-year-old son, and I had been thinking it was time to take him skiing. In my work with 3 Rivers Community Foundation, we make grants to local nonprofits. Bill Pogue with Skyline Adventures had frequently invited me to join one of their trips, and it finally seemed like the right time. Skyline Adventures is an outreach program that transforms lives by bringing skiing and snowboarding to disadvantaged, high-risk youth, citizens with special needs, healing veterans, and disabled citizens using the facilities at Bluewood in the beautiful Blue Mountains. Skyline Adventures has carefully thought through ease of access for the groups they bring, providing not only lift tickets and rentals, but also head-to-toe ski gear, lessons, and skiing partners to help first-timers build their confidence. They also have amazing adaptive equipment, truly, everyone can fly down the mountain. Skyline Adventures is funded by grants and donations.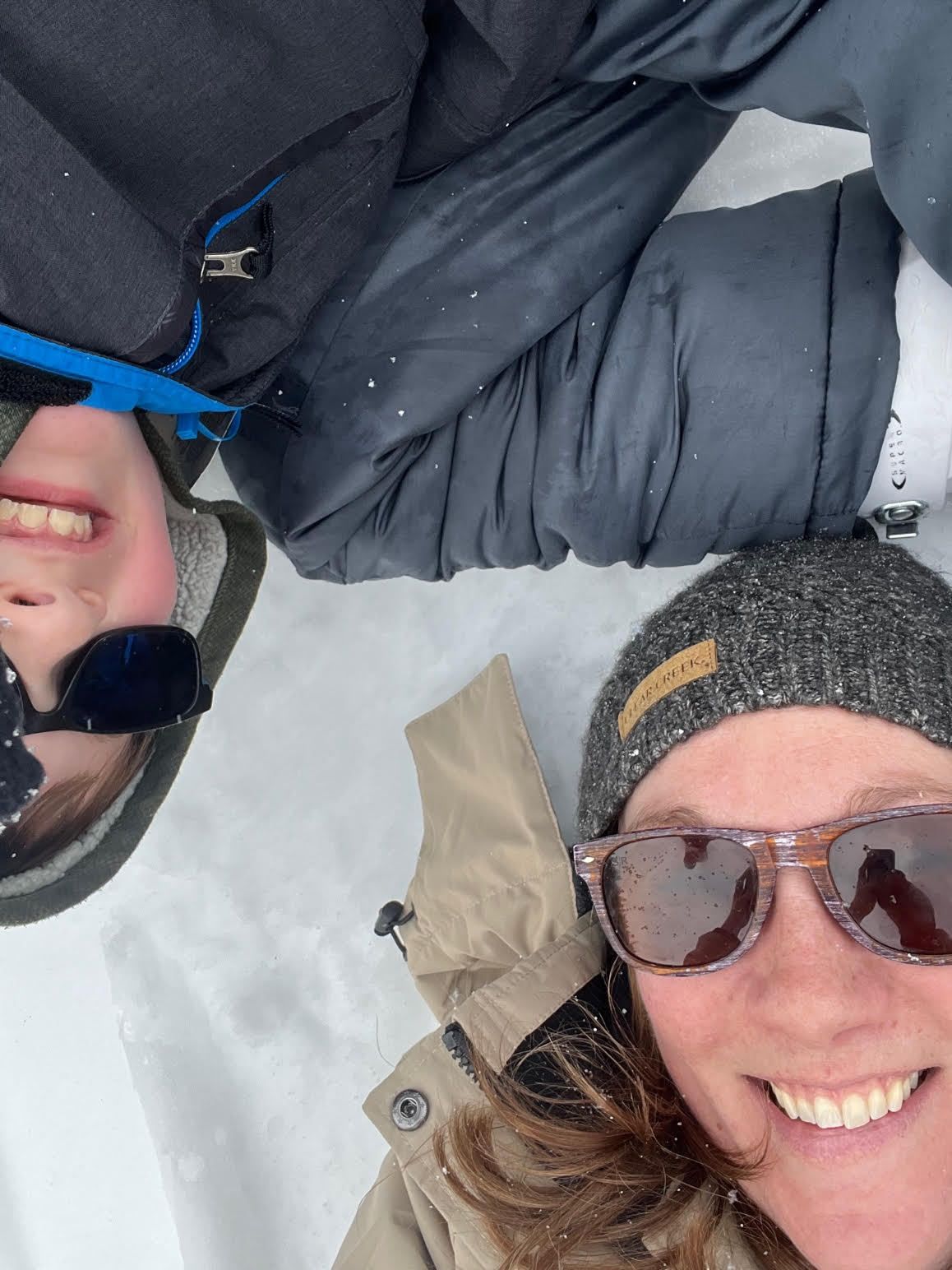 Early on a Saturday morning in March, we joined 19 youth from B5 for their last trip of the season. B5, formerly known as the Family Learning Center, supports refugee and immigrant families through education, relationships, and community so they can thrive in their new home. According to Feisal, one of the Somali refugees at B5, "B5 helps me with my homework, my reading skills, and we go on field trips." B5 offers English language classes, citizen test support, after school activities, and more. [Editor's note: We wrote more about B5 back in January: https://tumbleweird.org/b5].
A bustling group of middle and high school students, some sleepy and some excited, gathered for the trip. After B5 Executive Director Theresa Roosendaal double checked her list, we got underway. I started thinking: Would my son be up for this? Would he give up immediately or give it a shot? How would all the other kids do? Would I be able to stay on my skis after all these years? I was on my way to find out.
On this trip were kids whose families are from Afghanistan, Somalia, Syria, Sudan, El Salvador, Iraq, and Myanmar. I learned that many of them had been on trips with Skyline Adventures before. Feisal told me, "My first time I promised myself I was never going to come back. But I tried it again a second time and I knew my second time I was good at it. Now I can go to any trail." Here was an example of what can happen when you stick with it, I hoped my son would take note!
We arrived at Bluewood a few hours later. Those who had been on a Skyline Adventures trip before showed others the ropes. Waivers had been signed in advance and skis, poles, and snowboards were waiting to be picked up. Then everyone dropped their personal items in a hut that was reserved for the day as a place to take a break, warm up, and meet for hotdogs at lunchtime. Then it was a short walk up to the Skyline Adventures building. A truly impressive set up of jackets, ski pants, helmets, goggles, and gloves in every imaginable size and color were ready to be borrowed. The kids got to work putting together their ski outfits for the day with some help from volunteers. Groups of all ages who go with Skyline Adventures can truly come as they are and be fully equipped for a day of fun.
Then it was on to lessons. A few participants were first-timers, so we joined them, and I was happy to see my son scooting along on one ski and learning how to stay parallel to the mountain to stay put. I was hopeful! Others who had been on earlier trips took a few practice runs to show that they could turn and stop. Once they had that down, they were given lift passes and went off in small groups, some with volunteers, to start their runs.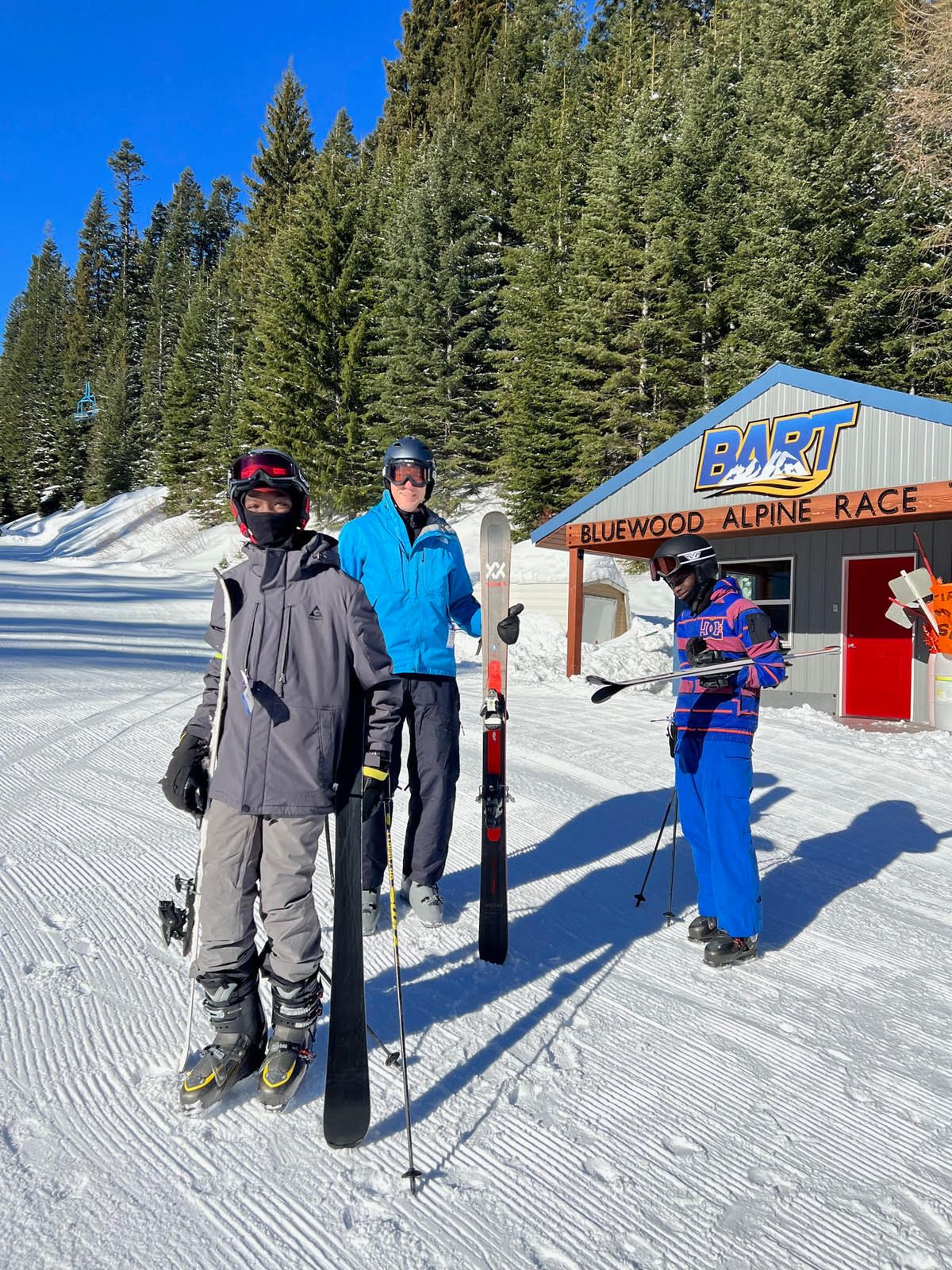 After the lesson, I stayed on the bunny slope (with an awesome magic carpet tunnel!), helping my son get the hang of it. We had our ups and our downs. I lost count of how many times he fell, and he wanted to give up a few times. We took a few breaks, but each time, he wanted to try again. As for me, I'm happy to say it all came back to me, and not once did I take my skis off and walk down the mountain.
At the end of the day, we all gathered on the bus for the ride home. There were a lot of rosy cheeks and sore legs. I asked Abdi, another Somali child I had gotten to know over the course of the day, "Are you a good skier now?" He told me, "No… kind of… I need to practice my left and my right turning. I like to go to the green trail; it helps me to go left and right." Then Abdel, a Syrian refugee at B5 who had helped Abdi and some of the other children that day, "The first time was so hard. It didn't get easier until the second time. I got better from last year."
"I love Skyline Adventures for giving our kids an opportunity to try a hard physical skill with the promise of a reward — the satisfaction of fun," says Theresa Roosendaal, Executive Director of B5. "My hope is that it will always transfer to building that same persevering spirit in the other places of their lives where they need it."
---
Abbey Cameron is the CEO of 3 Rivers Community Foundation.
To learn more about these organizations, please visit www.thriveatb5.org, www.skylineadventures.org, and www.3rcf.org.