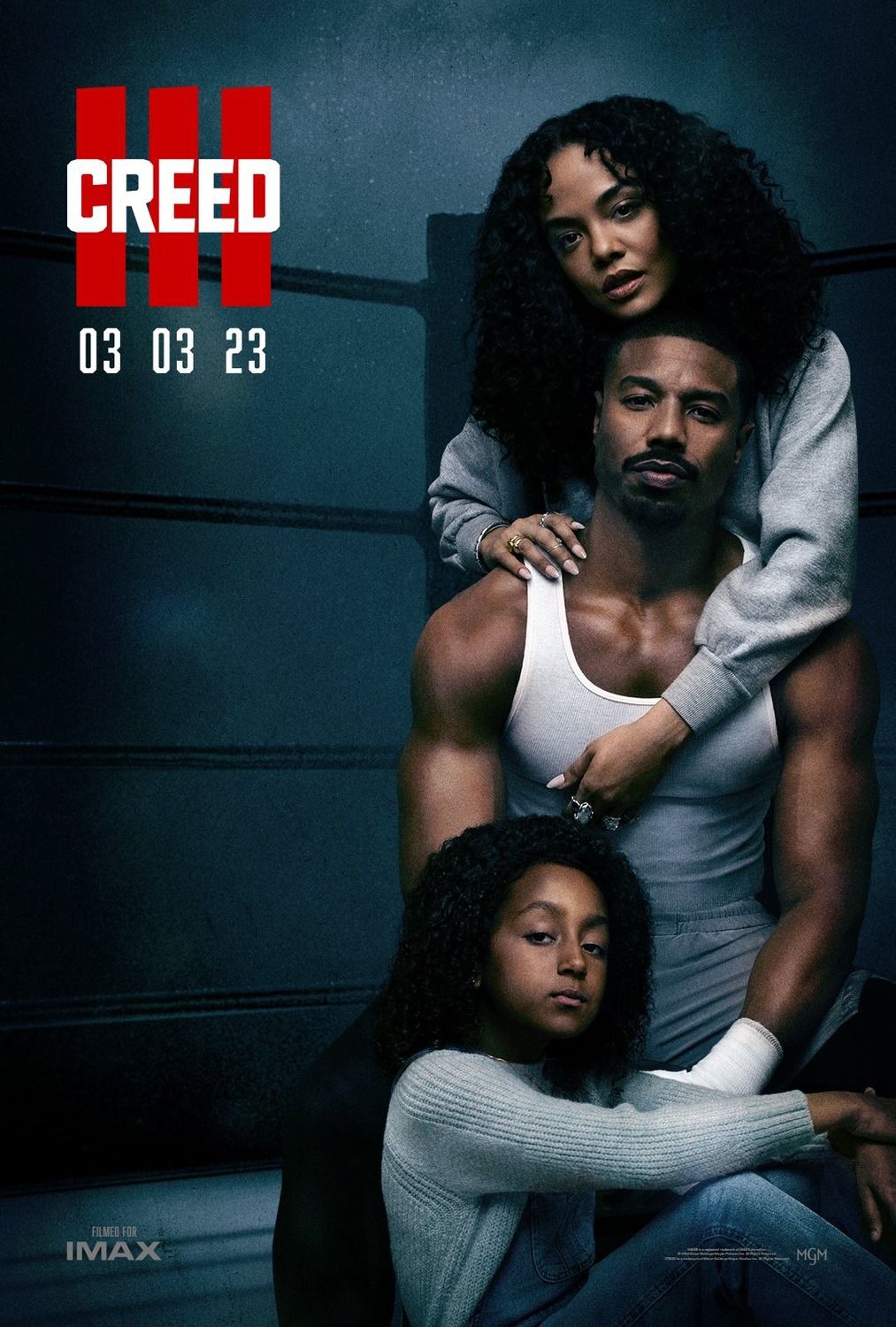 Creed III
PG-13 1h 56m
Adonis Creed (Michal B. Jordan) has retired from boxing. He has a gym and current heavyweight champion Felix Chavez (Jose Benavidez) in his stable of fighters. Creed is happy, his wife Bianca (Tessa Thompson) is successful, and their daughter Amara (Mila Davis-Kent) is delighted to have a stay-at-home dad. Then a blast from Creed's past blows into his gym: Damian Anderson (Jonathan Majors), a childhood friend who was a promising boxing prospect when they were teenagers. But Anderson got into trouble because of Creed and went to jail for 15 years. Now he wants some payback. He appeals to Creed to get a shot at the title. Creed gives him the match after Chavez's number one contender is mysteriously injured a month before the fight. Anderson takes his shot, fights dirty against Chavez, and shocks Creed and the world by winning the title. Then Anderson turns on Creed and declares he wants everything Creed has, and he won't stop until he gets it. Creed doesn't know what to do or how to handle things, but we know it's ending in a boxing match. This movie has some excellent parts, good cinematography, good boxing sequences, and good acting from Jordan and Majors, but it suffered a bit overall without Stallone.
It's not my favorite in the series, but SEE IT IF YOU'RE DOWN WITH boxing movies, family dramas, great boxing sequences, Michael B. Jordan, Tessa Thompson, Jonathan Majors.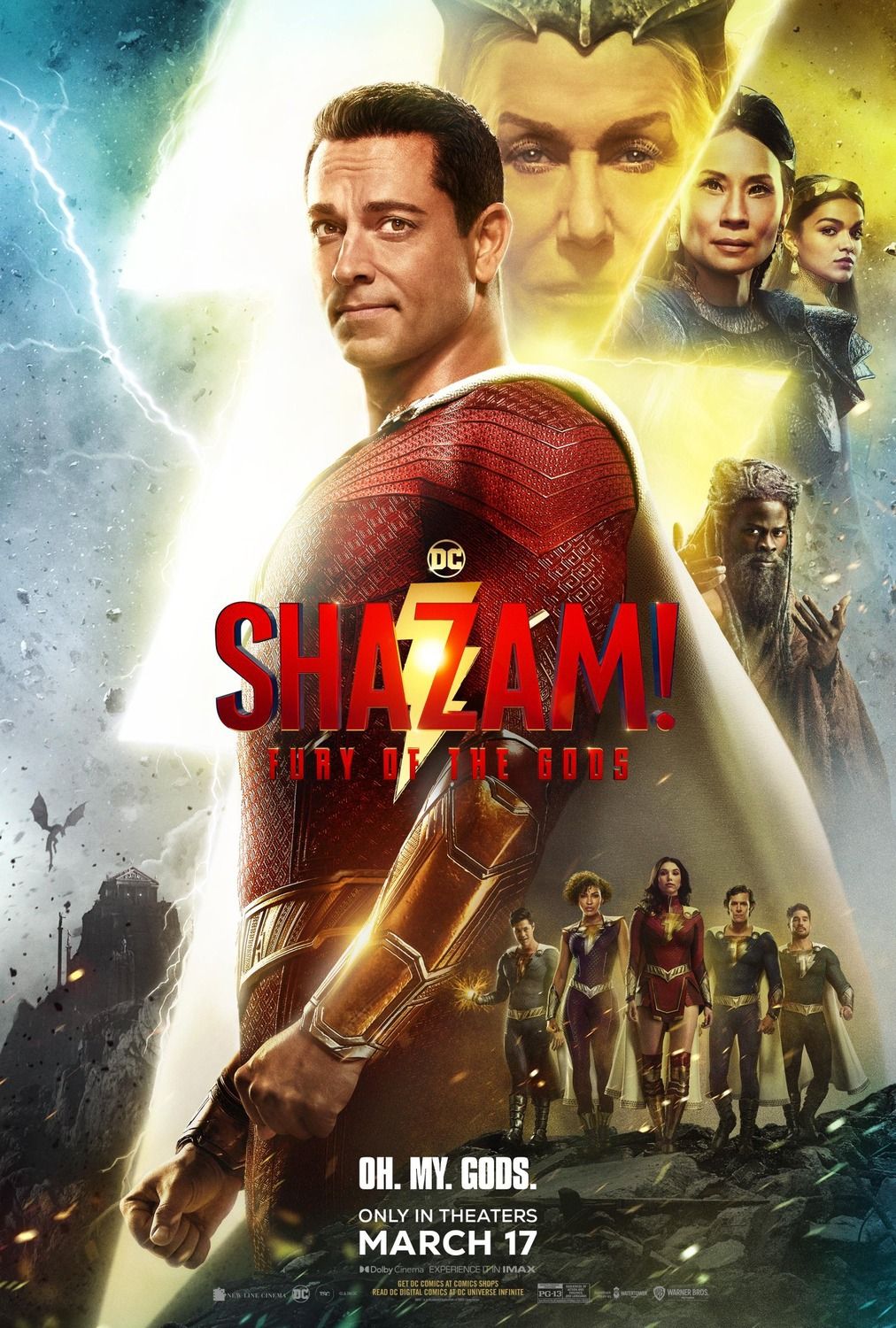 Shazam! Fury of the Gods
PG-13 2h 10m
Billy Batson (Asher Angel) is still struggling with the responsibilities of his superhero alter-ego, Shazam (Zachary Levi). And so are his fellow teenage siblings, still empowered from the last time around. They're messing up things everywhere, both at school and as their alter egos. But their biggest problem is that the daughters of the Titan Atlas — Hespera (Helen Mirren) and Kalypso (Lucy Liu) — have returned to Earth. They claim the broken staff of the wizard (Djimon Hounsou) who christened Batson as Shazam. Using the staff, Hespera and Kalypso plant a golden apple in the middle of the city, and the old magic world begins reappearing, releasing cyclopes, harpies, manticores, and minotaurs to wreak havoc. The daughters then rob all of Batson's siblings of their powers. Batson finds the wizard as he struggles to understand what's happening and how to fix it. The wizard assures Batson he can beat the daughters. Batson/Shazam finds a way to win with the help of his family. I liked the first Shazam! and this has better comedy, one-liners, fight scenes, and special effects. The ending was particularly satisfying.
If you liked the first one, you'll like this one, too. SEE IT IF YOU'RE DOWN WITH the DC Comic Universe, Shazam!, superhero movies, action movies, special-effects movies, Zachary Levi, Helen Mirren, Lucy Liu, Djimon Hounsou.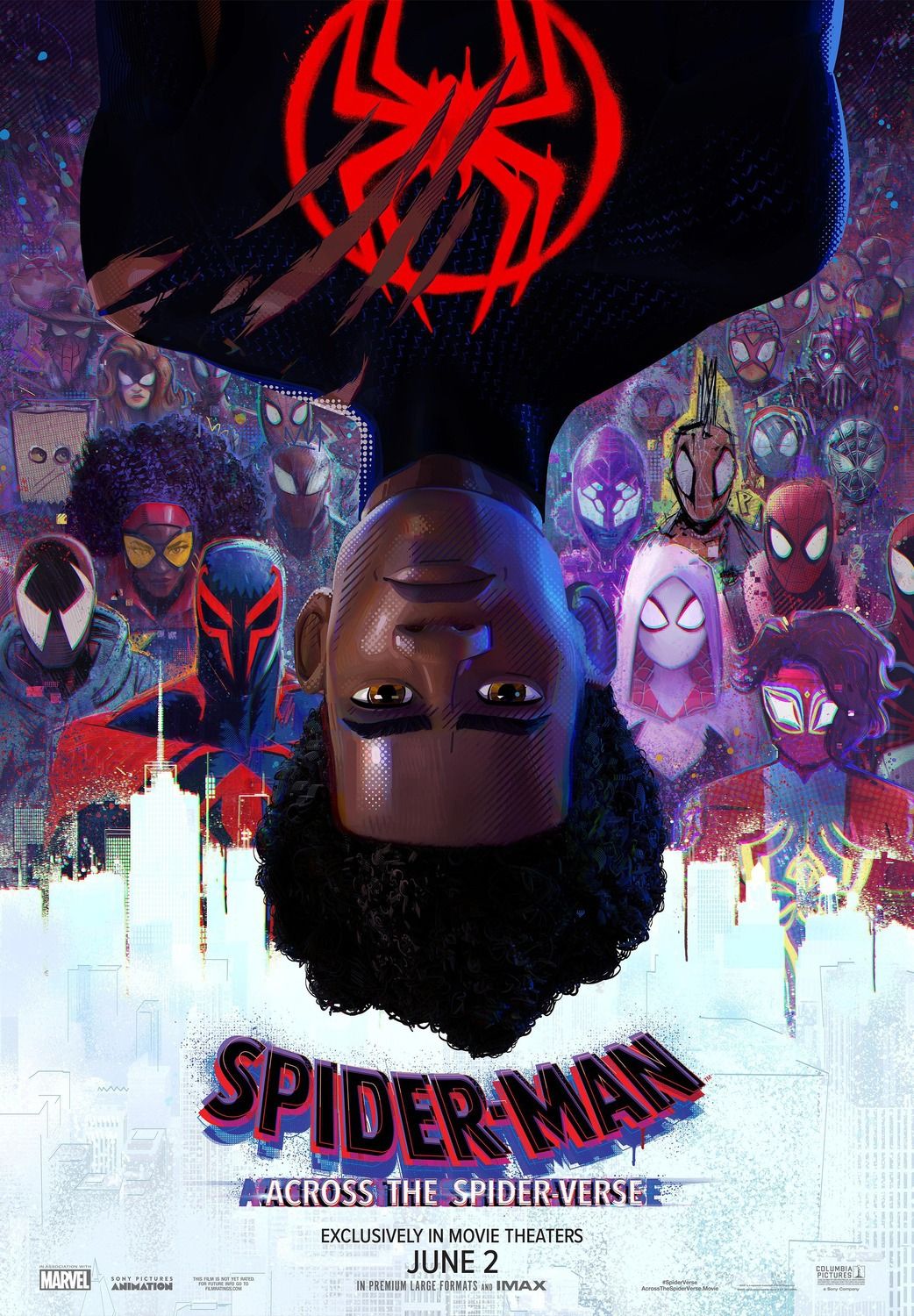 Spider-Man: Across the Spider-Verse
PG 2h 20m (Animated)
Miles Morales (Shameik Moore) is growing into his Spider-Man powers. He's working hard to please his parents and save the city from crime. Compared with the support of Spider-People from the last movie, Morales is isolated; he misses Gwen Stacy (Hailee Steinfeld), whom he met the last time he bounced around the multiverse. A new villain appears in the form of Spot (Jason Schwartzman) and starts wreaking havoc, gaining tremendous power in Morales' universe. Stacy shows up in Morales' universe, now part of a group of Spider-People that fights time anomalies and captures them across the Spider-Verse. We get about 250 versions of Spider-People, with some callbacks to previous Spider-Man movies and even a T-Rex Spider-Man! With a couple of funny moments, incredible character design, and more adult struggles to grapple with, this is a more mature Spider-Man. It's just as much a visual feast for the eyes as the first film, but it has more heart; all the Spider-People deal with grief as a part of their birthright. You may have to tune in for next time. And make sure you stay for the credits scene.
One of the best movies I've seen all year! MUST SEE for the sensational visuals, story, and voice work of talented actors Mahershala Ali, Oscar Isaac, Jake Johnson, Brian Tyree Henry, Daniel Kaluuya, Issa Rae, Andy Samberg, Amandla Stenberg, Jack Quaid.
Three-sentence Movie Reviews:
Knock at the Cabin
R 1h 40m
Wen (Kristen Cui) and her two dads, Eric (Jonathan Groff) and Andrew (Ben Aldridge), are on vacation when stranger Leonard (Dave Bautista) arrives with three others, who all share visions of the world coming to an end. They implore Eric and Andrew to help them save the world by making impossible sacrifices. The movie was intriguing, tense, gory, and more enjoyable than most movies directed by M. Night Shyamalan.
Operation Fortune: Ruse de Guerre
R 1h 45m
Special agent Orson (Jason Statham) and computer whiz Sarah (Aubrey Plaza) must convince Hollywood action star Danny (Josh Harnett) to help them trap international arms dealer Greg (Hugh Grant). There are some funny moments, tons of action and fighting, a skewering of spy movies/Hollywood, and gorgeous locations. It was a cool bit of harmless fun.
Ant-Man and the Wasp, Quantumania
PG-13 2h 4m
Ant-Man (Paul Rudd) and Hope (Evangeline Lilly) get dragged into the Quantum realm by their daughter Cassie (Kathryn Newton) and must fight their way out. Kang the Conqueror (Jonathan Majors) is determined to destroy the universe, and Ant-Man needs the help of his mentor, Hank Pym (Michael Douglas) and his genius wife, Janet (Michelle Pfeiffer) to defeat Kang. You know what this movie is; enjoy the crazy quantum ride!
---
Alanna Smithee is a former employee of the Academy of Motion Picture Arts & Sciences and a lifelong movie fan.