Photo by Ted Balmer on Unsplash
There is one thing folks in Richland will get REAL fired up about; they really don't like people messing with THEIR parks.
Richland has almost 50 (!) parks within the city. There are neighborhood pocket parks, regional parks like Howard Amon, nature trails galore including W.E. Johnson and Chamna, and riverfront parks like Leslie Groves.
In 2009, the city proposed closing several small neighborhood parks and the uproar from residents was huge. After heated comments from residents, the Parks and Recreation commission voted to keep the parks open and sent the recommendation on to City Council. Needless to say, the Council took the recommendation and didn't close the parks.
This was not the first time people have voiced opposition to plans to alter or amend the parks. Now, with a new long-range plan coming down for a major park in the city, citizens are once again getting heated.
The plan for Leslie Groves has brought out residents en masse to voice their concerns, hoping to influence the city council.
Some background on the plan
During the summer of 2023, the City Parks and Rec staff and consultants from the group Michael Terrell Landscape Architecture (MT-LA) out of Liberty Lake Washington began hosting public meetings in the park to allow input in the master plan. This is not the first Richland parks plan Mike Terrell has worked on. Years ago he worked on a masterplan for Howard Amon Park.
MT-LA were awarded the contract in May to begin working on the masterplan. First, Terrell explained, the city told MT-LA about what the public has been asking for over the last few years. Terrell said they learned of the maintenance issues, feedback about ongoing problems with bathrooms, how the trails are used, and basically an overview of what's going on in the parks. From there, MT-LA looked at what has worked in other parks and developed a preliminary plan.
Then, city staff and consultants from MT-LA began gathering information from the community in a series of public open houses in the park. At the first one, on June 28, the public had the opportunity to weigh in on proposals for three sections of the park: South, Central, and North Leslie Groves Park. The second meeting was on July 26, where they gathered more input and discussed possible revisions. So far, the city says they have "received tremendous input from those that attended."
Debbie Berkowitz is a key stakeholder in the future of Leslie Groves, said Terrell from MT-LA. He has spoken to Berkowitz a few times regarding the plan.
Berkowitz has been the driving force behind the natural section of the park, an area referred to as Leslie Groves North. Berkowitz, along with a team of dedicated volunteers, has been planting native plants including Sagebrush, Rabbit Brush, and various wildflowers and grasses since 2006. She hauls water by the gallon to the park, keeping these young, native plants alive to give them a chance to gain a foothold and survive. Her thoughts for the development of the park:
"No additional lawns, no more impervious surfaces, more Eastern Washington plants, more native plants (a diverse selection of those), pollinator gardens, and if you take plants out then replace them with a diverse selection of native plants. Get rid of the noxious weeds — and not just Russian Olives. More educational opportunities for people to learn about native plants. These are better for the environment than more green grass."
On October 17, a group of concerned citizens went to the City Council to raise the alarm regarding the master plan. More than fifty people went in, with a selection of them ready to speak during the public comment period. Diana Moeller spoke at length about the benefits of native plants and habitat for Monarch butterflies and other butterfly species. "We need to be their stewards, allowing them to grow in numbers and thrive. Leslie Grove [is] special, and it's unique. What are we asking? We would like surveys of the butterflies, pollinators, birds, and other wildlife performed before the vegetative management plan is developed."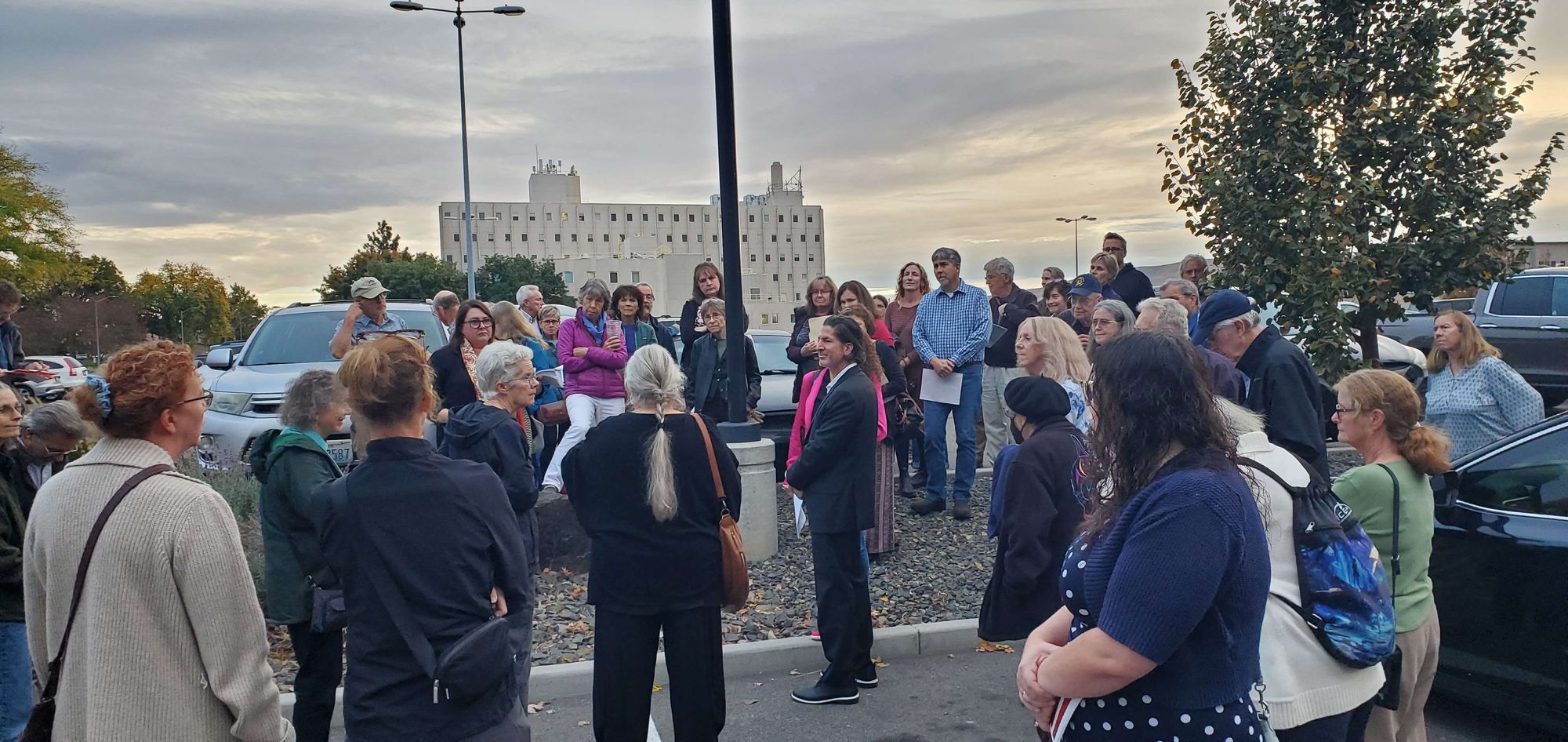 Another person spoke out against a new pickle ball court that was proposed, citing the disturbance the loud sounds from that project would result.
Laila Krowiak also spoke. She has lived in Richland for 30 years. She is an avid park user and dedicated bike rider:
"Since the volleyball court improvements our fine Park has become quite popular with residents and non residents alike on summer weekends. It is well established that any place worth its salt has a parking problem. One would anticipate a parking shortage at peak times anywhere. As more improvements are made to the park, and as our region grows, parking supply will not meet parking demand. We do not think that expanding parking to accommodate automobile drivers at peak times is a good use of our precious park space. Free parking is an insatiable beast. Our riverfront public space is a finite resource best used for accommodating people over empty cars. Ground paved is ultimately ground that cannot be enjoyed as park space. As our region grows, we need to utilize all the space that we have."
Richland Mayor Terry Christensen addressed the speakers and said that he wasn't trying to discourage the group from making comments, but it was still early in the process:
"Not that I don't want to hear from everybody. And nothing has been decided by a longshot at this point in time. The survey online is still there. So we're still taking public input on it and it doesn't close till the 22nd. On Thursday, November 9, there'll be an open house, which will be the fourth one that we're trying to do to get information and input to try to bring forward the best product. At 6:00pm on the 9th. There will also be the Parks and Recreation Commission meeting where they take public comments at that, where you can see what's moving along and what's not."
The plan comes to a sudden stop
Just three days after the city council meeting, the Leslie Groves master plan survey disappeared from the city website. And now, the plan has been put on pause. According to Joe Schiessl, Deputy City Manager, after reading comments and other information they were receiving, they realized that people were feeling like they weren't being heard in the public engagement process. He said that as they were heading to the 4th public engagement, they were getting the sense that the public was not being properly notified. He said that the more "intense developments" are probably going to be dialed back as well.
Schiessl said they have decided to circle back around and reevaluate the project, and that it is on pause until the first of the year. And, Schiessl said, one key state holder apparently had not been engaged at all.
The Confederated Tribes of the Umatilla Indian Reservation (CTUIR) sent a letter to the City saying they were not consulted or notified about the Leslie Groves plan.
The City and the CTUIR have a Memorandum of Understanding that states that the Tribes are to be consulted for any treaty lands that are to be used for any reason. The CTUIR have claim to the Columbia Rivershore through their Treaty of 1855. The Tribes in April met with the city to try to enter into an agreement for a legally binding Memorandum of Agreement. Schiessl explained that the City has an obligation of information sharing and joint planning. "This is one of the big reasons why we're reevaluating," said Schiessl.
Interesting to to note: the City of Richland hired a new Park Director Laura Hester just this year. She has been leading the engagement with the public as part of her duties. Hester is no longer working for the City as of Friday, October 20th. Now, Schiessl is stepping in to lead.
Schiessl said he wasn't really close to this project until now but he is jumping in to figure out the details. Schiessl previously was the Parks and Facility manager for the City for many years.
So, as of now, the Leslie Groves Master plan is on pause. The Tribes will be brought in, key stakeholders will be notified, and the Corps of Engineers will be engaged. Stay tuned, residents! And be engaged and ready to raise your voice. Sometime in early 2024. There is a Parks and Rec workshop scheduled for October 26 to discuss the plan. Schiessl will be presenting.
---
Lifelong resident of Eastern Washington, Dori enjoys the outdoors, her family, and making good trouble. She has worked in broadcasting and reporting and believes in the value of the 4th estate. She is a true community advocate that loves Washington.