When we moved to the Tri-Cities from Atlanta, Georgia a year ago, we arrived to a very different environment. Being used to humidity and lots of trees, we had to recalibrate to a new, dry world filled with rolling hills, sparsely covered with tall grasses and low shrubs.
Georgia normally receives a lot of rain, but lately has experienced some extremely dry summers. During those times, the residents are not allowed to water lawns or wash their cars. I learned there that water is not an infinite resource.
Sprinkler palooza
As soon as spring started in the Tri-Cities, I was surprised to see so many sprinklers watering all over town. I was also stunned to see how much of this water ended up on curbsides and streets and from there went straight into the storm water drains. I wondered, was the Columbia River an infinite source of water here? Are the designs for these lawns and water-hungry landscapes sustainable in the long run?
No, is the answer I received from the first person I asked: Heather Wendt from the Benton Conservation District (BCD).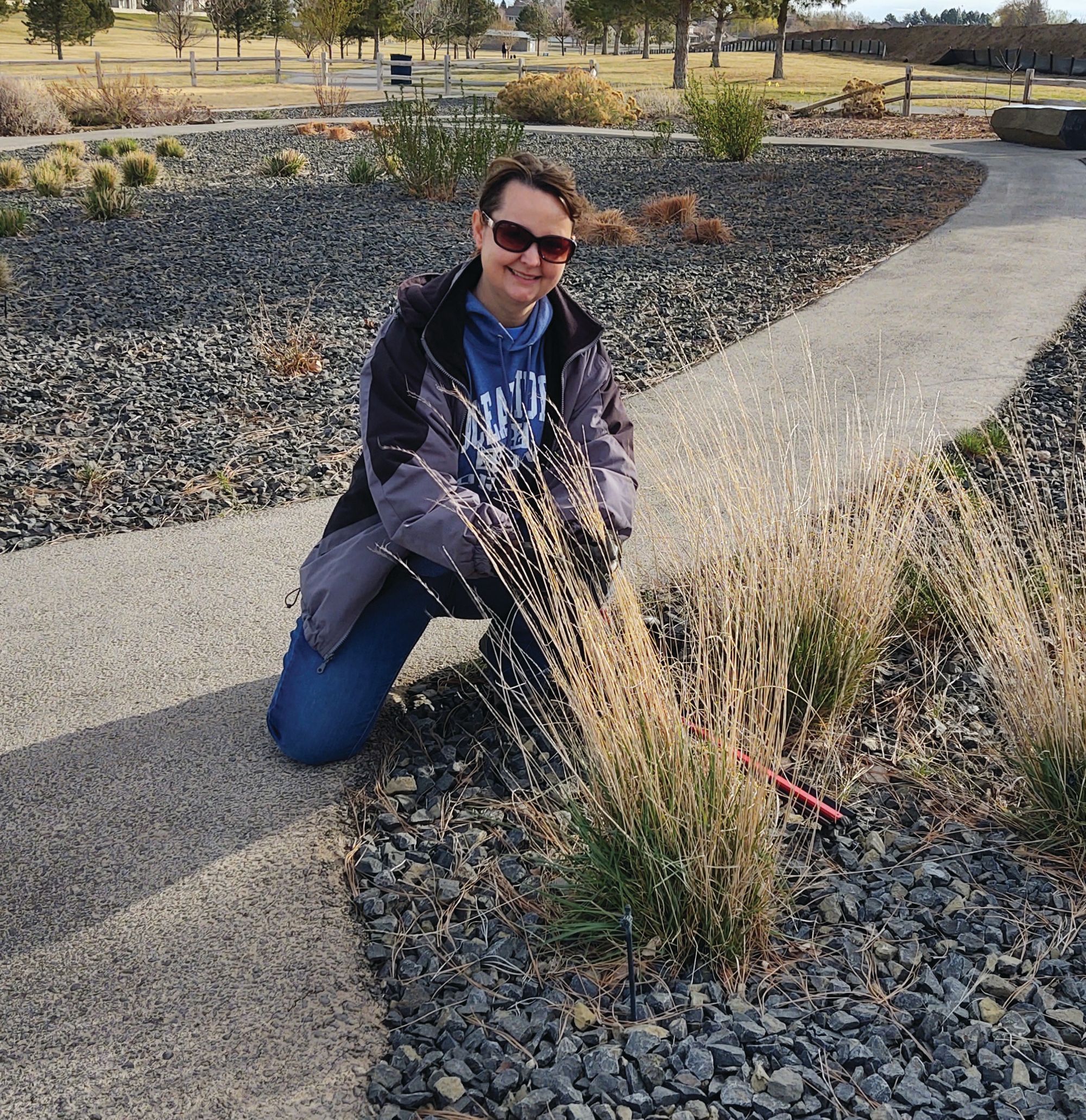 Water rights
Heather explained to me that water use is restricted by so called 'water rights' managed by the State of Washington. Water for irrigation comes from either surface water (rivers and streams) or groundwater. The amount of available surface water is dependent on snow levels, and subsequent snow melt, in the mountains. Groundwater is replenished by rainwater, snowmelt, and irrigation returns. There are many competing uses for water in an expanding region like the Tri-Cities. New surface water rights acquired are labeled 'junior rights'. During water-short years, the junior rights holders may have their right to withdraw water interrupted. In a newly developed area's groundwater, water rights can be so limited that on a large lot you may only be allowed to water a small area. In areas in Lincoln, Grant, Adams, and Franklin Counties — in the Odessa sub aquifer — groundwater has been depleted over the past several decades to the point that wells are going dry.
So bottom line: there is no infinite source of water in the Tri-Cities area.
The Benton Conservation District is one of 45 conservation districts in the state of Washington promoting conservation and the wise use of natural resources. One of BCD's programs is called "Heritage Gardens" and is focused on landscaping utilizing sustainable gardening practices with elements of the cultural and natural heritage of the Columbia River Basin.
A forward-looking vision
Flowers all season long!
Many people think that using native plants or drought resistant plants will make their garden look pale and less interesting. The Heritage Garden program is based on a forward-looking vision, promoting water-wise, beautiful landscapes. There are many designs with native plants possible that create all-season interest and a wonderful surrounding for any home or property.
Heather Wendt is the program director, and she will provide free technical assistance for residents who are interested in turning their existing garden into a more drought resistant one. She also works with neighborhood associations to create plans for common areas, like the one near the river in townhome community Richland North. These areas become thriving community spaces where people can teach their kids about the natural habitat of the Columbia Basin, come together, and enjoy nature.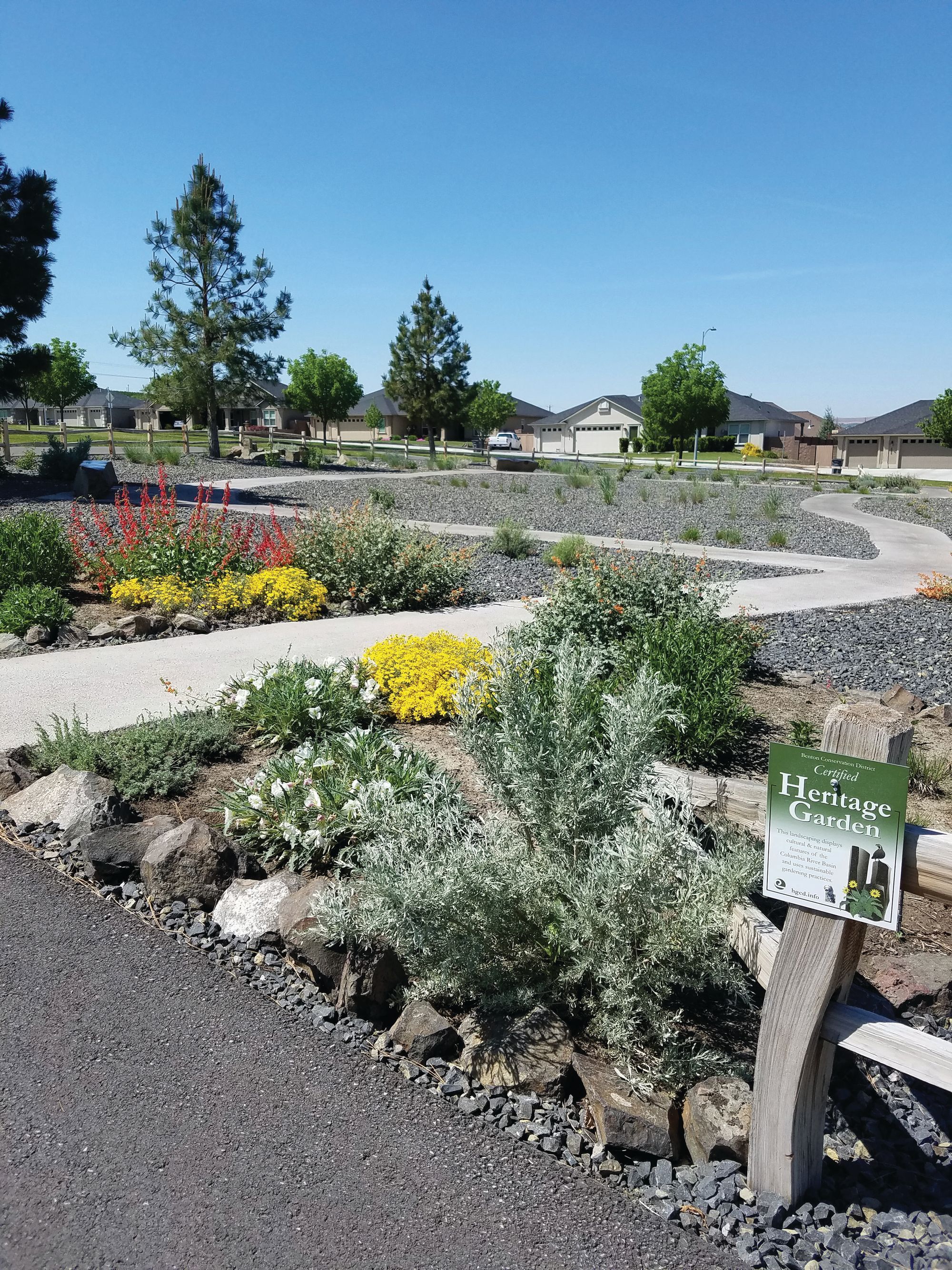 See the Hansen Park demo!
Benton Conservation District, in partnership with the City of Kennewick, developed a demonstration Heritage Garden at Hansen Park. The City of Kennewick received grant funding from Washington State's Recreation and the Conservation Office to construct the garden in the spring of 2018. Benton Conservation District, in partnership with the Columbia Basin Chapter of the WNPS, developed the planting plan, oversaw implementation, and partners with the City to do the yearly maintenance with the help of volunteers.
It has become a gem in the neighborhood, and the community is taking pride and ownership of the garden by keeping trash out of it and notifying Heather when they see something that needs attention!
Becoming water-wise
If you want to know more about the Heritage Garden Program, consider volunteering in Hansen Park to get hands-on experience, or contact Heather to get personal advice for your garden or property. The Heritage Garden website URL is www.hgcd.info