Our state produces amazing amounts of fresh fruits and produce. Agriculture takes a lot of resources, and at a time when we are more aware of finite resources like water and healthy soil, it is a pleasure to see initiatives that won't let anything go to waste.
Food rescue is done with Farmers Markets, at grocery stores, and by 'gleaning' the fields. Food banks are the happy recipients of most of these efforts, and some food banks have seen a record number of clients recently (nearly three times more than last year!).
The produce brought in from the Richland and Pasco Farmers Markets is essential to our local food banks.
Fields of Grace
For well over a decade, Fields of Grace volunteers have been coming to the Richland and Pasco Farmers Markets as the bell rings for closing. They pull a cart laden with up to 40 produce baskets and ask market vendors if they would like to donate any produce to our local food banks. Some vendors will have sold out, and some will be taking their leftover produce to another market in the coming days, but many will load baskets with what they can.
As a result, every week from June through October, Fields of Grace volunteers will gather hundreds of pounds — sometimes even thousands of pounds — of fresh produce from various vendors that in most cases would have gone to waste. The produce collected is local and in season, and some of the freshest available.
After the collection takes place, Fields of Grace will help to load the Tri-Cities Food Bank van with full baskets from the Richland Farmers Market. The Tri-Cities Food Bank will distribute the produce to their multiple locations in Kennewick, Richland, and Benton City. At the Pasco Farmers Market, volunteers will load their vehicles and drive a block to St. Vincent DePaul Pasco, where the produce is properly stored and prepared for distribution the following week. These two local food banks help to provide essential sustenance to over 1,000 families per week at their locations.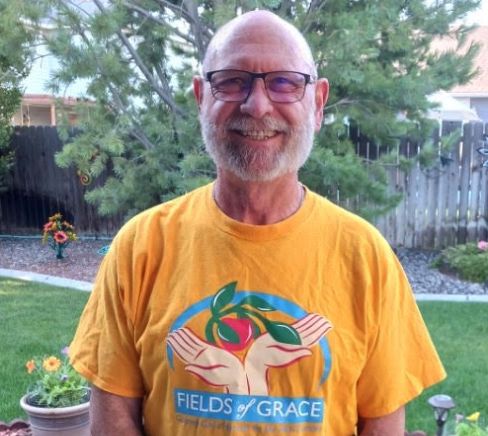 Ron Utter, a Fields of Grace volunteer, says: "There is so much need in theTri-Cities for good healthy food that this seemed like a good way to give back."
Ron says he won't be able to keep volunteering for much longer, and he is going to miss the work for Fields of Grace. "My knees aren't what they used to be and I'm feeling the wear and tear, but it has been worth it and I hate having to give it up."
Volunteer spotlight
Ron Utter, a Fields of Grace volunteer, has carried out the Pasco Farmers Market collection for over ten years. He and his wife first heard about the opportunity at church and felt the call to serve. Over time, Ron has created a relationship with the farmers and vendors that shows the power of community and teamwork. They know him by name, and they are ready to fill baskets as he drops them at their booths. He loads up the small bed of his pickup with produce baskets and makes his way to St. Vincent De Paul in Pasco just a block away. He says it is a great way to get in a good workout! When he arrives at St. Vincent dePaul, there is a volunteer waiting to receive the donations. They weigh the produce and store it in their warehouse for the following week of distributions.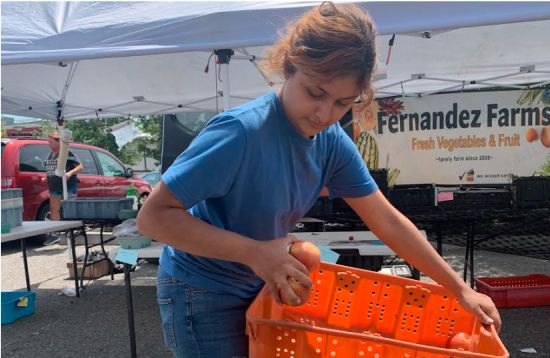 "It's a great way to get in a good workout!"
Fields of Grace would like to thank Ron Utter for his dedicated service. Every Saturday for over ten years, he's made his way to the Pasco Farmers market in his yellow Fields of Grace shirt. He has helped to collect unimaginable amounts of fresh food for those in need. This 2023 growing year, he will be retiring from his position as the Pasco Farmers Market gleaner.
It takes many volunteers
It takes many dedicated volunteers and willing farmers to carry out the market collections. Farmers grow and provide amazing, fresh, locally-grown produce for the markets and find it in their hearts to donate, and Fields of Grace helps to provide produce bins and collect the fresh food set aside. Food bank volunteers are there to receive, weigh, and store the produce for the following week of distributions. It is the work that goes unnoticed, and largely unheard of, but that is essential to our community.
Help rescue more food!
Become a market gleaner for Fields of Grace
Reach out to Fields of Grace at
admin@fieldsofgrace.com

Volunteer drivers wanted
There is an ongoing driver shortage at the Tri-Cities food banks; sign up to volunteer for a run or to fill in gaps due to cancellations.
Sign up:
TriCitiesFoodBank@gmail.com
or contact St. Vincent DePaul: OpenDoorToHope@gmail.com
Donate food
For stores and food services, donations made within the state are protected from liability (Good Samaritan Food Donation Act), including food that is past its 'best by' date. Also, you can share the harvest from your home garden.
Apply for a grant* (Open from Sep 5 – Oct 3!)
Up to $80,000 of funding is available for food rescue initiatives as part of the Waste Reduction and Recycling Education (
WRRED
) Grants Program.
Contact:
alaina.robertson@ecy.wa.gov
or sign up for the grant applicant training on Sep 7, 1pm–2:30pm at
ecology.wa.gov