"Mushrooms are going to change the world."
So says Darrell Wise, the founder and owner of Columbia Basin Shroomery here in Pasco, Washington. Columbia Basin Shroomery provides mushrooms to local restaurants and Community Supported Agriculture programs. They also sell mushrooms and mushroom kits from their farm located at the corner of Road 101 and Court Street in Pasco.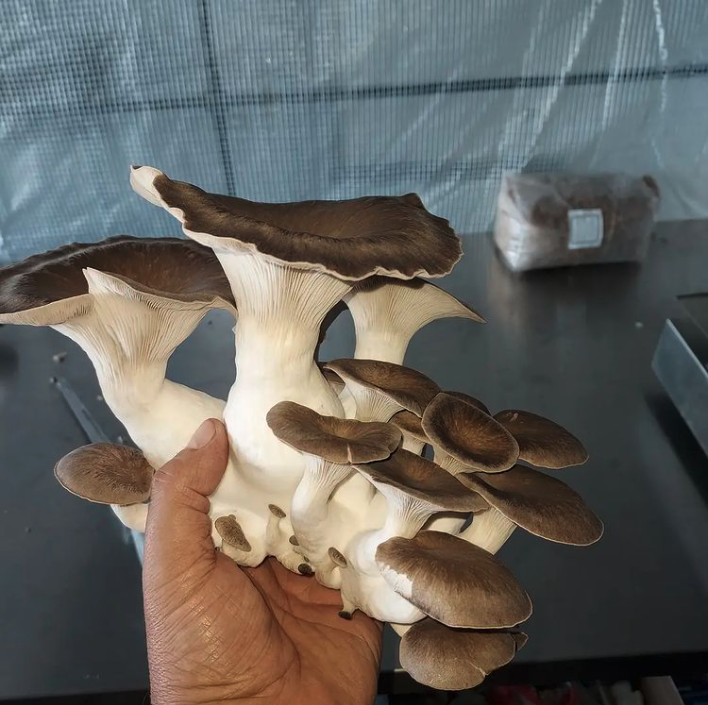 When Darrell first started cultivating mushrooms, he did so as a hobby, growing mushrooms for himself and his family out of the garage. Over the last two years, he's expanded the business, converting outbuildings into an incubation stage, a grow lab, and a fruiting station. Each workspace is temperature controlled and CO2 and oxygen controlled, and the humidity is kept at optimum levels.
"When I started, I couldn't find anyone on the east side of the mountains growing culinary mushrooms," says Darrell. "There are a few now, but when I started, I was the only person in Eastern Washington growing mushrooms."
Columbia Basin Shroomery currently produces about 180 pounds of mushrooms per month. Around 35 pounds per week go to local restaurants and other local businesses, including Dovetail Joint, The Endive Eatery, Drumheller's Food & Drink, and Local Pumpkin — a local company that ships fresh, local, and organic produce to homes and offices in the Tri-Cities. They all use fresh mushrooms from the Shroomery (some of them exclusively).
"The business keeps expanding," says Darrell. "Everything I grow I sell, so I know it could still grow even more."
Columbia Basin Shroomery encompasses four sides of the mushroom business: The grain spawn production, the recipe and substrate, the actual fruiting of the mushrooms, and the sale of items used by other mushroom hobbyists and businesses for production, such as autoclavable bags.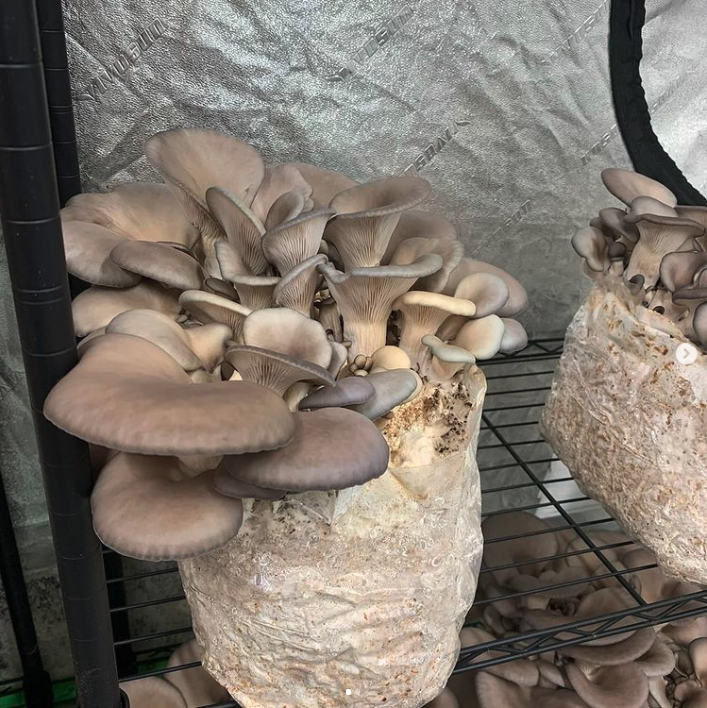 Darrell grows a lot of Blue, White Oyster, and King Trumpet mushrooms; he likes to focus on mushrooms that aren't commonly found in grocery stores in the U.S. Most are packed in nitrogen and shipped from Asia, Once they're here, they degrade quickly. Buying fresh, local mushrooms means that they're only a few days from the farm to your plate. Darrell is also grateful to be working with small businesses. "The number one thing is local," he says. "I love buying from and supporting local businesses."
Apart from his focus on mushrooms that are less commonly found locally, Darrell also chooses to grow only pre-compost mushrooms, not post-compost grown mushrooms like portabellas, creminis, and button mushrooms. "The taste difference between my mushrooms and those post-compost mushrooms is immense," says Darrell.
Although Darrell Wise's work is mostly focused on culinary mushrooms, he grows a few varieties — like Lion's Mane, Reshi, Maitake, and Turkey Tail — for medicinal purposes. He follows the work of Paul Stamets, an American mycologist and medicinal fungi advocate who does a lot of research on fungus and what it can do for the body.
Medicinal mushrooms cultivated at Columbia Basin Shroomery can be used in capsules and tinctures. Even culinary mushrooms have a positive effect on the body, Darrell says. "Mushrooms can help us heal, help boost the immune system, and more. If we ate more mushrooms, we would be so much healthier." He says, "Mushrooms are massively understudied. There is so much we still don't know."
Mushrooms can also replace beef. "A lot of vegans out there or vegetarians can replace a lot of animal protein with mushrooms," Darrell says. "You can cook mushrooms a lot of different ways to give them a similar texture and flavor to meat. Mushroom jerky is phenomenal." He adds that, even though he's not a vegetarian, he completely supports plant-based diets. "I love mushrooms."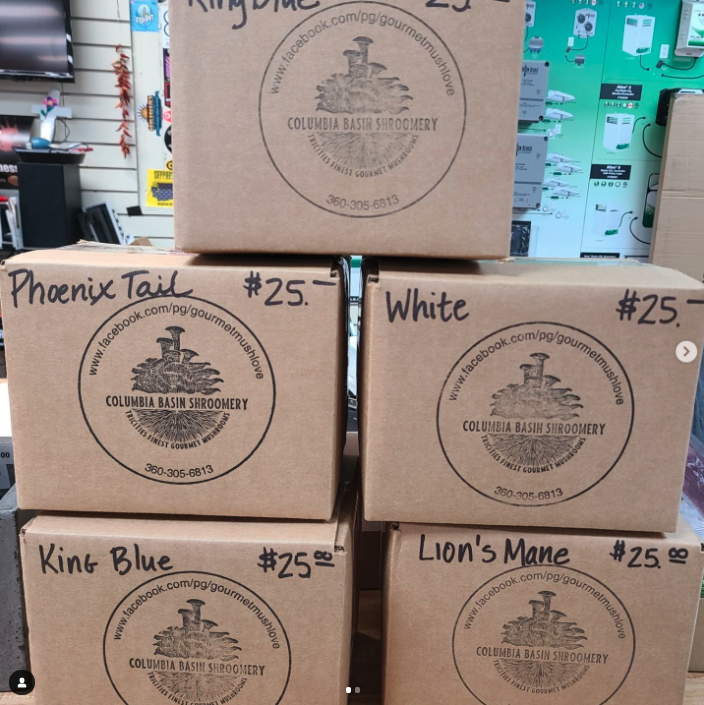 Columbia Basin Shroomery supplies homegrow countertop grow kits to anyone interested in cultivating fresh mushrooms at home. Each kit starts as a block of hardwood and soybean hulls. Darrell mixes a recipe of grow medium and adds it to the block inside of a special autoclavable bag. The bag is put through the autoclave for about 30 hours to sterilize the mix.
After they are sterilized, the bags are taken to the 'clean room', which are fitted with special HEPA filters, and the bags are inoculated with grain spawn and sealed. Then, the bags sit on incubation racks for 21–30 days until they are ready to fruit. Darrell says he has instructions for anyone who wants to give growing a try. He says that some species are easier to manage than others, and that he does everything he can to help people be successful in their cultivation.
Columbia Basin Shroomery sells mushrooms by the pound from their farm on the corner of Road 101 and Court Street in Pasco. You can text Darrell with any questions at 360-305-6813.
Look for them at Tri-Cities Farmers Markets this year, too.
For home hobbyists, they will sell substrate (the grow medium), grain spawn, and spores to them. You can also purchase grow kits and fresh, gourmet mushrooms at Tri-Cities Garden Supply at 6030 West Clearwater in Kennewick.
---
Photos courtesy of Columbia Basin Shroomery.
Instagram:
https://www.instagram.com/columbiabasinshroomery/