The first time I rode a bike to work, it was country roads and cornfields. I was preparing to lead a group of teenage boys on a self-supported bike trip from New Hampshire to Michigan. Riding a thousand miles with a gaggle of teenagers will very quickly shed light on what is essential for a successful ride, long or short. The flat tires were many, and the snacks were consumed rapidly. There were a few hiccups, some disasters, and a good number of facepalms. Since those early days, my bike commutes have taken me to different places.
To get to work, I have pedaled along wooded trails, up 8000-foot mountain passes, through busy metropolitan downtowns… and now, through the land of heat, wind, and goat heads. Through it all, my commute essentials have remained pretty much the same. Now, I'm sure there are naysayers out there who will disagree with the list below. You do you. For everyone else, the more you ride, the more you will develop your own special blend of bike essentials. But, you've gotta start somewhere, so…
Cascade Bicycle Club has this handy, basic list of Ten Essentials for Commuting on their website:
1.  Bike
Bicycles come in a variety of sizes, shapes, and purposes. The best bike for you depends on your commute: distance, hills, pavement condition, degree of darkness, etc. No matter what bike, make sure your bike fits you well and functions properly for a safe and comfortable commute.
2.  Bicycle Helmet
Helmets are designed to protect your brain, and they do a good job when worn and adjusted properly.
Helmets are one-hit-wonders. If your helmet sustains impact in a crash, replace it, as an impacted helmet is less likely to protect you in a future crash.
Helmet materials degrade over time. Manufacturers recommend replacing every 3 to 5 years.
3.  U-lock
A good lock is a major deterrent to theft. Cable locks can be severed in a matter of seconds. Invest in a U-lock and make sure to lock your frame and front wheel to the bike rack.
4.  Lights
When riding in hours of darkness, it is essential to see and be seen. By law, you need a front light and rear reflector. We recommend no less than a steady beam white light for the front and a red blinking light for the rear.
5.  A commuter bag
A variety of bags can help you transport your stuff between home and work: messenger bags, panniers, or a simple backpack.
6.  Reflective and bright clothing
Your visibility in traffic increases dramatically when you wear clothing that calls attention to your place on the road. Bright colors are most effective for daytime riding. Reflectivity is most effective for riding in low light. Reflective tape or stickers can be applied to your current gear (and bike).
7.  Rain gear
Investing in quality rain gear is investing in comfort. Cycling-specific jackets with a long 'ducktail' protect your backside from getting wet and dirty. Rain pants, gloves, and shoe covers are popular during the colder, wetter months. Additionally, fenders keep you — as well as those cycling behind you — drier and cleaner when you ride in the rain.
8.  Protective eyewear
Wear protective eyewear to keep cold drying winds, blinding glare, and rocks out of those precious peepers while enhancing performance.
9.  Commuter clothing
Everyone has his/her own idea on what to wear on the commute in. Some riders prefer the ease of a jacket over their work clothes, others gear up in spandex. The priorities are comfort and safety; the rest is personal preference.
10.  A bell
A small bell on your handlebars can alert pedestrians or other cyclists of your presence when passing. Otherwise, make sure to say "passing on your left" to avoid close calls and crashes.
Bonus Suggestion
We also recommend that you plan ahead and prepare before every ride. A major part of this is good route planning, and it just so happens that Bike Tri-Cities, Benton Franklin Council of Governments (BFCOG), and others have just released an updated version of an amazing local resource: The Tri-Cities Bike Map. To get your copy of the hot-off-the-press new edition, contact Wheelhouse or BFCOG.
One of my favorite things about commuting to work or running errands on bike is that it combines something you need to do with an awesome, healthy lifestyle choice. I love getting work done and getting a workout while doing it. If the thought of bike commuting is overwhelming to you, you are not alone. At Wheelhouse, our mission is to promote cycling as an effective and sustainable form of transportation. We also believe cycling to be a cornerstone of any clean, healthy, and safe community. Therefore, we offer subsidized education programs to the community and provide refurbished bicycles to people who could use them.
If you have questions about commuting, bike maintenance, rules of the road, gear, or more… we can help. We are always working to expand bicycle usage and knowledge by providing public access to educational materials, workspace, tools, and parts. If we don't have what you need, we will point you in the direction of one of the amazing local bike shops or organizations who will.
So, get on your bike (after you gather all your essentials and plan your route, of course)! And join us in September as we move our #BikeTheTri Challenge to our Ride with GPS club page! Just go to https://ridewithgps.com/challenges/20364 to join the Wheelhouse club's September Challenge, and sign up for Ride With GPS at the same time. Log your 'for fun' rides, but challenge yourself to substitute some car or bus trips with bike trips, too. You can also create a public post on social media and use the hashtag #BikeTheTri. Club members and social media posters will be entered to win sweet prizes!
What's coming up next: October — Bike to School Challenge
Do you have a kid who loves biking? Send us a picture of your young cyclist, a quote from them about why they like to bike, or a photo of some of their bikey artwork. We would love to share it in our October column! Send your submissions by September 5 to ride@wheelhouse.bike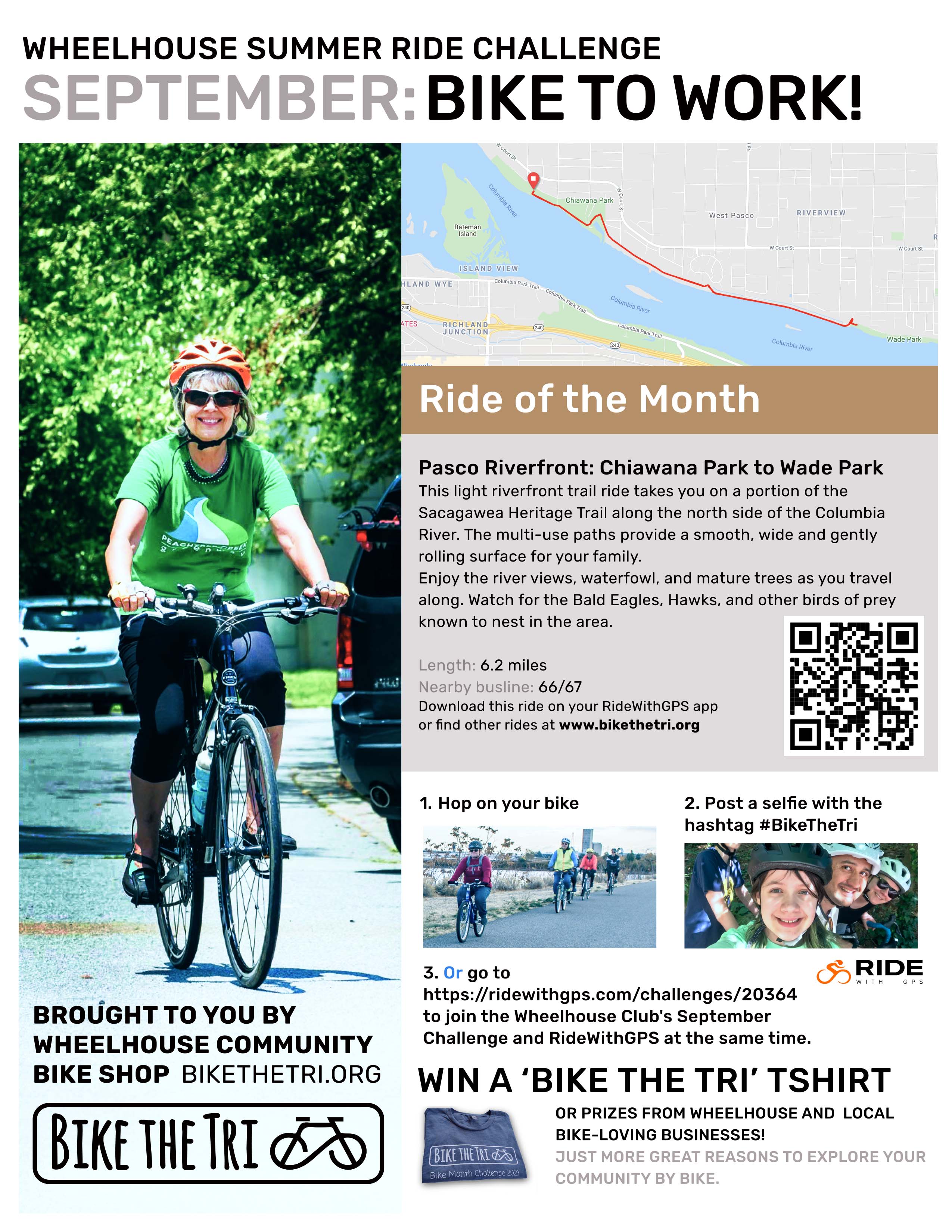 ---
Learn more about Wheelhouse Community Bike Shop at https://wheelhouse.bike/
Photo by Roman Koester on Unsplash