Phinney Brown is an Indigenous artist of Coeur D'Alene descent. She uses traditional materials and methods to create unique, modern, wearable art.
How would you describe your work to someone who has never seen it?
I have a hard time with that! I tend to just tell people that I make Native-style beaded jewelry and moccasins.
Can you tell us a bit about what you are currently working on?
I've primarily made earrings using brick stitch, a beadweaving technique, but I've spend the last few months working on my skills with bead embroidery, which is entirely different even though the same materials are used. My current project is a beaded medallion to put on a mask, and I just finished a pair of beaded moccasins.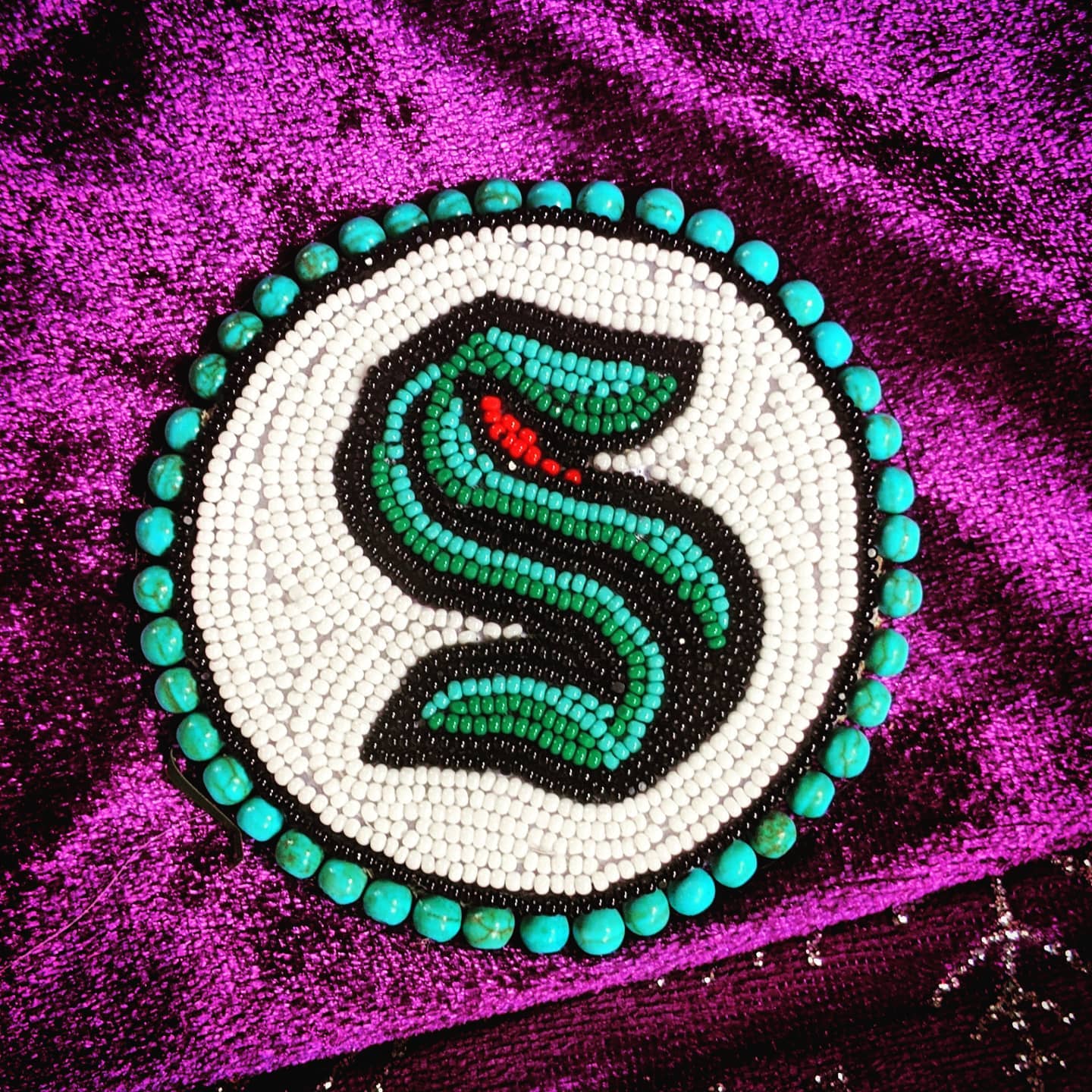 I love how you talk about using traditional materials in a modern way. Can you tell us more about that?
I think there's a lot of confusion out there about cultural appropriation and what people should and shouldn't wear. Traditional designs make many socially conscious people shy away because they don't want to offend anyone. I've found that people really respond well to pieces that look less traditional. I also think that people associate brick stitch and fringe earrings with hippie/boho style, so I've made a lot of pieces that are a bit more formal or with clean, modern lines.
Can you tell us about your technique?
I primarily work with brick stitch and am working on my skills at bead embroidery. I've dabbled in other beadweaving techniques like peyote stitch and loom beading but still have a lot to learn.
Do you have any routines or rituals that get you ready to create?
Not really, but I guess I have to be in the right mood. It's hard for me to create when I feel anxious or like I have more pressing things to attend to. So, if there's a sink full of dishes and I'm all out of clean laundry, I have to take care of those things before I can relax enough to enjoy it.
What inspires you?
Is Pinterest an okay answer? I'm kidding, of course. My inspiration comes from traditional Indigenous artwork and the world around me. Traditional Anishinaabe floral beadwork is gorgeous, and though I'm not Anishinaabe, I'm inspired by what I see from artists who are. But I always try to make my work my own instead of directly copying other artists.
Can you recall a moment or memory when you were particularly moved by a piece of artwork?
There's an untitled painting by Zdzisław Beksiński that depicts two lovers embracing, but true to his style, the figures are basically decaying corpses. I know that sounds creepy and off-putting, but it's really one of the most raw, beautiful, and human depictions of love that I've ever seen. It still gives me all kinds of feelings whenever I see it.
Who is your favorite artist?
That's a difficult question to answer, because 'art' is so many things. Jamie Okuma is an excellent Indigenous beadwork artist, and I love Zdzisław Beksiński, whom I mentioned before. I also think there are some fantastic local artists like Genevieve Spiegel, Cameron Milton, Yu-Heng Dade, Randy Berglund, and Barb Thrall, to name a few.
How have personal challenges impacted your work?
How hasn't the last year impacted my work? The pandemic should have been an ideal time to take a step back and create more, but since I get so much of my creative inspiration from being out in the world with others, I've not done nearly as much as I wish I had.
I think many artists will resonate with what you said about inspiration coming from being out in the world and the challenges this year has presented. What has helped you deal with those challenges, and how has your practice shifted because of them?
I think I shifted my focus to learning new techniques and watching a lot of videos to see how other beadwork artists do things. I also stopped taking so many commissions and instead tried to do whatever sounded fun.
What is your artistic philosophy?
If you can call it a philosophy, I believe that beadwork is medicine. It's a way to connect with the past, but live in the present with the focus and attention to detail it requires. It's art, it's culture, and it's a healing practice.
Beadwork as medicine, and a way to connect with the past while being grounded in the present, is such a beautiful and powerful description. Has beadwork always been an integral part of your life and identity?
There's a lot to unpack in this question, and I could probably give a TED Talk on it and still have more to say. I think that many people in this country don't realize that the efforts to eradicate North American Indigenous culture were extremely recent and are even ongoing, and just how intentional and government-sponsored they were and are. Until 1978, when the American Indian Religious Freedom Act was passed, it was largely illegal for Native people in the United States to practice their religion, participate in cultural events, or speak their languages. So, any act that reclaims tradition and culture is a healing act.
As far as identity goes, that's another can of worms that I can talk about all day. I learned to bead as a child, but I'm very much a white-presenting person, and due to multiple factors, I came to feel like I didn't 'look Native enough' to participate in the culture of my ancestors, so I didn't actually get back into it until the last couple of years.
What is the hardest part of being an artist?
For me, the hardest part is thinking of myself as an artist. I know so many extremely talented people who are what I think of as artists, and it's difficult for me to put myself in the same category. There's definitely some imposter syndrome at play in everything I do.
Is it ever hard for you to see a piece go?
It's always a bit bittersweet to see a piece go after putting so much time and work into it, but I get a lot of satisfaction in the joy that my work can bring others. I wish I had more of my own jewelry to wear, but I almost always end up selling or giving away the things I make.
How do you think art shapes our community?
I think that for those who know where to look, art is easy to come by in our community. I think there is a really good pool of talent in the Tri-Cities. However, I wish that local art was more prominent. I'd love to see more public spaces decorated with art from local artists, and more events centered around art in our community.
How can our community better support artists?
Buy more art, display it proudly, and tell your friends. And don't ask artists to work for free or for a discount if you're not doing it to raise money for charity. I'll always donate my work to charity auctions if I'm at all able to meet the deadline, and I do like to give pieces away to friends and family or do trades with other artists, but I think people are so used to big box retail prices on everything that they expect something similar from artists, and they don't consider the time and hard work that goes into creating a one-of-a-kind piece just for them.
---
You can see more of Phinney's work at fb.com/coyoteandcrane
Ashleigh Rogers is a visual artist and mother of four. She is the Creative Director and Artist Feature Editor at DrewBoy Creative. Find her on Facebook: AshleighRogersArt or Instagram: ashleigh.a.rogers
Photo of Phinney Brown by Madison Rosenbaum.