Ten years from now, there will be a few songs that remind us of this era we're all surviving. For me, the album I Won't Move by Chauncey Bass, like the Anderson Paak song "Lockdown," is a critical component to this time capsule.
Bryan Christopher Hearne, AKA Chauncey Bass, is a wordsmith, poet, musician, father, husband, community organizer, and social justice activist committed to this struggle for equality and liberation, and his new release I Won't Move hits like torrential downpour after a year long drought.
Each track in Bass' album is laden with the genuine love and honor that he has for his wife Daishaundra and daughter Nova, and on the flip side, he makes no bones about feeling the need to protect what he is fighting for by any means necessary. I know a lot of Black and BIPOC community feel this same way right now, and I feel that that sentiment is just and fair given the nefarious times we're all surviving.
The trilogy of tracks on I Won't Move possesses all of the energy, angst and wokeness that the majority of activists in this movement are feeling right now in present day America, but it also contains the heart and soul of all that we are fighting so tirelessly for.
It is challenging for people to create right now; the world is hard to look at, so it's difficult to express pain and suffering without feeling like you are only going to add to the already overwhelming amounts of pain and suffering that are filling our lives. Bass lives up to this challenge in all three of his songs in I Won't Move. He flips darkness into light and light-heartedness, tackling intense social/political/racial issues all in song.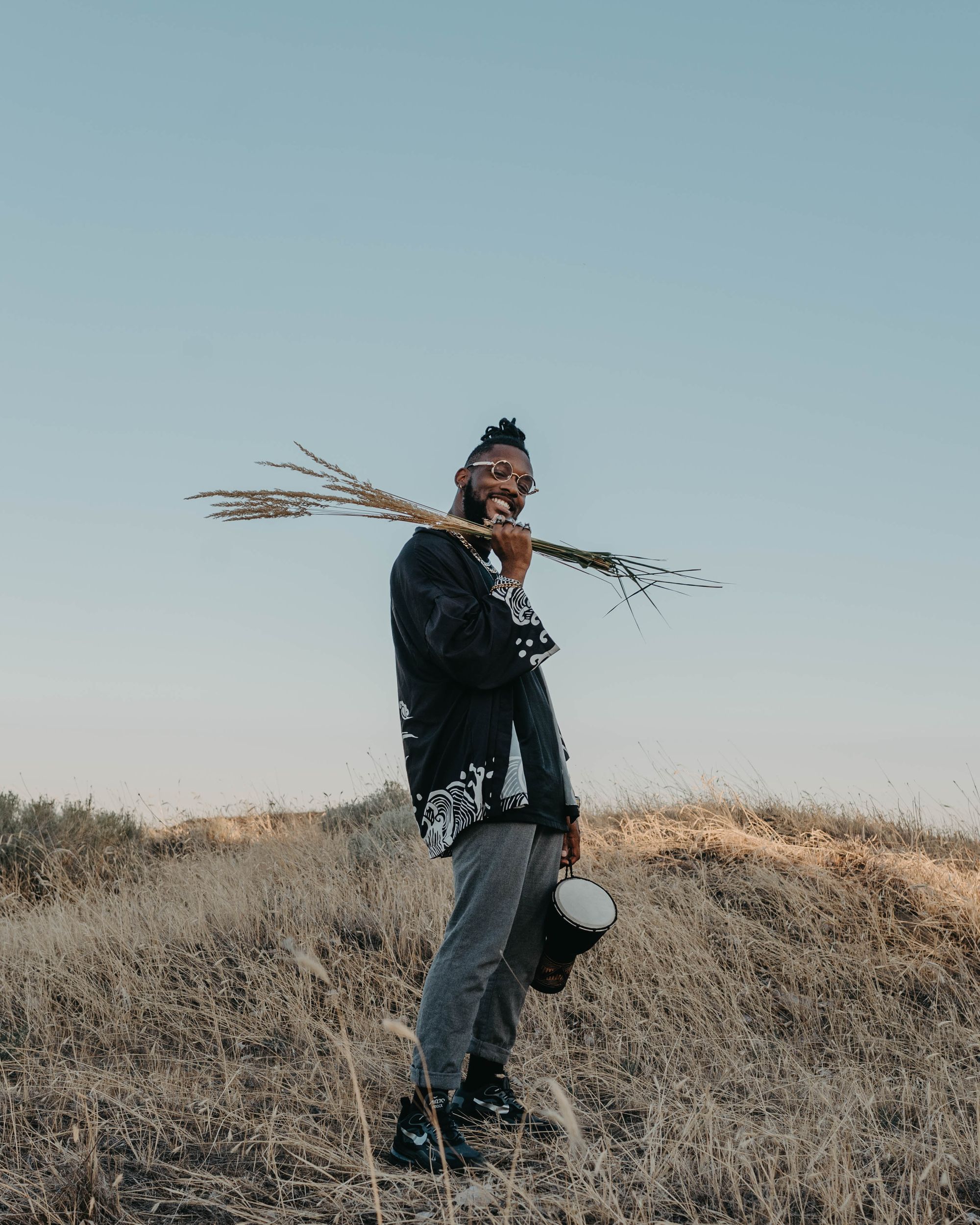 That's the beauty of this artist—this alchemist—Chauncey Bass. He speaks directly to our times and is very transparent about what is motivating him to be a change agent and still possess the spirit to create in the face of all that is crumbling for us. He has a heart tender enough to set a positive example for his wife and daughter but also a heart wise and committed enough to do what is necessary to ensure that family and community will have safe and sustainable lives. He illustrates this in "They Can't Hold Us," singing: "Middle finger to my old life… ring finger to my new life."
When Bass first played the song "But If A Man Test Me" for me, we were driving over the Cable Bridge, plotting our route for our "Legalize Blackness" protest that we all organized for Big Bro Joe, a Black man that was racially terrorized by the KPD a few weeks ago. I had to keep playing the song over and over and over again to soak up every element of this sonic masterpiece. It's my favorite song on the album; it's a "bop" as my students would say!
What makes this particular track so special and worthy of even more note is that the beat was produced by Nobi, son of Shaolin (a Pasco native) that had major influence on the local hip-hop scene in Pasco back in the 90s. Tiffany Loving, Nobi's mother, has the voice of an actual goddess. The product of their love created the golden child that created this beat that I can't stop playing for the life of me. Nobi has that 90s east coast swagger that Method Man and Red Man have, but I've watched his lyricism, artistry, and consciousness blossom over the last year or so, and the production of this song "But If a Man Test Me" is proof of that.
There's so much to say about "But If A Man Test Me." First of all, the magical cadences and wordplay are next level. The beat is exceptionally melodic and mesmerizing. It's gritty, it's grimy, and it's truthful. The wide array of creative influences on this record only becomes apparent after you've listened to the song a minimum of four times back to back. The spirits of Stevie Wonder and Lauryn Hill swim in and out of the bass line; it's ear candy and ear bourbon. And when Chauncey says, "I once was told, if I stand tall, I spread my wings, his horns falls off," he's talking about liberation and what it takes to actually be free, standing up to dark forces—all faith, no fear.
The song "I Won't Move" is a true tribute to Bass' wife Dai and to all Black women. I won't go too deep into this song 'cause its one you definitely have to experience firsthand. It's got his baby laughing on it, though, and his sister-in-law spitting on it. He also spits a spoken word poem to Black women in it—it's got all the elements of great art, storytelling, and tribal love gumbo'ed into it. Here is what I will share about the title song, though: one of my other favorite lyricists is on it! And when YEL (Danielle Loving), another Pasco native, comes on the track, I feel like I just found $20 in an old pair of jeans, or that my crush just texted me back—I light up. Her voice is rich and sharp and impossible to ignore.
In an era of deep worldwide systemic change, both of these artists are elevating and transforming my favorite genre of music, hip-hop. To listen is to love.
---
Find I Won't Move on Apple Music and Spotify.