The Columbia River, blue sky, and cable bridge make a wonderful backdrop (9/15/2023)
Some of you might remember the thrill of watching a car's odometer roll over from 99,999 to all zeroes, which was one hundred thousand miles back in the days before digital odometers. Well, that milestone event recently happened for me, but for my bicycles, not my car. Since moving to Richland in early 1995, I've just turned over 100,000 miles of mostly recreational riding from home.
No, I never planned for this, and I only thought about it a few years ago when I realized I'd very likely be seeing this milestone. And now, that future has arrived. For those of you who aren't applauding and stamping your feet on the floor, maybe I can offer some context.
When I moved here as a young lad of 45, I'd been bicycling for fun — and sometimes for transportation — for the previous 20-some years. Let's see… there was Santa Cruz, California, where I went to school and stayed for a while. My friend from kindergarten, Tom, was already an avid cyclist (a member of the Davenport Whalers), and he led me through some amazing cycling by the ocean and in the redwood-forested mountains. Then there was the San Francisco Bay Area, where Mount Diablo, Woodside, and Pescadero were some of the many stunning rides. I went up to the north Bay Area through Bolinas and the foggy coast, and once out to the San Andreas fault in the Point Reyes National Seashore. There were some long rides up and down the Sacramento River, and then some in Pendleton (South Carolina, not Oregon) where the air was… what's the word?.. I guess 'humid' describes it for much of the year, and the cycling was pretty nice.
When I moved here in 1995, it was a lot like moving back to California — if not politically, at least in terms of the long, dry summers and arid landscapes. As it turned out, the dry air improved my cycling quite a bit from the previous humid climes, because I could sweat and the moisture would actually evaporate and help to cool me. What a concept! When I got back home after a ride here, it wouldn't be long before my skin was dry. Wonderful. I was already using a modern digital bike computer that, if set up with my correct wheel diameter, kept very good track of the miles I rode. The only thing left to do was to record those miles on a spreadsheet.
The first ride in my cycling log after I moved here was Saturday, April 29, 1995. Do you know what you were doing that day? I was riding up Weber Canyon and back down on Clodfelter Road for a 50.5-mile ride. (Those were the days.) Keeping track of my miles took very little effort, and didn't take up any space in my house. Now, jump ahead 28 years and some 3,350 rides, and here we are at 100,000 miles.
While I'd really like to say how all those miles made the world a better place, (you know, saved the environment and the like), well… no, it wasn't quite like that. But the miles did have an important, if indirect, positive impact on the world through my improved physical and mental health. While riding a bike, you're getting exercise, you're constantly balancing (mostly without thinking about it), the world is moving by as if you are flying, and you get to ride through places you normally wouldn't see. I also really love seeing families bike together — a parent hauling their kids and groceries on a bike. Great for the kids, great for the planet.
Tri-City Bicycle Club
When I first moved here, I was cycling mostly by myself and happily so. I soon met up with cyclists in the Tri-City Bicycle Club (which is no longer around), and eventually joined them in the club and on their rides. I met some really wonderful people (and a few others) on those rides, and ended up bicycling with them for years and years. And what does one do while on a 50-mile ride on a Saturday that is not a race? Well, we talked and chatted and related stories about our lives. How often do you hang out with someone for three or four hours, let alone for dozens of times a year? Riders who were normally not social talkers were included, too; they were part of the chatter simply by listening.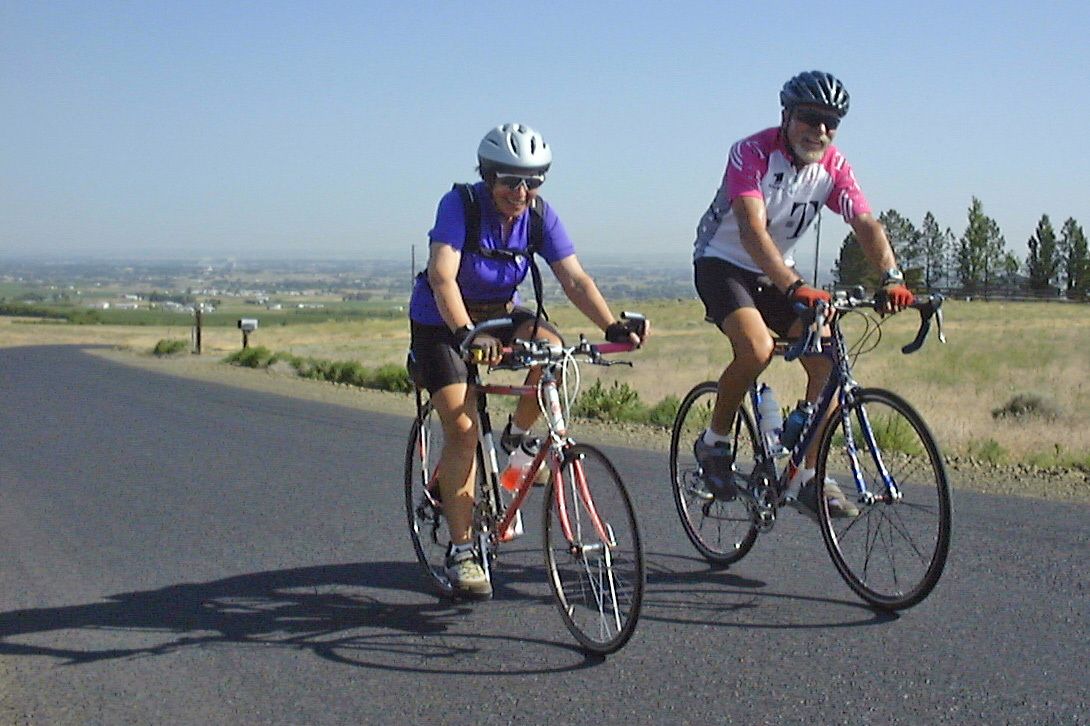 And there were plenty of club members who loved to talk and tell stories. One was Bill, who was born in 1923 and had been retired from his career at Hanford for ten years by the time I moved here. He had a long lifetime of wonderful stories that he enjoyed telling, and he would happily repeat them for new riders who were interested! And none of us ever griped about that, because it was so very warm and wonderful and fun to share in the stories of Bill's long life. He was also a frequent hiker on Badger Mountain, which served as part of the training for his eventual climb to the summit of Mount Rainier on 7/4/2004 at the age of 81. He made several subsequent climbs to the summit, and is still one of the oldest people to achieve that.
The Tri-City Bicycle Club was a source of joy, and a source of peace. The secret, I think, was simply that we were biking together. Rolling on two wheels has so many beneficial, therapeutic effects. We were lucky to have so many miles of trails along the Columbia River and roads through the countryside that surrounds the Tri-Cities. Most of those roads and trails were great for cycling but unfortunately, a lot of them are less than great today, mostly due to the increase in population.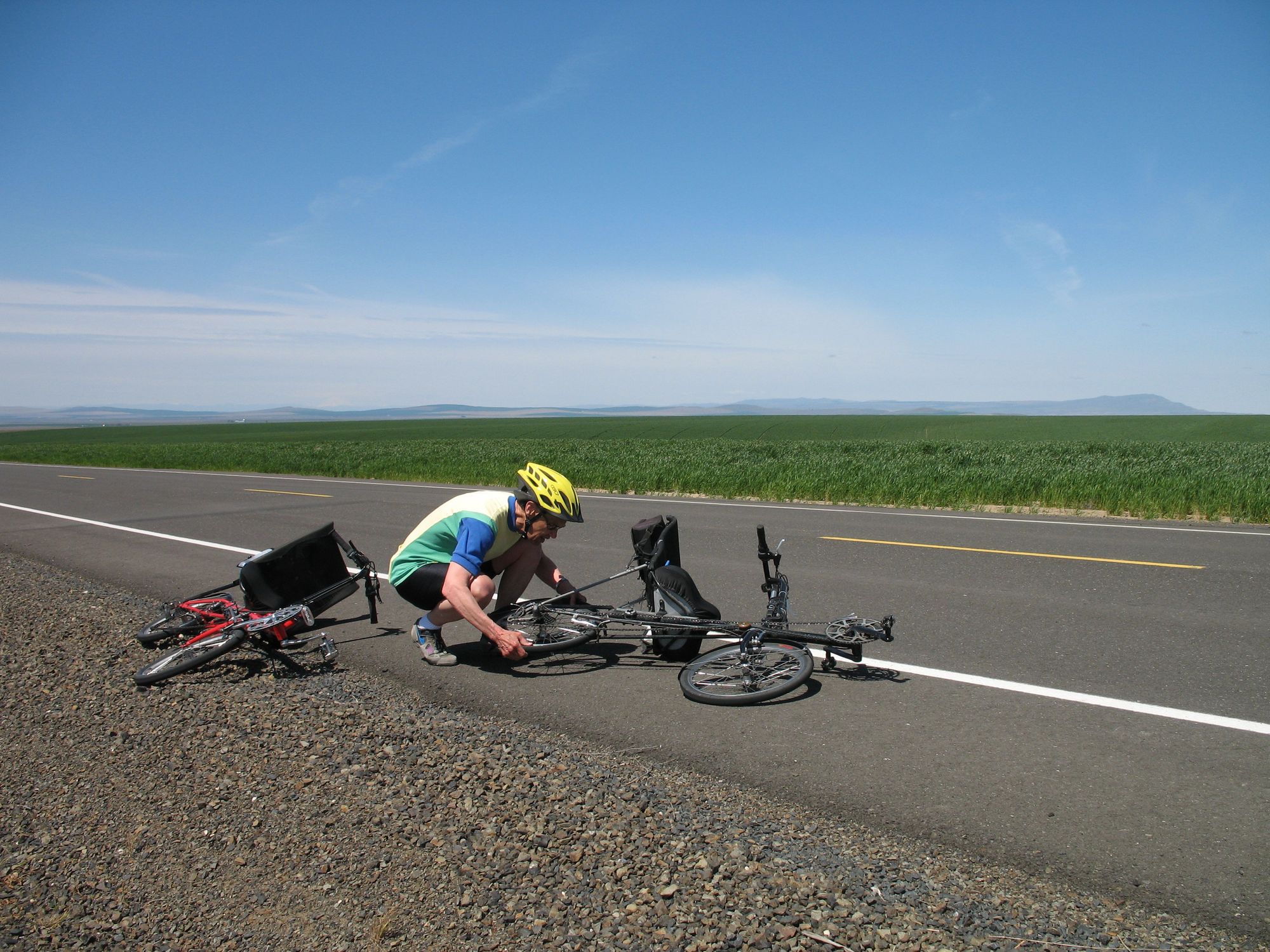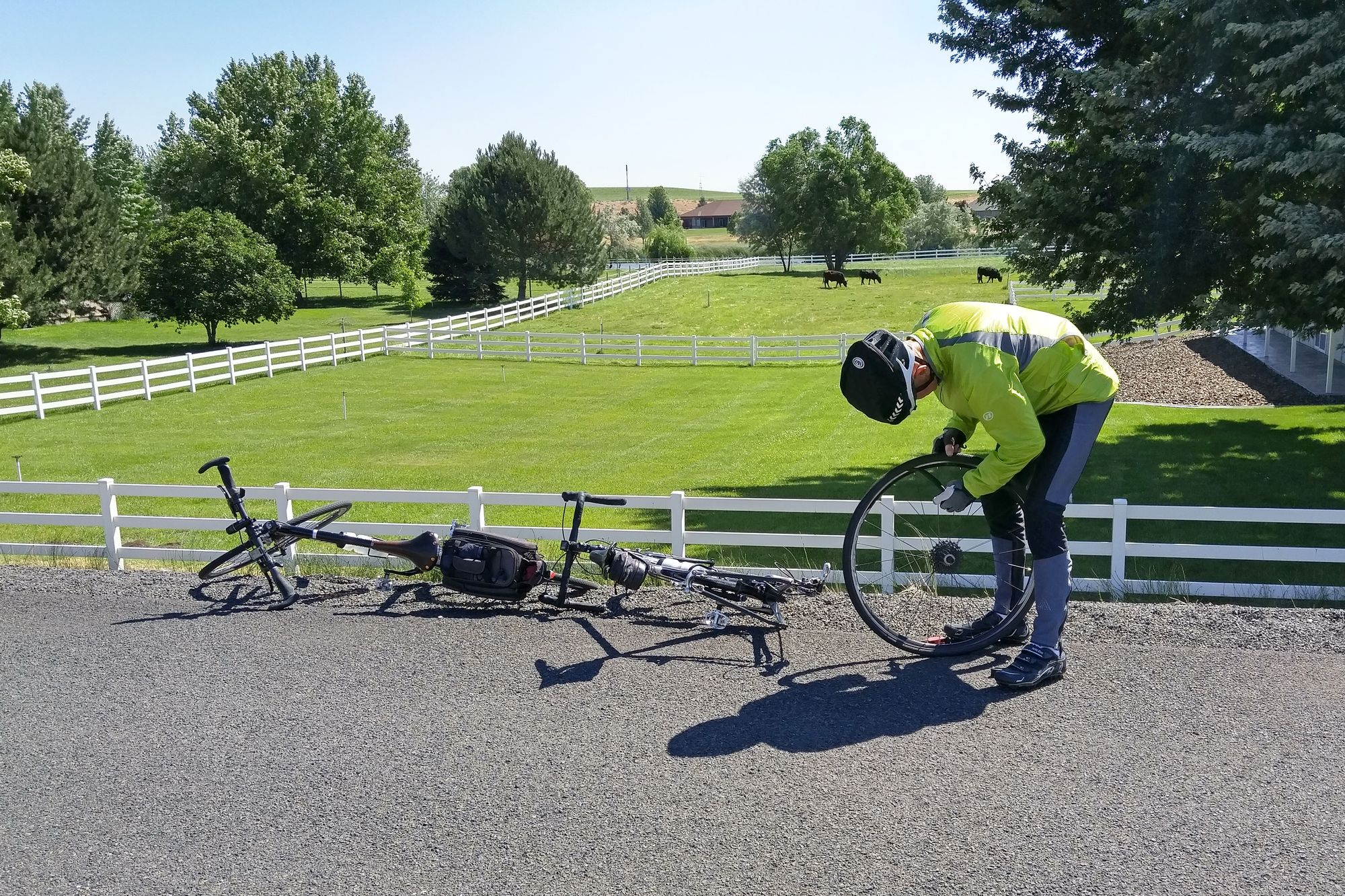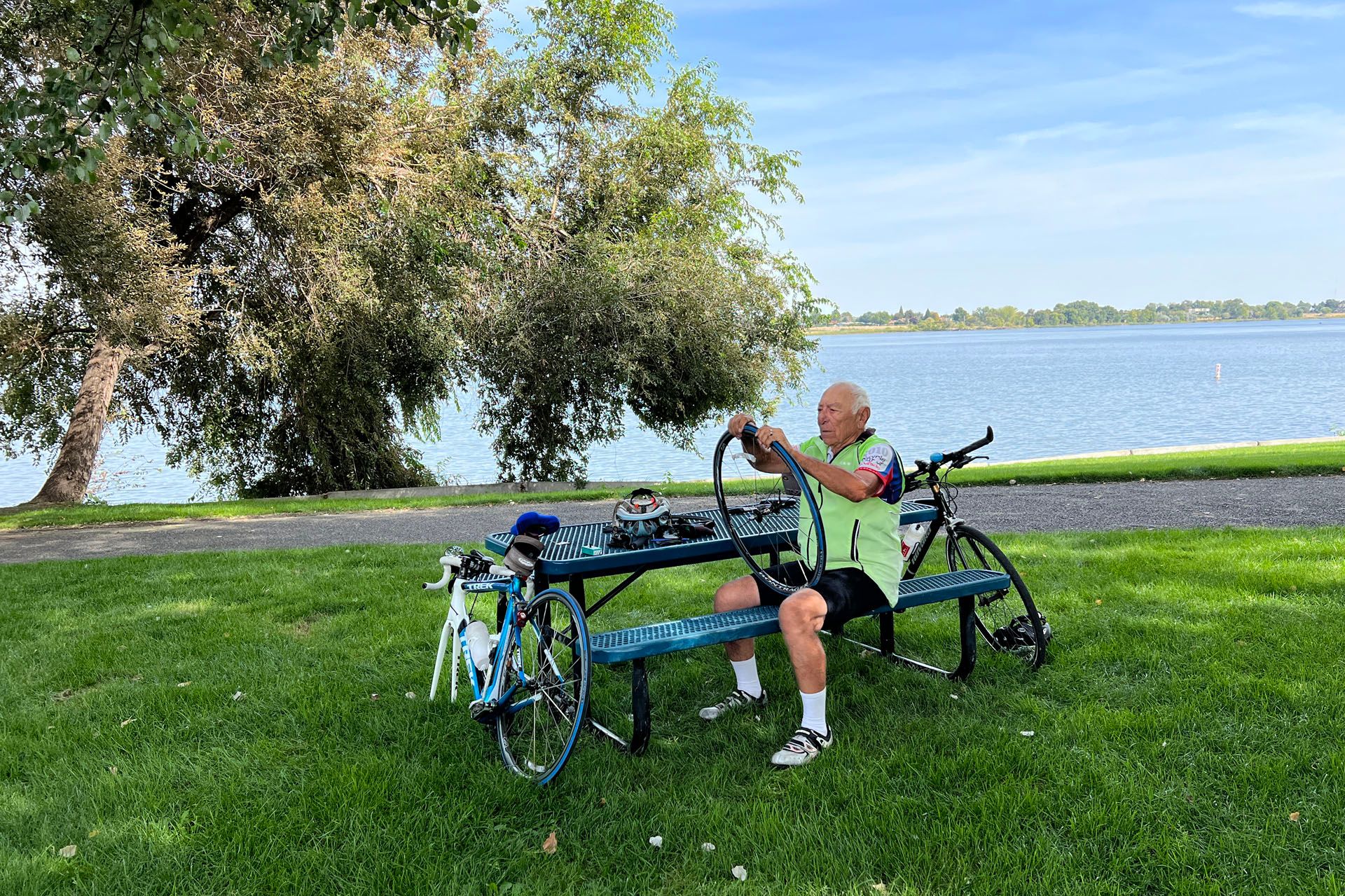 What about the weather? Yes, dry air can be wonderful for cycling; even the winters are pretty dry, at least compared to the west side of the state. Some years, we rode pretty much on schedule — three mornings a week — for the entire year. Mornings were always fine (not too hot) in summer, and my one maxim for winter was: "When road is white, don't bike." Anything white on the road was probably dangerously slick, so it was better to just skip riding those days. But we cycled in temperatures down to 20 degrees, if the day was going to be warming up to the mid-30s or higher. It was a tough decision some days, but that's one of the advantages of riding with a varying group of cyclists. They motivate you. I would think to myself, "Well, if they're going to be showing up…"
Some memorable rides
Although every ride was worthwhile, some of them stand out from the rest.
5/20/1995
My first time on the bike club's Inland Empire Century ('century' in bike lingo means 100 miles). It was a wonderful well-supported ride and route. In the log I made that day, I wrote: "Benton City, Horse Heaven Hills, Prosser, Grandview, and back. Perfect day, tailwind coming home." The ride drew a lot of other riders to the Tri-Cities, and gave them a chance to see our beautiful (if dry) landscapes. Oh, wait! Don't forget that dry is perfect for cycling!
2/13/1996
I rode west on Van Giesen Street, planning to ride to Benton City. But the road was closed on the other side of the By-Pass Highway due to serious flooding. In fact, it looked like a vast lake on the West Richland side of the highway. Wish I'd had a smart phone back then to snap a photo.
9/5/1997
We went Over to Hover (rhymes with 'over'), as we called the ride out to the townsite a bit south of Finley. The town of Hover was covered by the Columbia River once McNary Dam was built downstream in 1954, but the name lives on.
5/1/1999
Funny how a strong wind can either enhance or degrade a bike ride, depending on which way it's blowing. The ride on this Saturday was north to Basin City, about 80 miles round trip. But a weather front passing through brought huge winds out of the southwest. That was great during a good portion of the route to Basin City, but the winds were utterly ride-destroying on the southerly trip back home. Plus, it wasn't just the wind. There were plenty of fields along the route that contributed to an enormous amount of dust and grit in our faces, sometimes obscuring the road, and (yikes!) the traffic. Then there were the huge irrigation sprinklers spraying the fields — and with the wind blowing the way it was, spraying the roads, too. All of it was pretty funny at first, but we soon grew tired of all that, to say the least. A few riders bailed out and caught a ride back home, but I gritted my teeth and stuck with it (why, I'm not sure) and arrived home encased in dirt, mud, and the rest. Definitely a memorable ride, and I think I was still smiling, even at the end.
3/23/2002
I love the ride to the Country Mercantile off highway 395 in Pasco. A fun destination for lunch with lots of samples to try out (at least, back then). Getting there was a nice ride. We didn't head north on 395; instead, we followed local roads (Selph Landing, Glade, etc.) until we crossed 395 to the store.
10/20/2009
We were lucky to time our ride just right, so we were crossing over the Ainsworth Avenue overpass when the Southern Pacific Daylight historic steam train was passing under. It looked and sounded exactly as a steam locomotive should! You can read about the engine here: wikipedia.org/wiki/Southern_Pacific_4449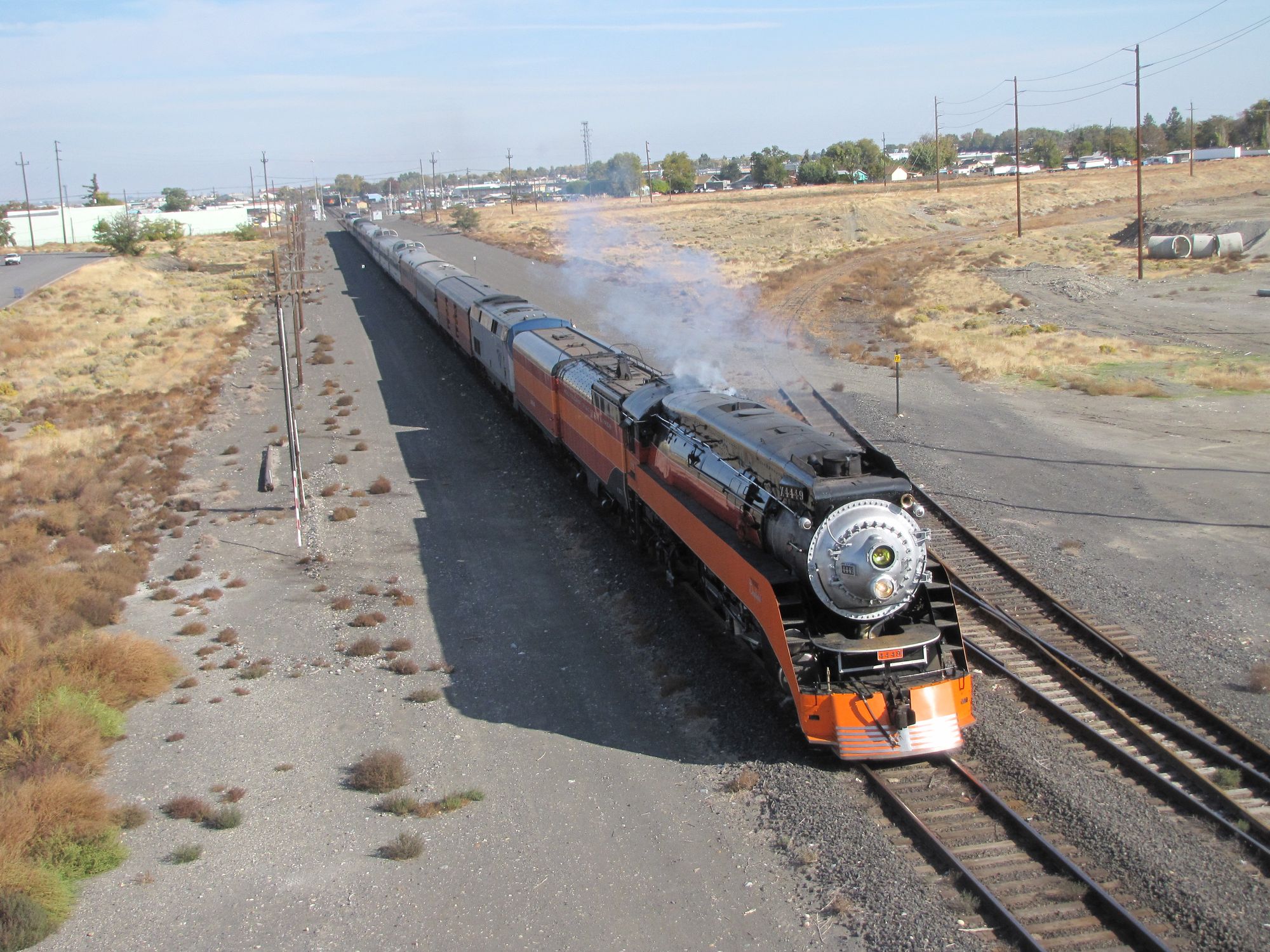 9/22/2018
Ride the Reactors is a route on the Hanford site, offering a rare opportunity to cycle in the vast desert expanse of the Hanford site (and tour the B Reactor, too). I shared the ride with my longtime cycling friend Karin and, as it turned out, this was one of our last rides together.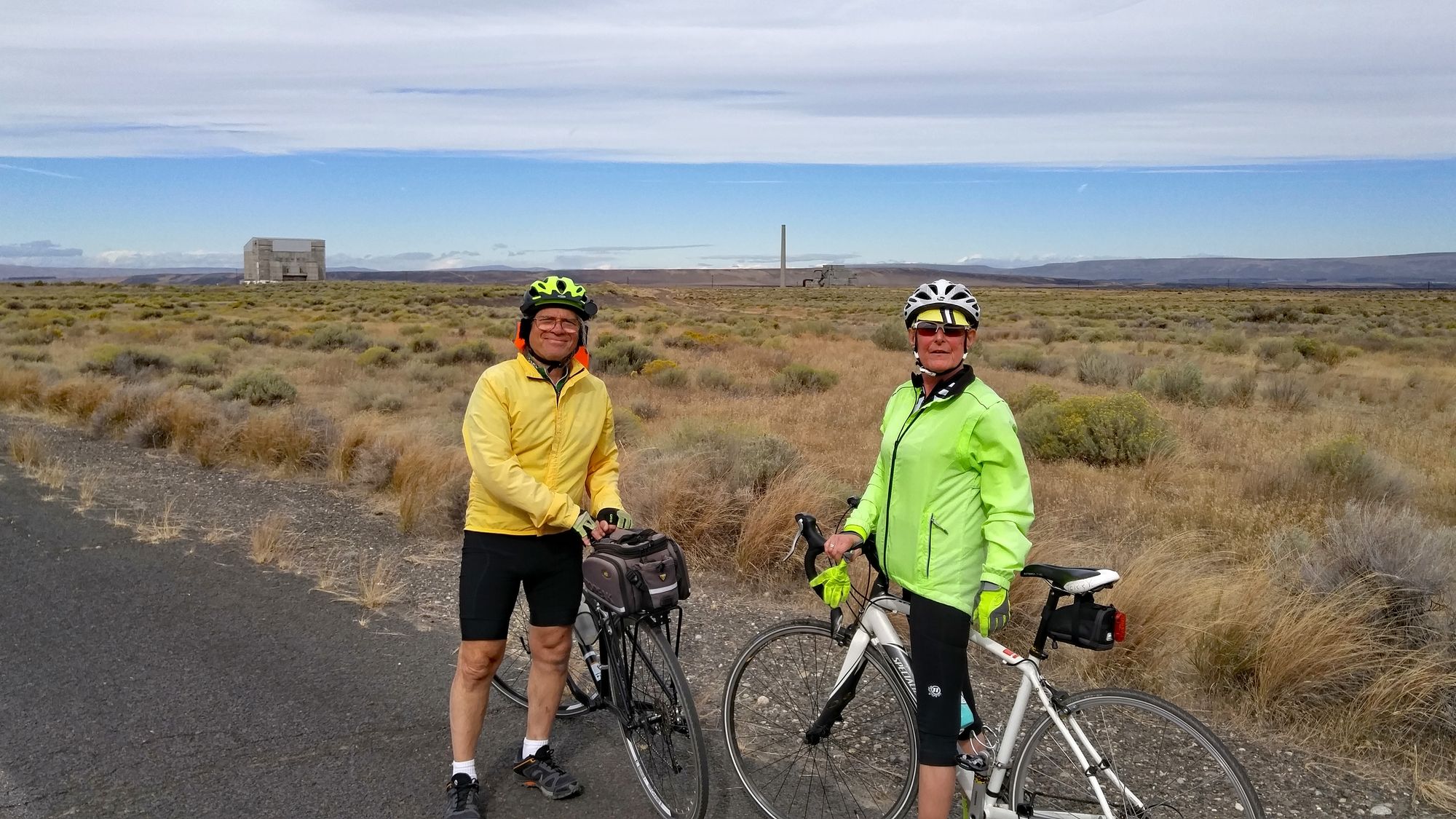 2/26/2022
What made this ride memorable was the flooded car sitting in the middle of the Yakima River, just downstream of the Van Giesen Street bridge. I considered diving off the bridge and breaking open the door to rescue the occupants, but evidently, there was nobody to rescue, just the empty car.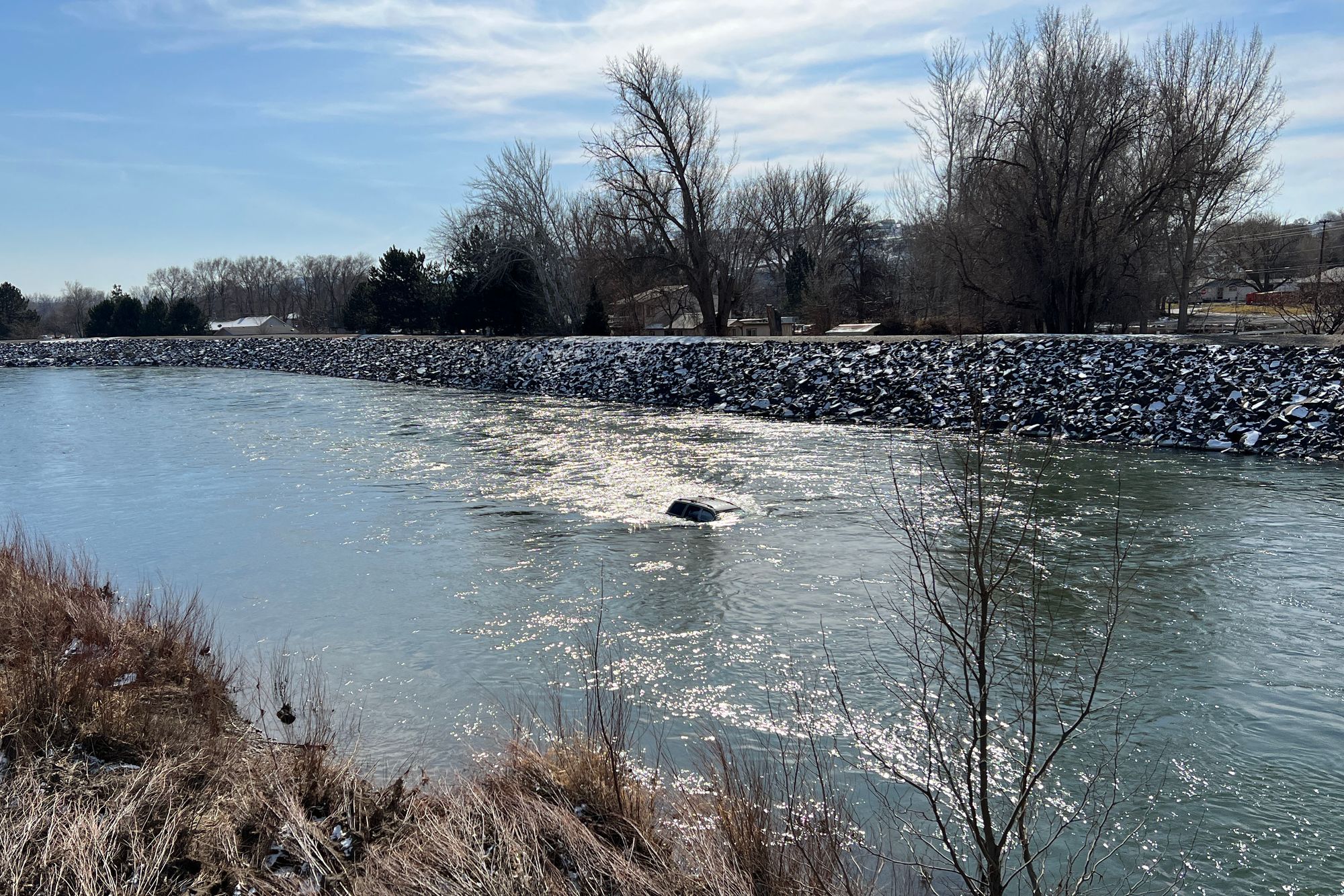 Memorable restaurants
The bike club rides frequently (well, normally) stopped at one restaurant or another for coffee or a meal. It was a nice break that gave us yet more time to talk. One was Andy's Coffee Break on Court Street in Pasco. We were stopping there for 20 years — right up until Jeff, the owner, had to sell the place due to failing health. Andy's didn't last long after that, and is sorely missed (but yes, Andy's North is still doing well, just across the street).
Remember Francisco's restaurant in Burbank? It was the perfect stopping place for a ride to Burbank and back, or to the McNary Wildlife Refuge for their annual raptor day.
Then there was the small Burgers and Cream shop in Finley, right by the grocery store. I first went there on a ride on 3/27/2004. Given it was the only restaurant in town and had a wonderful name and soda-shop menu, I figured it would be there forever. But it was gone in a few years, which I still don't understand.
At Little Randy's, on 1st Avenue in Downtown Kennewick, Sonia always recognized us and was happy to see us when we arrived in our cycling clothes (and she still is). I always appreciated their selection of Mexican entrées, and their Randy's potatoes were perfect for a break in the middle of a ride.
Magill's, on Argent at Road 68, was also a popular stop. They were very welcoming to us bikers, and their food was substantial and done well.
Hayden's was on Burden Boulevard in Pasco. They did a good job with their menu and, especially for us cyclists, tended to fill (and overfill) the plates. So much so that some of us ended up ordering off the children's menu (which didn't really help because they still piled on the food). Given that we needed plenty of energy for riding, we enjoyed indulging in most of it.
Out in Benton City, the Bear Hut was right downtown and was a preferred stop for us cyclists. You'd think a rider who was keeping a cycling log would note the names of the owners and waiters, but I evidently was not that diligent.
The Sageport Grille was already well established when I moved here, and Michelle has kept it that way over all these years. It was a popular stop on many of our rides. We loved the rough-hewn 'biker' theme and decided it must be referring to us bikers. Their chili and hand-cut French fries are still near the top of my list.
In Memoriam
Our longtime cycling friend Bob Morford died on October 10. I knew him primarily as a cycling friend, because that's how I met him in 1995, and cycling is how we spent most of our time together (although, in the last few years, our cycling time transitioned to walking time and having lunch out together). Of course, many others knew him from work, church, Habitat for Humanity, and more. A few others knew him as a father, a husband, and a grandfather.
The photo below, taken on a cold and foggy November 27, 2001, shows Bob along with two other of our longtime cycling friends, Bill and Bill, all of whom are gone now. I'd say "rest in peace", but I know all too well that they're likely out cycling on beautiful country roads with good asphalt, plenty of sunshine, a light tailwind, and tackweeds that simply aren't sharp. And now that Andy's Restaurant is gone, I assume it must be available on the rides they're taking. Or so my imagination wants to tell me.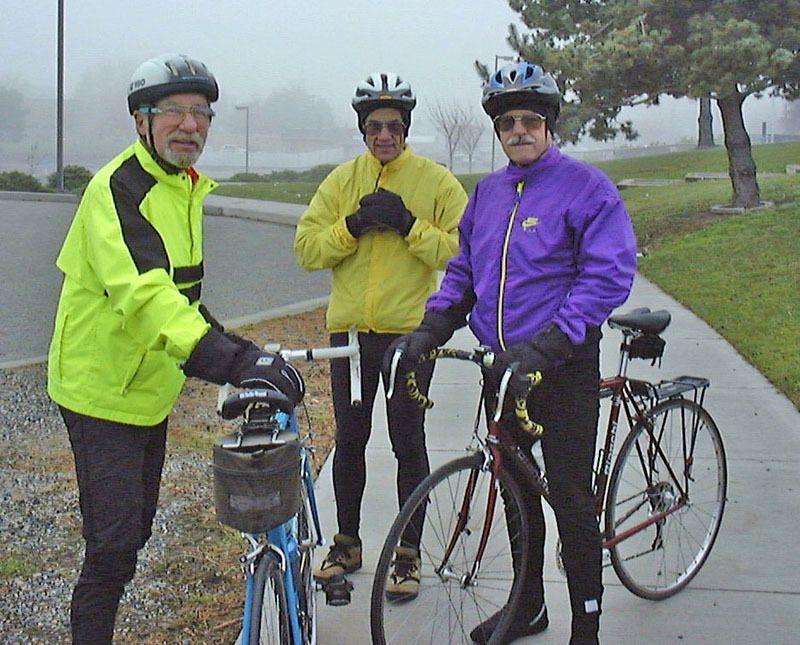 It's been 100,000 miles. Is my cycling now over?
I love to joke that I've finally reached my lifetime goal so I can now quit cycling. In fact, cycling is so ingrained in my life that I can easily say: "It was here to stay 50 years ago." As I continue aging (I hope), the exercise, balancing, fresh air, sunshine, and varying camaraderie are all good for me. You might wonder if I'm riding an electric bike these days. Seems like everyone else is riding an e-bike, but my traditional bike serves me well on all the rides I normally take. And, you know, pedaling is sort of an integral part of cycling for me.
Happy pedaling to all of you!
---
Gene Weisskopf grew up in the San Francisco Bay Area where he went to his first anti-war rally at Kezar Stadium. His professional life included being a contractor building additions and remodeling homes, writing software for businesses, writing popular-press computer books, and working with the B Reactor Museum Association to ensure that Hanford's B Reactor was preserved and opened to the public.