From left to right: Dylan Bautista - piano, Skyler Mendell - trumpet, Sean Stineford - trombone, Connor Racicot - bass, Llwyn Clark-Gaynor - drums, Aidan Robinson - tenor sax
Skyler Mendell is a fantastic jazz trumpet player originally from Richland. While working on his master's degree at the University of Montana School of Music, he recruited a band and recorded an album which was just released in May. I spoke to him about the band, the album, and his music career.
---
First, let me congratulate you on your release of Points in Time! I've had a chance to listen and can't wait to hear some of those tunes live when you perform on July 5 at The Emerald of Siam.
This is your first album that features only music that you wrote. How did that come about? Had you been planning to do something like this for a while?
Thank you! I never actually planned on recording an album during my time here. In fact, I only started composing a few months before moving to Missoula. I first had the idea to record an album when thinking about my 'Professional Project' — the master's degree final. Most people do lecture recitals or something similar. I thought recording an album would be more fun and beneficial for my future. Luckily, all the guys in the band agreed enthusiastically.
Tell me how you put your band together. You were all students at University of Montana, right?
That is correct. When I accepted the Teaching Assistant position, I made it a goal to put my own group together. At the time, I only had a few original tunes, but I wanted to keep writing and gigging. After my first two months in Missoula, I asked my favorite players if they'd be willing to play my music, and that's how we started. Our first show was a house concert on November 5, 2021. Since then, we've played almost 50 shows!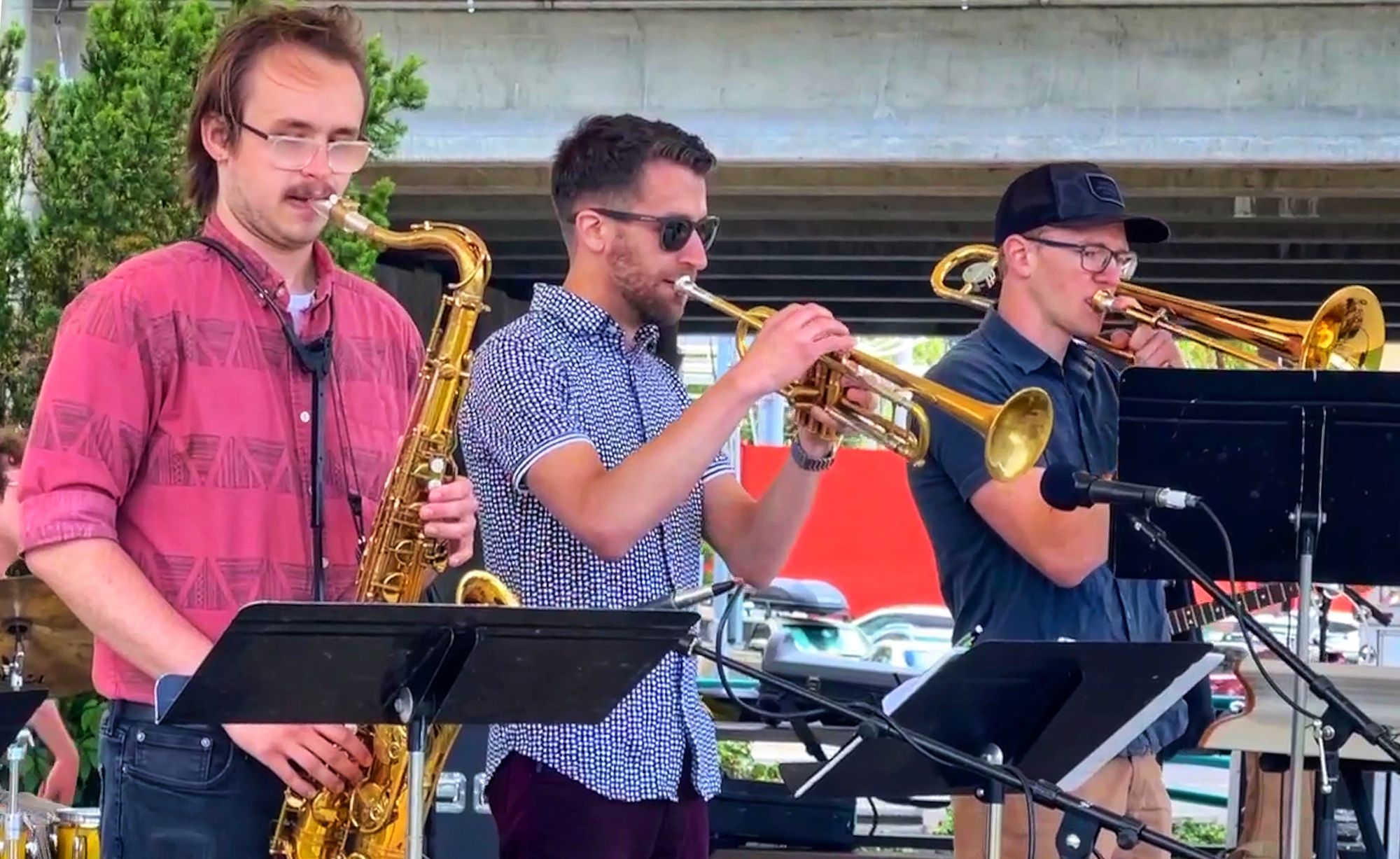 Is there anything different or unique about your band that we don't normally hear in jazz?
While we define our music as jazz, it isn't at all the same as a regular jam session. Our tunes are rehearsed, structured, and all very different from each other. I put a lot of thought into the flow of the set so that it is never the same thing for too long. I also feature different members on different tunes — they'll take a longer solo. We hardly ever all solo on the same tune. I also like sound to be happening all the time; there are often transitions from one tune to the next.
Let's talk about some of the tunes on the album. You have a variety of styles that you mix up. Can you describe some of those for people who haven't heard your music?
I've got a bunch of styles on this album. Medium swing, up tempo swing, contemporary straight, New Orleans street party, funk, mixed meter groove, ballad, gospel, and some that don't fit into any single category.
I want to ask you about one of your tunes with a local connection, which you actually wrote some time ago. "Lament for Don" is a tribute to someone who meant a lot to you as a musician. Tell me about writing that piece, and how it developed into what we hear on this album.
Don Paul was a local trumpet player, educator, and founder of the CBC Jazz Festival. He was one of the first to tell me that I should be listening to jazz if I wanted to play it. The festival was also influential, as that's where I got to hear professional jazz musicians for the first time.
I'm always interested in album cover art. Tell me about the art on Points in Time.
My wonderful girlfriend Cat made the artwork! The orange and blue are representative of night and day. There are stars that fit the time theme as well. And of course, the point in the middle!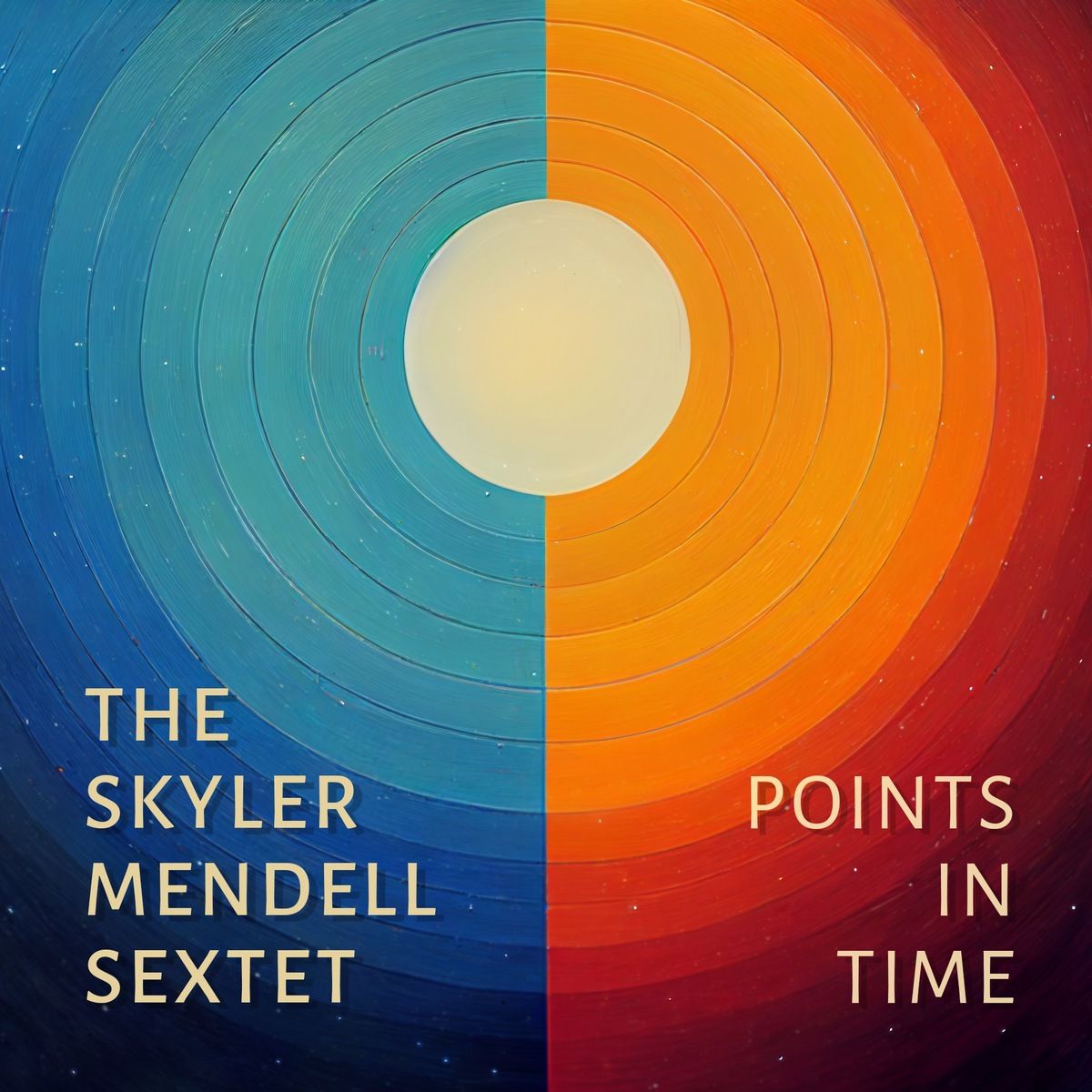 We haven't talked about your own biography yet. What's the short version of how you would describe your musical career?
After graduating from Hanford High, I attended the University of Idaho for degrees in Music Performance and Music Education. I taught at the high school level for nearly five years. Because of COVID, I decided it was time for a break. It made sense to get a master's degree. The University of Montana offered me an assistantship which I happily accepted. My original plan was to go back to teaching, but things have changed. In August, I'm moving to Greeley, Colorado to start a doctorate in jazz studies, with hopes of teaching at the collegiate level.
What does the future hold for you and for The Skyler Mendell Sextet?
The Sextet has just a few shows left and then our time together is done. I'll most likely form a new group in Greeley. Most of the original members will still be in Missoula. I'd love to visit and play with them again in the future!
Is there anything else you'd like our readers to know?
Thanks for taking the time to interview me! We are excited to travel and play some music. Sadly, our trombonist couldn't join us on this trip. We miss him! Also, our regular bass player was unavailable, so we have the great Jase Conley subbing in.
---
The Skyler Mendell Sextet will be at The Emerald of Siam, Richland, Wednesday July 5 @ 6pm.
For more information about Skyler Mendell and his music, go to: skylermendellmusic.com