In opinions expressed through local media, the public debate on potential changes to Snake River dams has largely been one-sided, often characterizing the environmental perspective as solely that of out-of-touch "west-siders."
As a longtime Tri-Citizen, environmental educator and climate activist, I want to point out that there are other aspects to the issue of dam breaching that are missing from local conversations.
Public comment closes Monday April 13 on a Draft Environmental Impact Statement (DEIS) regarding how to manage the four lower Snake River Dams (LSRD).
These dams create slack water (warm, slow moving) pools between the Tri and the cities of Clarkston and Lewiston on the WA/ID state line.
Since their completion in the 1970s, the pools have caused the death of billions of juvenile fish due to slow out-migration, and of fish returning to spawn due to heat stress and conditions that are a violation of the Clean Water Act. Billions of dollars have been spent to try and maintain salmon and steelhead runs with little benefit. Wild fish stocks are going extinct, and yes, there's a huge difference—literally—between hatchery and wild stocks.
The U.S. Army Corps of Engineers, Bureau of Reclamation, and Bonneville Power Administration released the DEIS on February 28. It follows five previous management plans that were rejected by courts as illegal because they do not protect salmon.
Stakeholders across the region are eager to avoid further litigation and wary of an EIS process that can't deliver the comprehensive solutions that Northwest salmon and people need today.
Much of the propaganda aimed at protecting the status quo is delivered in such a way as to imply all dams are at risk. Mainstream environmental organizations are not calling for main stem Columbia River dams to be removed. They are too important for irrigation and flood control.
LSRD, on the other hand, do not control flooding. And when it comes to the oft-expressed fear of irrigation loss, every proposed plan for removal calls for replacing existing pumps and maintaining irrigation access.
A key aspect of the missing perspective in the debate is that in addition to feeding people and orca, salmon and steelhead feed an average of 70 forest species.  They also contribute vital nutrients to the forests.
The State of Washington Department of Fisheries, Annual Report, in 1949 warned that building the dams in the interest of barging and a bit of power (only 4-6% of the grid):
"… is not in the best interest of the over-all economy of the state. Salmon must be protected from the type of unilateral thinking that would harm one industry to benefit another... Loss of the Snake River fish production would be so serious that the department has consistently opposed the four-phase lower dam program that would begin with Ice Harbor dam near Pasco."
Indeed, since the dams were completed in the 1970s runs plummeted.  We've spent billions already on failed efforts to restore the numbers.
Breaching the dams may indeed increase power costs, but many NW ratepayers have said they'd be willing to see a marginal increase in rates to protect salmon, and steelhead, because they understand they are a keystone species.
Others feel it is important to honor our treaties, and protect the culture and economy of NW Tribes.
From a January Spokesman-Review article on a recent public hearing:
David Johnson, manager of the Nez Perce Tribe Fisheries Department, said a lot of good work has been done to improve imperiled habitat and to raise and release hatchery fish. But he also noted there are wilderness areas that hold pristine spawning habitat that is underused by the fish. He noted that tribal members have sacrificed more than other regional players who are now being asked to compromise.
"Some livelihoods have been held as sacrosanct while others have not been," he said.
Locals concerned about the potential loss of agricultural jobs never mention that Washington's commercial fishing fleet has gone from 3,000 to fewer than 200 boats since the 1980s.  
The fishing families and coastal communities have had enormous losses already. Are they less important?
While loss of barging will require new rail or road improvements, those issues are not insurmountable. And electric semi trucks are on the near horizon. Further, it seems as though our local ports would benefit if we were to become the terminus for barging to the Pacific Ocean. It would be Lewiston/Clarkston who would lose that access, yet the irony is folks in Idaho are having honest discussions about breaching, while we dig in our heels.
Our local PUDs have made large investments in preserving the dam status quo. It would be wonderful if they instead put that effort and messaging into energy conservation and supported community solar installations so we can fully develop our region's solar potential. If the food processors, big box stores, and public buildings (as well as more homes) had solar on top we could meet much of our demand and wouldn't need to acquire land or ruin habitat for large solar arrays.
The DEIS focuses only on preventing extinction, when leaders and residents across the region are calling for the restoration of abundant and harvestable salmon and steelhead populations.
Here's some specifics on how the DEIS fails:
It ignores avoided costs and future savings by restoring the lower Snake River: The cost of maintaining the dams, and replacing turbines is significant. The DEIS ignores the anticipated savings of more than $1 billion by eliminating the rising capital, operations and maintenance costs for the four Snake River dams.
It pits salmon recovery against clean, affordable energy: The DEIS presents a false choice between maintaining affordable utility bills and restoring healthy salmon and steelhead. It overstates the cost of replacing power from the Snake River dams with clean energy, and suggests replacing their power with fossil fuels, a step we know is unnecessary.
It ignores salmon and orca science: The DEIS dismisses the overwhelming scientific research that restoring the lower Snake River will provide salmon and steelhead with their best chance to recover. It ignores the benefits of increasing those runs for critically endangered orcas and struggling fishing communities. (Yes, we know orca sit at the mouth of the Columbia and eat Snake River fish because of their poop!)
It fails to protect salmon: The DEIS fails to acknowledge that its recommendation for 'flexible spill' at the federal dams will not deliver sufficient survival benefits for endangered salmon and steelhead, and ignores the fact that any potential benefits will be eroded by climate impacts—something river restoration can help mitigate.
It ignores the economic impact that has already been made on Native peoples: The DEIS focuses on the financial costs of salmon recovery and ignores the enormous sacrifices already made by Tribes and rural communities in terms of lost fishing opportunity, reduced jobs and incomes, impacts on Tribal cultures and diets, and other socio-economic effects.
The DEIS ignores the economic and community benefits of salmon recovery and the investments and jobs that river restoration activities will generate. Many new jobs would be created with a free-flowing river. Fishing and recreation opportunities would improve, and about 4,000 acres of land currently flooded by the dams would become available for farming, recreation and would improve habitat.
Please consider submitting a public comment today in support of native (wild) fish and Native people.  The comment period ends Monday the 13th.
Comment here. To learn more, visit wildsalmon.org.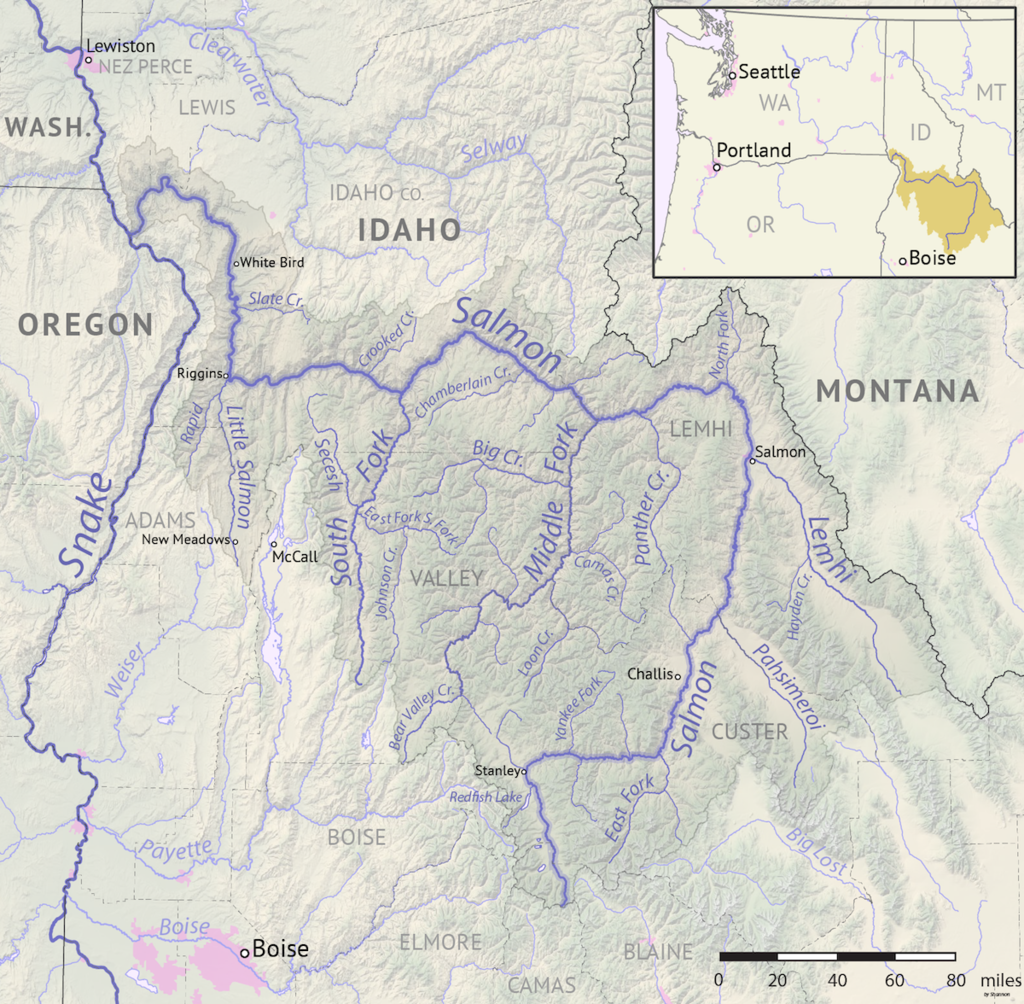 Too many fish die from the overheated water in the lower Snake River, so fish can't even make it to their spawning grounds in the Salmon River.  Idaho's Sawtooth mountains are more resilient to the impacts of climate change because of higher elevations.
---
Ginger Wireman has a BA in Communications and an MS in Environmental Studies and has taught about water resources and the environment in the region for twenty years.