Hi, David. Thanks for the interview! Can you tell me a little about yourself?
I am married, with two grown children and two grandchildren. I was a music educator for thirty years in Idaho and California. In 2019, my wife and I re-evaluated and decided to leave education and move to from Southern California to Richland. Since moving here, we have both pretty much devoted our lives to making music and writing (and playing with the grandkids!).
Sol y Sombra is my eighth full-length album of original songs, and the third album that I wrote and recorded entirely here in Richland.
Where did the name Sol y Sombra originate?
Back when I was in junior high band, we played a Spanish march entitled "Sol y Sombra." My band teacher explained that the title meant 'Sunshine and Shadows'. I never forgot that, and it seemed to be a great way to describe the music on this record. Also, this album is dedicated to my daughter-in-law's family, and they are Hispanic, so the title is kind of an acknowledgment of them.
Do you write and perform all the music yourself, or do you have other artists that you work with? What about editing and recording?
Yes, I primarily write and record everything myself. I am fortunate to have a pretty sweet studio here, and that affords me the opportunity to write and record whenever I want. It's not that I am opposed to working with other musicians, but I had lived here for less than a year before the pandemic hit, so I haven't had a lot of opportunities to meet a lot of people.
I do have a few people who have helped me with this record from a distance, though. I am really fortunate to be friends with Daniel Brummel, who was the bassist for the Southern California band Ozma, and who also writes and tours with Weezer. He and I have worked together on my two most recent albums, and he helped me to achieve a much better clarity in my mixes and to bring out some of the elements that were lacking in some of my earlier albums. He is a real pro, and I consider myself very blessed to be able to work with him.
I also have a friend who owns a guitar company in Montreal whose recording work I admire a lot, so I sent him an early mix of the record and he offered some great suggestions for mixing this album. Stuff like "turn the drums up!"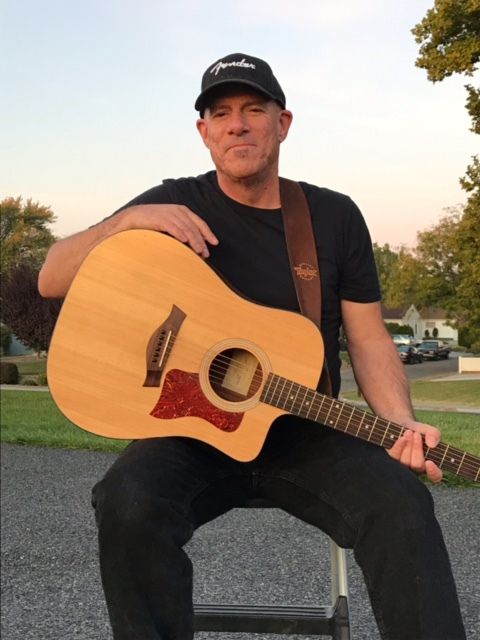 Tell me a little about what inspires you.
Now that's really a great question — and my short answer would be "anything." I am a member of an online songwriting game where we are given a verbal prompt and then have two weeks to write, record, and post a song to the group page. It sounds kind of intimidating, and it really can be sometimes, but more often than not, having a prompt like that forces me to think creatively ALL THE TIME — and when you start to develop that kind of mindset, it really is amazing the directions that your creativity will take you.
Are there any other musicians or artists that you look up to, or that influence your music?
Sure! Probably too many to list here, but my primary influences are Bruce Springsteen and Jackson Browne. I also have a lot of favorite bands that I love: Fountains of Wayne, XTC, My Chemical Romance, Wilco, The Eagles — I really could go on forever listing influences. We just saw Wilco perform in Spokane about a month ago, and we were listening to them a lot in the months leading up to that, so I am pretty sure that there are a lot of 'Wilco-inspired moments' on the new record.
This album, Sol y Sombra, has a lot of references to shadows and light (like the title suggests). Can you speak more about that?
Sure. Like many artists of all kinds, the COVID-19 pandemic has provided me with lots of inspiration. Back when I started working on this album, my younger son and his wife lost three family members to COVID within a couple weeks, right around Christmastime. That was devastating.
Pretty soon after that, we started getting vaccinated and I, like many people, felt like this was gonna be the 'great liberation', right? So a lot of this record is focused on the idea of 'stepping back into the light'. But now, with the Delta variant surging and so many people refusing to simply get vaccinated, it kinda feels like we're moving back into the darkness again. I think that the final three songs on the album, "Russian Olive", "Silver Lining", and "Next Time" are like a little suite that inspired the title.
A lot of us are feeling that right now, I think — hopeful regarding the vaccine, but downhearted because of the resurgence of the virus and the response of anti-vaxxers. How are you and your family coping, especially given that you're new to the area? And did the creation of this album affect the way you look at the pandemic?
Well, we've been doing okay. Like everyone else, we (though maybe I shouldn't speak for my whole family) fluctuate between hope and frustration, right? Personally, I think a lot about the question "What have we learned from this?" because our experience over the past two years and scientific data has shown us that we will, most likely, be dealing with this or another similar situation again in the future — or our kids and grandkids will. Have we learned anything, as a society, that will help us do a better job next time? In fact, there's a song about that on the record: "Next Time".
I released an album last year called Full Moon Over Crazytown which is also very much influenced by the pandemic and our response to it. I followed that one up with the album No Hard Feelings… which was my attempt to just make a 'happy record' because I felt like that was what we all needed at that point. I know I did!
How can the community best support local musicians like you?
You know, we live in a time when more music is being created and distributed than at any time in history. There are lots of people out there like me who are creating and putting out stuff and then just hoping to find an audience. So I encourage people to seek out music by independent artists like me and give them a listen. That is the one thing that ALL artists desire — a chance to connect with an audience and to communicate their ideas.
Oh yeah, I should also mention the Tumbleweed Music Festival! Last year, because of the pandemic, the festival went to a virtual format, and they will continue with that this year, as well. Although we'd all love to be back at Howard Amon Park, it is kind of cool to have all these amazing performances online to watch whenever we want to. So I taped a performance for that (I'm on the "Little Bit Country / Little Bit Rock and Roll" stage), and performed four songs, including 'unplugged' versions of "Instacart Girl" and "Russian Olive". I'd encourage everyone to check out all the amazing performances that have been curated for Tumbleweed this year!
Where can we find your music?
My music can be found on pretty much all digital services like Apple Music, Spotify, Amazon, Google, etc. There's my website: www.davidprincemusic.net, where you can get lots more information about my music and inspiration as well as CDs and downloads. I actually write a lot of detailed liner notes for each record and post them there. Locally, Adventures Underground carries a stock of all my albums on CD.
---
Sol y Sombra was written and recorded in Richland by David Prince.
Main image courtesy of Amy Prince.