In order to confront our racist past, we must learn from the people we have wronged.
I grew up in Southern Idaho, next to the Fort Hall Reservation, where the Shoshone and Bannock Tribes live. My father took us to powwows, presentations, and other events. It was what I knew and was an important part of my childhood. I was young, and I had the innocence of not knowing the horrific history of how Indigenous people were (and are) treated.
When I moved to Kennewick, no one I spoke with seemed to know anything about the Indigenous tribes in this area (except for Sacajawea with Lewis and Clark). The memories of my childhood started to blur and fade away. I became one of the many privileged white people who learned the sterilized history of our country in school and took it as fact.
My childhood memories came flooding back in 2017. My father had just passed away, and I was working on my MFA in Directing from the University of Idaho. As part of my degree, I job-shadowed director Bill Rauch at the Oregon Shakespeare Festival. The show I observed and helped with that summer was Off the Rails, an adaptation of Shakespeare's Measure for Measure by Randy Reinholz (Choctaw Nation of Oklahoma). The adaptation took place at an Indian Boarding School, and the lead role was played by Lily Gladstone (who currently stars in Martin Scorsese's newest film, Killers of the Flower Moon). It was then, in 2017, in my late 30s, a trifecta occurred. My childhood memories came rushing back. I learned about Indian Boarding Schools for the first time. And I met amazing artists (including Lily) who, from that point on, influenced my theatrical work and how I live.
How is it​​ that we (the collective 'we' of privileged white people) have only started to learn about the horrors that took place in our country? Why did so many of us not know about the Tulsa Race Massacre until HBO produced Watchmen? Why did it take George Floyd being murdered before many here in the Tri-Cities found out that both Kennewick and Richland had been Sundown Towns? How had I not heard of Indian Boarding Schools until I was in my late 30s, when I worked on Off the Rails, and the national news finally started reporting that children's bodies were being found, buried where the schools once stood? If our schools won't teach essential and complex parts of our history, then maybe — finally — our arts and entertainment will be able to educate us and help us face what really happened (and happens) here.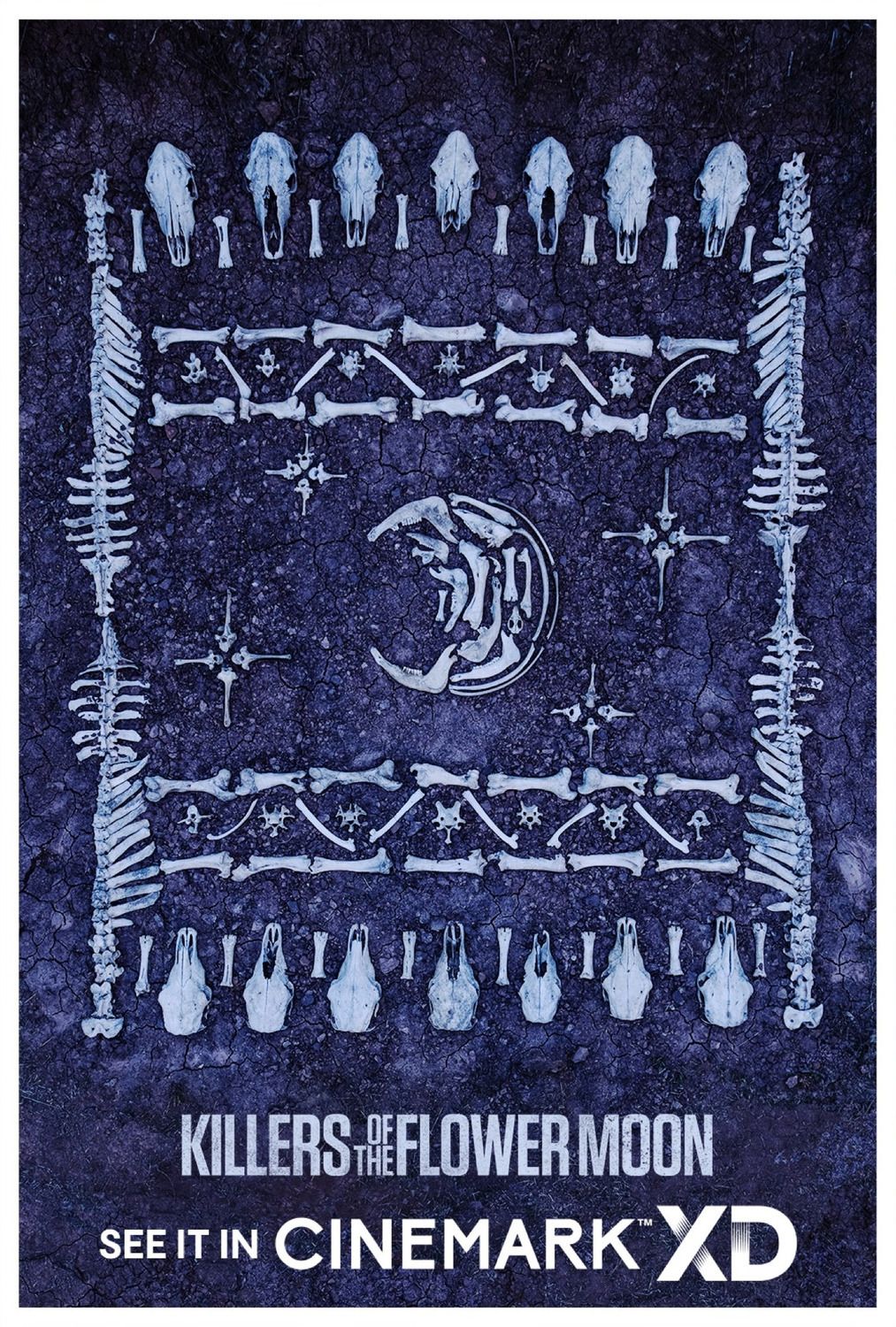 Enter the film Killers of the Flower Moon, the newest movie by Martin Scorsese, based on the best-selling nonfiction book Killers of the Flower Moon: The Osage Murders and the Birth of the FBI by David Grann. A horrific time in history (that, once again, I wasn't even aware of until I read the book last year) is brought to the big screen in a way I haven't seen before. This is not a white-savior movie; it is an account directly from the voices of a people who deserve to have their history taught: the Osage Nation.
In the 1920s, the Osage Nation were the wealthiest individuals in the world. After repeatedly being kicked off their traditional lands, they ended up on rocky land in Oklahoma that no (white) person wanted. The Osage purchased this land outright so they would not have to move again and claimed the land as their own, which meant, in theory, it couldn't be taken away. They knew money was a language the U.S. Government spoke, and they could live in peace for a while… that was until oil was discovered on their land.
Suddenly, white people looking to get rich inundated the land no one had initially wanted. However, something stood in their way. The Osage received headrights to the profits from the oil deposits on their land. Headrights could only be passed down through the family.
In true colonial fashion, white people wanting to get rich kept trying to weasel their way into making money in this situation. The U.S. government put in place a system of guardianship, by which non-Osage were assigned to watch over members of the Osage tribe who were deemed 'incompetent' to manage their money. In practice, guardianship was an overtly racist system.
Another way non-Osage tried to get rich from the oil deposits was to marry into Osage families. That is when what the Osage call "the reign of terror" began. Multiple Osage family members began dying in mysterious and violent ways, leaving the white people who had married into the families as the sole recipients of the headrights for oil.
Martin Scorsese's first draft of Flower Moon focused on the FBI; the Osage Murders were the first assignment J. Edgar Hoover assigned to his team when they were known as the Bureau of Investigation. Initially, Scorsese and co-writer Eric Roth centered their film adaptation around this narrative, with Leonardo DiCaprio set to play the head FBI investigator, Tom White.
Scorsese shared with Time Magazine: "After a certain point, I realized I was making a movie about all the white guys. Meaning I was taking the approach from the outside in, which concerned me."
He then went to Oklahoma and worked with the Osage Nation, going through many rewrites until he and the Tribal members were comfortable sharing the story. The film now focuses on the relationship between Mollie Kyle, an Osage woman, and Ernest Burkhart (now played by Leonardo DiCaprio), the man who becomes her husband.
Lily Gladstone (who grew up in Montana and Washington) plays Mollie, a woman who suffers unfathomable loss as her family members are murdered one by one. Gladstone told Vulture that it was no longer a white-savior story after the production team took time to work with the Osage and make sure they were an intricate part of the storytelling. "It's (now) the Osage saying, 'Do something… Come help us,'" shared Gladstone.
The primary Osage characters are played by Native American actors you have probably seen in movies such as Dances with Wolves and Smoke Signals, and TV shows such as Reservation Dogs and Yellowstone. Of particular note are actors Tantoo Cardinal (who plays Mollie's mother, Lizzie), Tatanka Means (whose character I'll leave as a surprise to prevent spoilers), plus Janae Collins and Cara Jade Myers (who play Mollie's sisters, Rita and Anna).
The supporting cast includes numerous Osage Nation members. The production team included multiple Osage artists, educators, and elders serving as historians and consultants, teaching the actors how to speak Osage, and designing many costumes, props, and set pieces to ensure the film was accurate and respectful. You don't need to be knowledgeable about the Osage Nation or have read the book to appreciate the artistry in this film. However, if you are already aware of this historical event and have read David Grann's book, specific moments will stand out as you watch the movie.
The running time of three hours and thirty minutes may seem off-putting to some, but it goes by quickly, and it's necessary to dive into this time in history that so many of us are just now learning about. Elias Gold (Navajo), a filmmaker and editor, shared an important point regarding this in his review of the movie: "If you can't sit for three and a half hours, looking at the violence of white supremacy, you're the type of person who needs to watch it."
The film stars Leonardo DiCaprio, Robert DeNiro (as Ernest's Uncle, William "King" Hale), and Lily Gladstone, with Jess Plemons portraying the FBI Investigator Tom White. Although the leading men are solid in their performances, Gladstone carries the show. Her ability to act, react, and listen — often with the camera only focusing on her eyes or a smirk — and her journey as Mollie is Oscar-worthy.
Due to the subject matter, some moments may be disturbing. Many Indigenous movie reviewers have asked Indigenous audience members to take care, as some scenes bring up complicated and painful feelings regarding generational trauma. It is important to note that Scorsese pays respect to the victims by not sensationalizing the violence. The violence is straightforward and needed to tell this story.
If going to a movie theater is not an option, Apple TV will stream the film soon. But there is something special about watching Scorsese's work on the big screen, so I encourage you to watch it the first time that way if you are able.
---
Additional information about the Osage Murders and details about the film can be found in the following resources:
Killers of the Flower Moon: The Osage Murders and the Birth of the FBI, non-fiction by David Grann
A Pipe for February, a novel by Charles Red Corn
The Osage Murders and Killers of the Flower Moon, on CBS Sunday Morning, YouTube
Osage Murders: 2022 PBS Short Film Festival, YouTube
Lily Gladstone: Far Out There, PBS In the Making (American Masters), YouTube
Local showings of Killers of the Flower Moon at all Fairchild Cinemas (Pasco, Richland, and Kennewick)
---
Reviews of Killers of the Flower Moon from Indigenous points of view include:
Elias Gold's review on Native Media Theory
Vincent Shilling's review on Native Viewpoint
Jessica Jalbert's review on atribecalledgeek.com, focusing on the work of the Native actresses in the film
---
Ellicia Elliott is the Events Editor for Tumbleweird, a theatre director, and an educator. She holds an MFA in Directing from the University of Idaho. She lives and works on the traditional lands of the Palouse, Cayuse, Umatilla, Yakama, and Walla Walla Peoples.