In Tuesday's Franklin County Commissioner meeting, County Commissioners Clint Didier and Brad Peck discussed a post on the Benton Franklin Health District's (BFHD) Facebook page related to Pride month.
The informational post summarized the history of the Stonewall protest against police abuse of LGBTQ+ people sparking the yearly Pride celebration, which continues to celebrate and advocate for the right of LGBTQ+ people to live without fear of prejudice, violence, or oppression.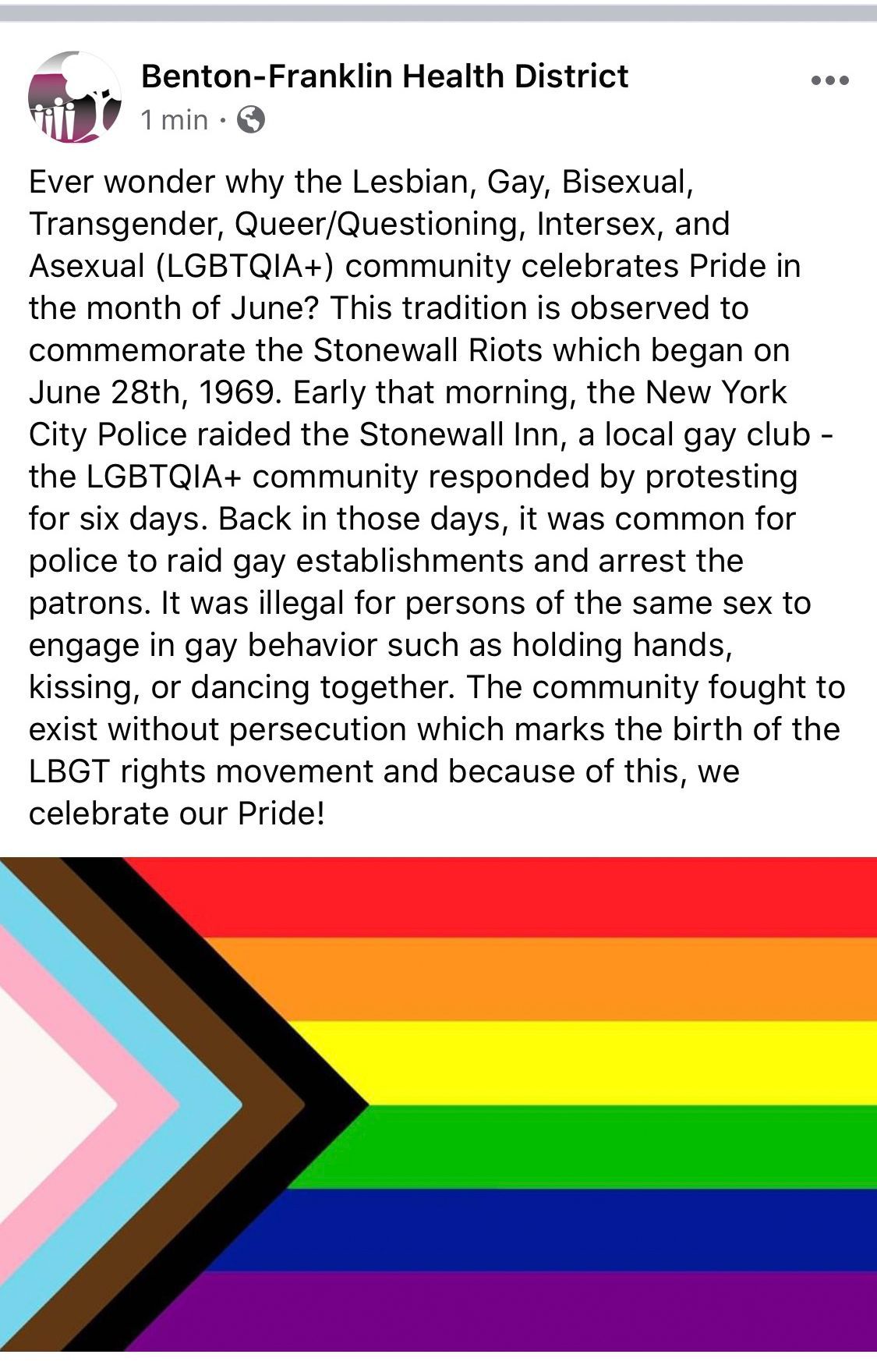 Clint Didier started the discussion by saying:
"It's been brought to my attention on their social media page, Facebook, a post that is celebrating and recognizing the LGBQ… RSTUV, whatever—community. And why is our Health Board putting out political ads? Our Health Board is for the safety of the community for medical and health reasons, not for propaganda on promoting groups."
Didier did not give any indication as to what he found to be 'political' or 'propaganda' about the posts. (It is the editorial position of Tumbleweird that LGBTQ+ rights are human rights, and not a political issue.)
Brad Peck, who teleconferenced into the meeting, said he concurred with Didier about the Facebook post.
"We ought not be making posts that are, or have the potential to be, perceived as political statements," he said. Peck also did not address what he found to be political about Pride or its history.
BFHD's own history stands in curious contrast to Peck and Didier's position.
"BFHD has a long history of providing medical services specifically to the LGBTQ community," said Brian Griffith. "There was a period of years when they were the only place to access free and anonymous HIV screening in town."
The Health District has been a longtime partner and supporter of the LGBTQ+ community, as one of the primary sponsors of the Tri-Cities' first Pride event, as Mark Lee shared with us in Tumbleweird's profile of him.
"I have my Hep A/B vaccination thanks to a program grant they wrote to provide the vaccine in the LGBTQ community free of charge," Griffith said. "You could even get that series of shots at the Out & About. They paid to have health staff on site there during bar hours to increase participation."
Griffith, a marketing professional, said that given the history of the Health District, this could not have been a 'comms' mistake.
"It was aligned with the decades long work that they've done here locally for our community," he said.
The Health District's leadership in acknowledging and supporting the community has also been integral when it comes to mental health. The persecution of the LGBTQIA+ community has had—and continues to have—devastating effects than can be seen in the rates of depression, anxiety, and suicide in that population.
In addition to their long-term support for the LGBTQ+ community being characteristic of BFHD, their social media content include casual posts celebrating other holidays and historic events without drawing any fire.
Peck acknowledged that BFHD has an established practice of posting about months throughout the year that are designated as recognition months. He continued by relaying that he had spoken with BFHD Administrator Jason Zaccaria to "have them cease doing those kinds of activities."
Zaccaria said that because the post "could have been seen as potentially politically charged," they had it taken down.
Kim Lehrman, Franklin County Commissioner Position 1 candidate, expressed her disappointment in the Commissioners' disrespect of the LGBTQ+ community.
"What we observed in Tuesday's Franklin County commission meeting is an important reminder of why it is we need to listen to the voices of others," said Lehrman. "We need leadership that respects the voices of marginalized communities and acknowledges that we need to do more to live up to our responsibilities towards them."
At the time of publication, the Benton Franklin Health District had a post up from June 18 that reads in part: "While many events have been canceled to protect the health of our (human) community, there are still lots of ways to celebrate your Pride!"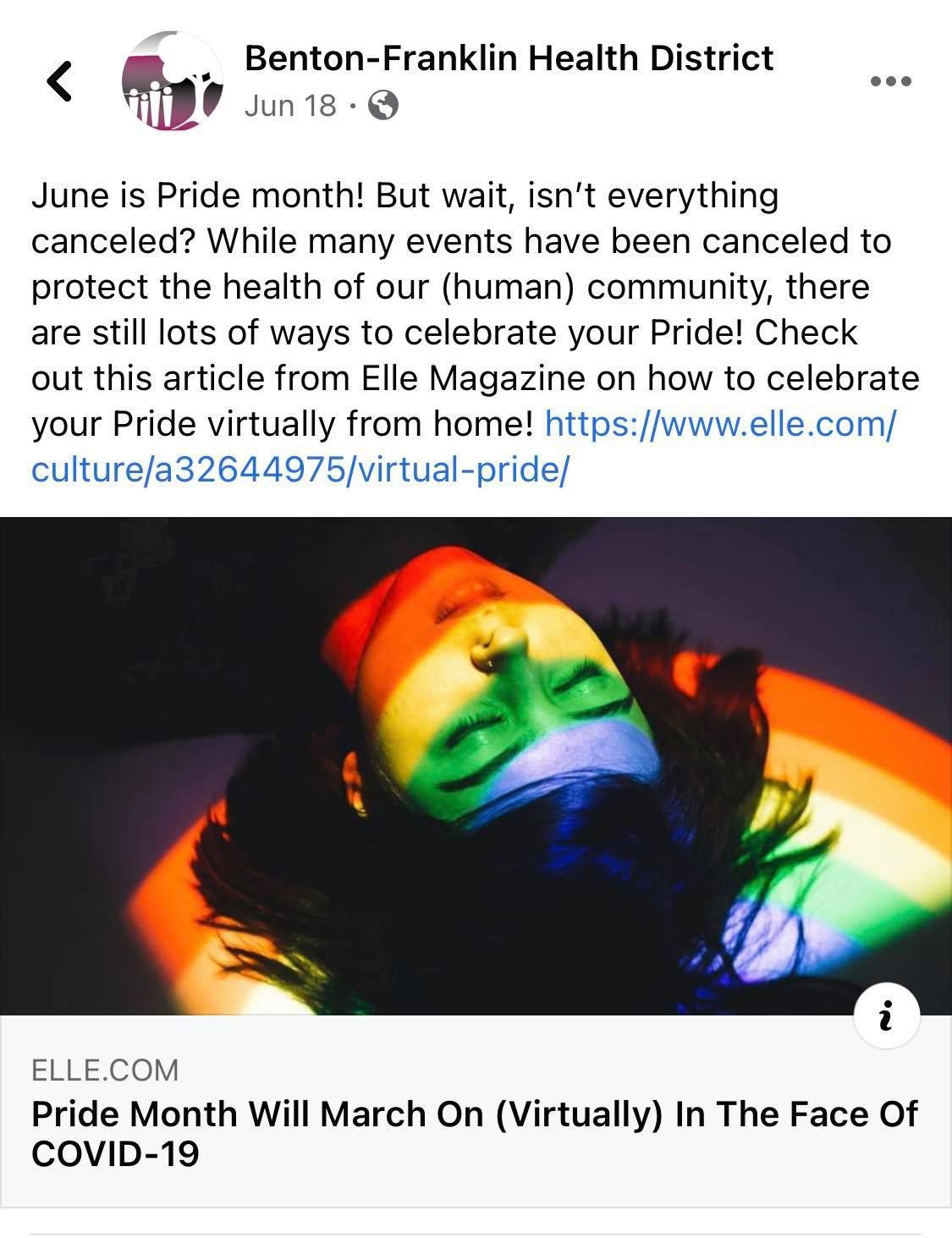 Responses on social media criticized the disrespect shown by Didier by calling constituents "the LGBQ… RSTUV, whatever—community." Didier has also been roundly criticized for holding large gatherings and for refusing to wear a mask despite the dramatic increase in COVID-19 cases in Benton and Franklin Counties.
---