Chauncey Bass (aka Bryan Christopher Hearne) likes to highlight love—real love, Black love. Drawing inspiration from the love I receive from my wife and children, as Chauncey Bass I like to show the perspective of a lover AND a fighter. Like a lion who will do anything to protect his queen and kingdom.
"Lxve, by any means necessary." -Chauncey Bass
Tell us a little about your latest project:
I Won't Move is a very emotional work. When Ahmaud Arbery died, I was frozen stiff and unable to move, let alone create a song. Watching yet another Black man die on my phone screen brought defeat to my psyche and made me feel like singing songs was not enough. And then George Floyd died, and then Breonna Taylor died. And it wasn't until the third protest that my wife and I had formed, when we started our Black Lives Matter Coalition, that I was able to channel all of the emotion into song and create this record.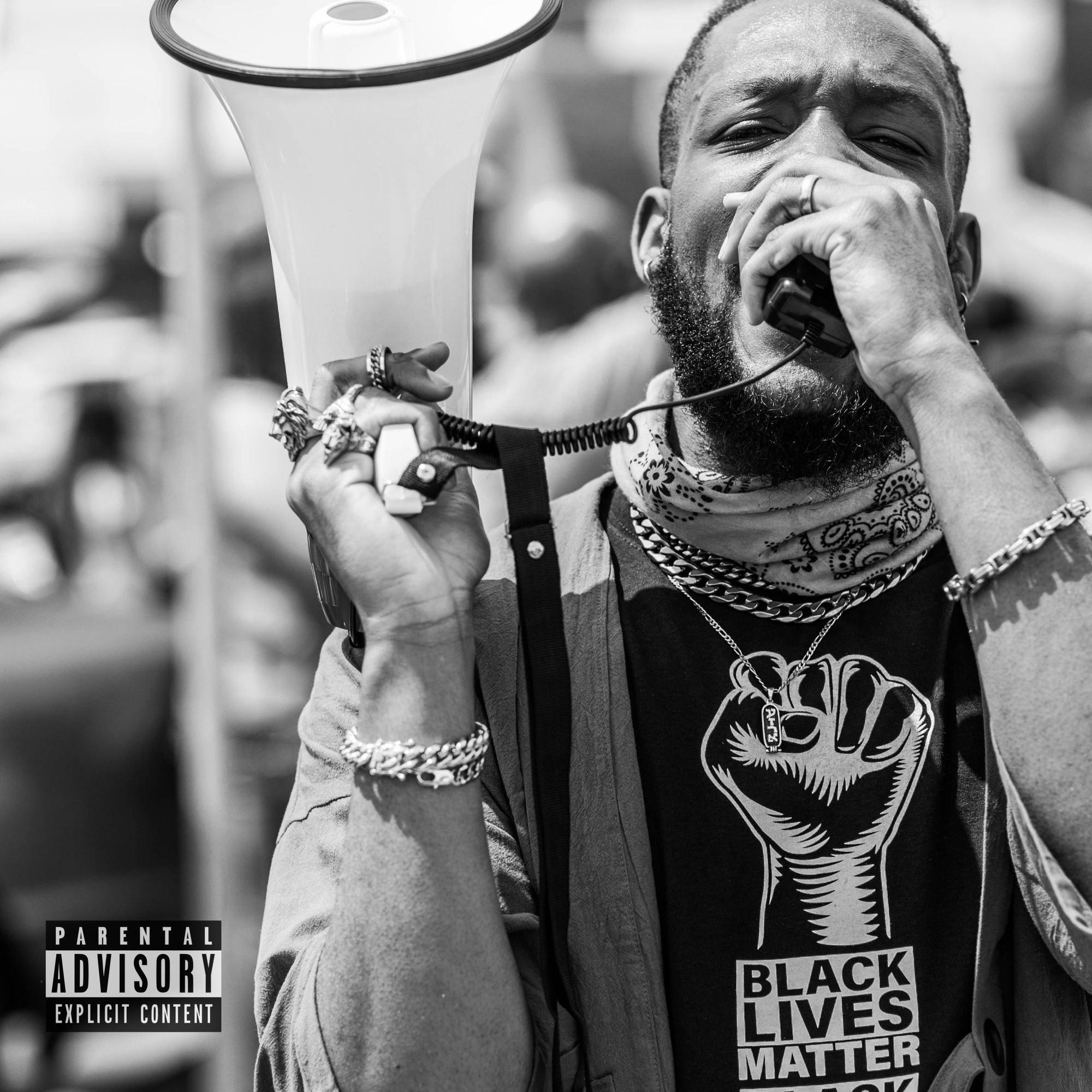 I Won't Move cover art by Madison Evangelista
How did you know you were ready to sit down with this material and start writing? What did that shift look like from resistance to being ready to channel the emotion into art?
I knew that I was ready to create again after my wife and I had formed the Black Lives Matter Coalition with Joel Nunn and Jordan Chaney. I was so excited to become an activist and community organizer, I had almost forgotten that I was Chauncey Bass (laughs). It was at our third protest in Kennewick, we did a demonstration that was amazing. Some 900 people all laid on the floor with our hands behind our backs while Sam Cook's "Change Is Gonna Come" played. Face on the floor, weeping onto concrete, it was that moment that I remembered that music is the sound of change, and I realized that I could contribute to the universe's Revolution Playlist.
How do you usually prepare yourself to create? Do you have any rituals, music, or routines that accompany your writing process?
I'm a huge fan of things happening organically. I cannot force a single thing to happen, or it will wither in front of me. I think an artist becomes an artist when they realize that inspiration, art, and creativity are everywhere. Wherever I am, whatever time it is, if even a slight spark of inspiration hits me, I begin writing. If the idea is for an instrumentation or a beat, I open my voice notes and hum and beat box into my phone. My iPhone notes, my notebooks at home—they all remain an organized chaos until I feel I'm finally ready to sit down and put the pieces together that form a body of work.
Can you describe your technique a bit?
My writing technique for this project was a method I like to call 'go as you go'. For each song, when I got to the studio, I only had the instrumentation and no words. So I'd sit in front of the microphone and kind of freestyle the melodies and the words until I had gotten through the whole song. Then I would go back and critique each line.
What are you currently working on?
I'm currently working on FOUR musical projects. A dancehall record, a spoken word album, a rap album, and an uptempo roller rink record. Doing it all simultaneously. My brain is fried, but in a very good way.
Where were you born? Where did you grow up?
I was born in Harlem, New York. But I spent my time growing up in Brooklyn and Staten Island. I began acting as a child at nine years old, so we did some bouncing around the country through middle school and high school, but we always had New York as home base.
How did you end up in the Tri Cities? What changed for you artistically when your location changed?
Being born and raised in New York, I've craved a change in scenery since high school. I moved to Los Angeles thinking it would be a nice switch, but the mentality there is the same as New York in some ways. In other ways it's much worse. I think most, if not every city boy grows up wanting more room to breathe when he's ready to start a family. My wife was born and raised in the Tri. When we got married here, I immediately started convincing her to start our family here. And Washingtonians are the most genuine people I've met in all my travels. Artistically, I think I've become more seasoned since the move. I became very inspired by the overall talent here in Tri Cities—the musicians, the painters, the photographers… Coming here, and I hope I'm making sense saying this, felt like Thanos picking up the final infinity stone.
Did you always know art would be an important part of your life?
No, I did not, but that's because I didn't define art right away. I started acting at an early age. I was nine when I landed my first big role, but I think I was too young to understand the depth of what I was doing. To identify it as art. Growing up in Brooklyn, I had uncles and cousins who were knowledgeable about hip hop and they taught me everything. I learned to freestyle in the 2nd grade. I was just trying to impress my family; I didn't see myself as an artist. So these two things, acting and rapping, were just organically coursing through my veins. If I'm honest, it wasn't until I went to Cal Arts in Valencia, California that I was truly able to embrace being an artist. I was 20 years old.
Often art and music accompany us through transformation and pivotal moments. Is there any song, performance, or work of art that you remember being profoundly affected by? Or a work that shifted your perspective in an important way?
This is an excellent question and I'm happy to share a very long-winded answer (laughs). Attending concerts in my 20s played a big part in my creativity. I think it's imperative for every musician to see their idols perform live. I know that's probably an insensitive thing to say while we're in the middle of a pandemic; sorry. I don't know if we as a nation will ever get to experience concert-going the way we used to, but I hope that in some way in the future, concerts will still be life changing. The first show that played a pivotal role to the artist I am today was Prince's 'Musicology: Live 2004ever'. I did not want it to end. If today I could still be standing in the exact same spot that I was in at Staples Center, 16 years later, I would be happy.
Kanye's 'Glow In the Dark Tour' with Rihanna, N.E.R.D., Lupe, Nas, and Santigold changed my entire life. The artistry, the creativity, the unforgettable drummer's battle. I could have overdosed on inspiration. Lastly, The Jay Z 'Fall Tour' brought me back to my roots as a New York rapper. He's truly one of the best hip-hop writers, but to see him in his element as one of rap's best performers gave me fuel.
What inspires you?
Black art inspires me a lot. I've grown a crazy infatuation with Black painters and Black muralists. I'm very inspired by love. Definitely motivated by my wife's love; she as a person inspires me most. I get a lot of fuel from watching sappy love films and romantic comedies with her. I'm also super inspired by fashion. I feel like Black fashion is an especially slept on art form that doesn't get enough credit for inspiring, and dare I say dictating, how the world dresses.
What other creative pursuits do you enjoy aside from writing and making music?
I like writing scripts. I've completed one and started on two others. I've been trying to keep that hush, but I've been telling everyone anyway. I'm sort of re-finding my passion for acting and it's a great feeling. I've been fighting this weird fear of getting in front of the camera again. I'm taking it slow, studying my favorite actors and absorbing techniques. I also love to draw. I typically like to draw Black women, but I think if you look closely at my work, it's all just different versions of my wife, so she's definitely a muse in more than one way for me.
Family is paramount to you. How is creativity woven into your family life? How does being a husband and a father impact your work?
I honestly don't know what kind of artist I would be without my family. My early stuff is garbage (laughs). I've heard that my content and my message is unique, but I don't think it's so far-fetched; I make music for people who have a lot to lose, but are willing to fight like they have nothing to lose in order to protect their tribe. I can name ten people off the top of my head that I know personally who feel this way.
A friend of mine told me that I've made fatherhood cool. I liked hearing that. Being a father to Ezra and Nova is absolutely amazing. They're so smart and so funny and so loving. And I really love the dynamic of our little family and how open and honest and vulnerable we are as a unit. Being a husband to an activist who is also a poet whose writing has changed lives, I couldn't have asked for a better muse. When we got married, we made it a point to learn every inch of one another's brains, and she has the most fascinating one. I think the coolest thing about our marriage is digging through each other's psyche and finding all of this happy, and all of this deep, and all this dark, and all this light inside one another and falling in love again and again with each thing we learn. Because of her, I'll never stop singing.
How have personal challenges impacted your work?
I've definitely found myself comfortable enough to share some past traumas in my music, especially in the I Won't Move EP. I think losing a friend to police brutality in 2015 definitely invited me to open up and show a side of myself that I may have previously been afraid to show in the past. And so there will definitely be more of that in the future; treating music as therapy.
How has sharing so authentically about your experiences through your music influenced your connection to your listeners?
I was just wondering the other day—why I'm able to have such comfortable conversations with people who listen to Chauncey—and I guess it's because of my openness. I've made a lot of friends who are like-minded dads and/or husbands at performances and online. I wouldn't really consider myself an extrovert, but the connection I have to my listeners is pretty solid.
How can art create change?
Oh, in so many ways! Hip-hop especially has been the blueprint of the way we dress, the way we talk, the way we move. I want my art specifically to spark change in the way we think. If through my music I can get an entire generation to see the importance of Black men treating Black women as queens and the importance of unity and loving one another… If my poems about the plight of the Black man and my personal accounts of police brutality and the emotions that I display can inspire a person to stop disliking a people due to the color of their skin, I'd feel like I've fulfilled a life purpose. But that's the bittersweet beauty in being an artist, right? You never get to know just how many lives you've touched.
Can you share your artistic philosophy?
The short version of this answer is: "You are art; embrace it." I believe that art is everything and it's everywhere. It's how we dress, wear our hair, how we accessorize, and in the way we walk. Art is inside of everyone, even people who don't consider themselves artists. Especially them, as a matter of fact. I believe that no thing and no one can stop an artist from creating. Your body is a canvas. Your house is a canvas. It's you. You are art.
What would you tell an aspiring writer, musician, or artist?
This is kind of a loaded question. I'm gonna fire off a few shots here (laughs). I would say to an aspiring artist that if you're in the business of seeking fame, you're in the wrong business. Fame is a weakness, and there are so many people who are ready to prey on that weakness to make a profit for only themselves and throw you away as soon as you're deemed unnecessary.
Protect your peace. It's cliche to say, but follow your heart. Stay loyal to your morals. Trust your instincts and make your art for YOU first and foremost. And ALWAYS have a fallback plan and get comfortable with failing. Failing is a part of life; you try different things until you find your niche, and then you try different things with your niche and just watch how things fall into place. But it's imperative to have that regular job that helps fund your dream. It's imperative to have that degree or certificate that sets you up for life while you're working to achieve your ultimate goal.
What is the best way for our community to support artists?
I love it here in the Tri, but I've definitely seen some inconsistencies in how we support art. My wife and I are definitely working on changing that. We believe that we need to keep the art flowing in the Tri Cities, and some ways to do that is by having more showcases for musicians, more installations and galleries for painters and photographers. We need to make it so that not only the public can come see an artist in their element, but the artist themselves can experience how they feel when it's their time to shine. I feel that that is a very key component to being an artist.
---
Ashleigh Rogers is the Creative Director at DrewBoy Creative
Find Chauncey Bass on Instagram: @lxvechauncey
Main photo of Chauncey Bass by JMedia.