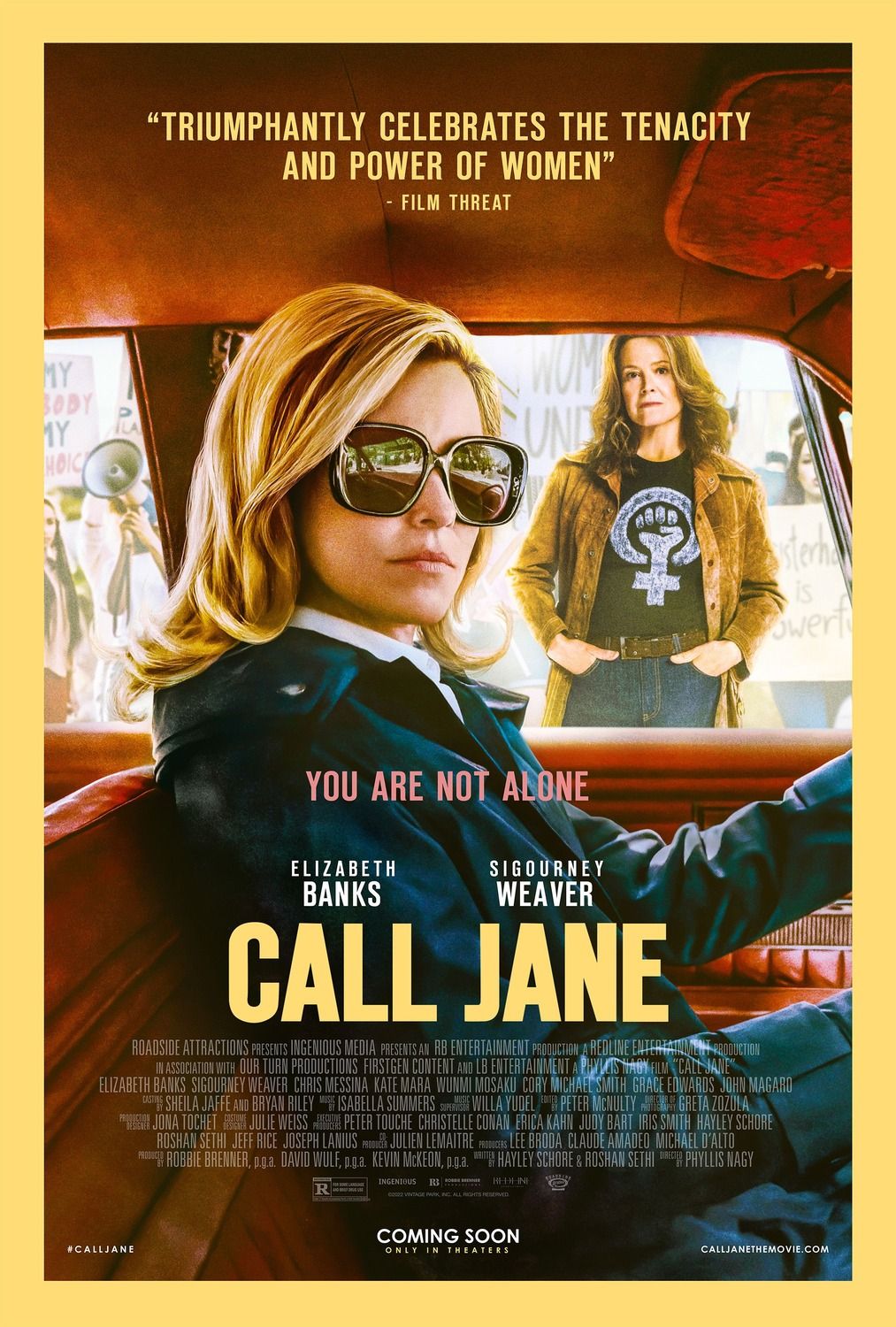 Call Jane
R 2h 01m
It's 1968 Chicago. Abortion is illegal in the United States. Joy (Elizabeth Banks) and Will (Chris Messina) are happily expecting a 'late' baby, as they already have a 14-year-old daughter. One day, Joy gets dizzy and almost passes out. She is diagnosed with a heart defect and her doctor tells her that, sadly, if the pregnancy continues, she has less than a fifty percent chance of surviving it. Joy and Will appeal to the hospital medical board, which flatly refuses her request for an abortion to save her life.
Despondent, Joy sees an advertisement for 'pregnancy help' that says to call Jane. Joy calls the number and arranges for an abortion. Gwen (Wunmi Mosaku) picks up Joy at a predetermined place and makes her put on a blindfold. Gwen drives Joy to a secret location, where Joy pays $600 and is taken to a makeshift office where a doctor gives her an abortion. After the procedure, Joy is taken to a recovery area where Virginia (Sigourney Weaver), who runs the network, gives her advice and comfort. Joy is then slowly pulled into this illegal network and begins assisting the women who run it.
The movie shows the actual human/horrific situations many women and young girls are in when they seek the procedure. From being in the room with Joy during her procedure to fighting to legalize abortion, this film covers a lot of ground. It is an engaging and well-acted film on a difficult subject.
See It If You're Down With: History of women's reproductive rights, U.S. history, Elizabeth Banks, Sigourney Weaver, Chris Messina, Wunmi Mosaku.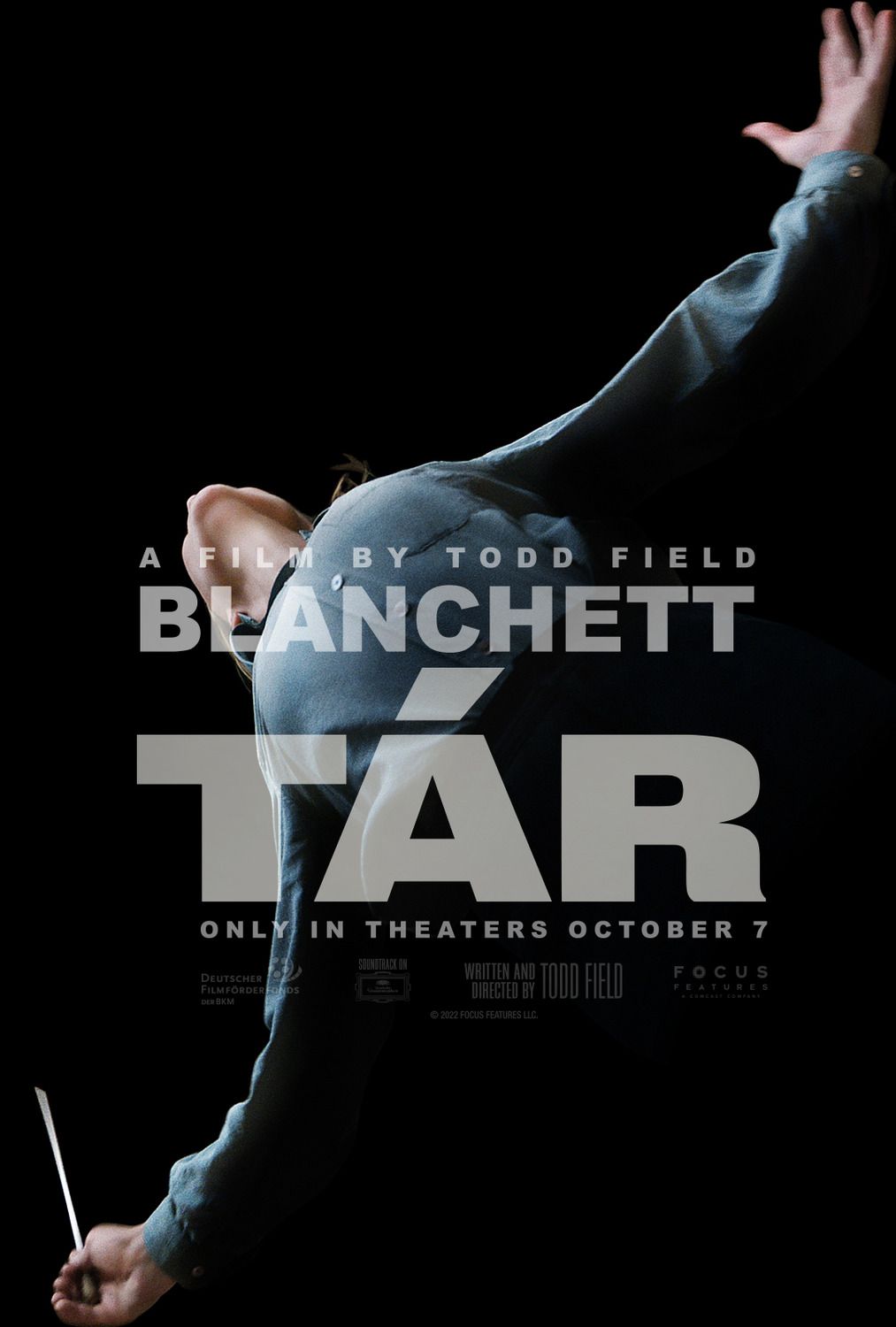 TÁR  R
2h 38m
Lydia Tár (Cate Blanchett) lives in a rarefied space. She's a woman at the top of the male-dominated classical music world — the principal music director of the Berlin Philharmonic, a renowned conductor and composer, and a virtuoso pianist. As the story unfolds, we begin to see the arrogance, selfishness, and manipulation inherent in her personality. Lydia treats her assistant, Francesca (Noémie Merlant), with disdain, frequently barking at her and ultimately dismissing her. We observe an unknown female watching an interview with Lydia at the beginning of the film, and later, recording a brutal classroom exchange between Lydia and a student. You get the feeling Lydia is not universally beloved.
The only person Lydia doesn't attack verbally is her daughter, Petra (Mila Bogojevic). When Lydia learns about the suicide of a former protégé (our unknown observer), she's only concerned about protecting herself. She rails against Francesca to ensure any emails related to her interactions with the suicide victim have been deleted.
This is a slow burn, a genuine art film and character study about power and how it corrupts. Blanchett gives a commanding and fierce performance earning her a sixth Academy Award® nomination for this year's Best Actress category. The film is also nominated for Best Picture.
MUST SEE for one of the best performances of the year and one of the best art house movies I've seen in awhile!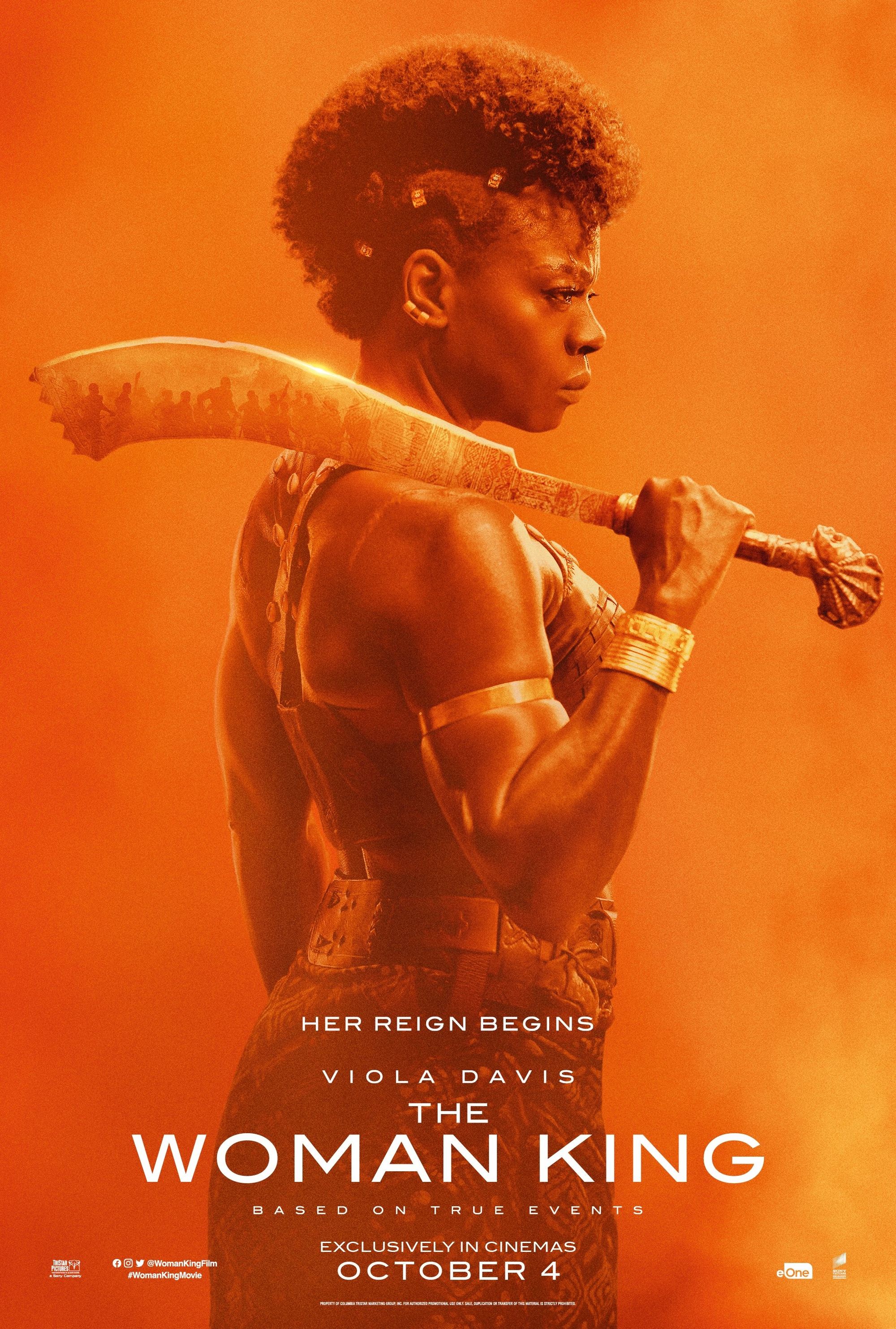 The Woman King
PG -13 2h 15m
It is 1823, and the Kingdom of Dahomey is one of the most powerful kingdoms in Africa. It remains so by maintaining an elite army of skilled female warriors called Agojie. Nanisca (Viola Davis) is the general of the Agojie and fiercely loyal to her king, Ghezo (John Boyega). Nanisca is so trusted that she sits on the king's advisory council. Nanisca tries to convince the king to abandon the kingdom's slave trade and seek riches in other places. Nanisca's second in command, Izogie (Lashana Lynch), is fully behind her and in charge of recruits and training.
We see recruit Nawi (Thuso Mbedu) as she begins the brutal training to become an Agojie. Nawi brings new ideas with her to protect her kingdom but also a secret in her past that threatens Nansica. Other government factions want to continue to use the slave trade and they connect with outsiders to attack Dahomey.
The writing is extraordinary, and you are completely invested in all the characters. This movie has everything: amazing action scenes, fight choreography, and uniformly excellent acting across the board. I am extremely disappointed that Viola Davis and Lashana Lynch did not receive Academy Award® nominations; they were robbed!
MUST SEE! One of the best films of 2022!
---
Academy Awards nominations were released on January 24.
The following films were nominated for Best Picture: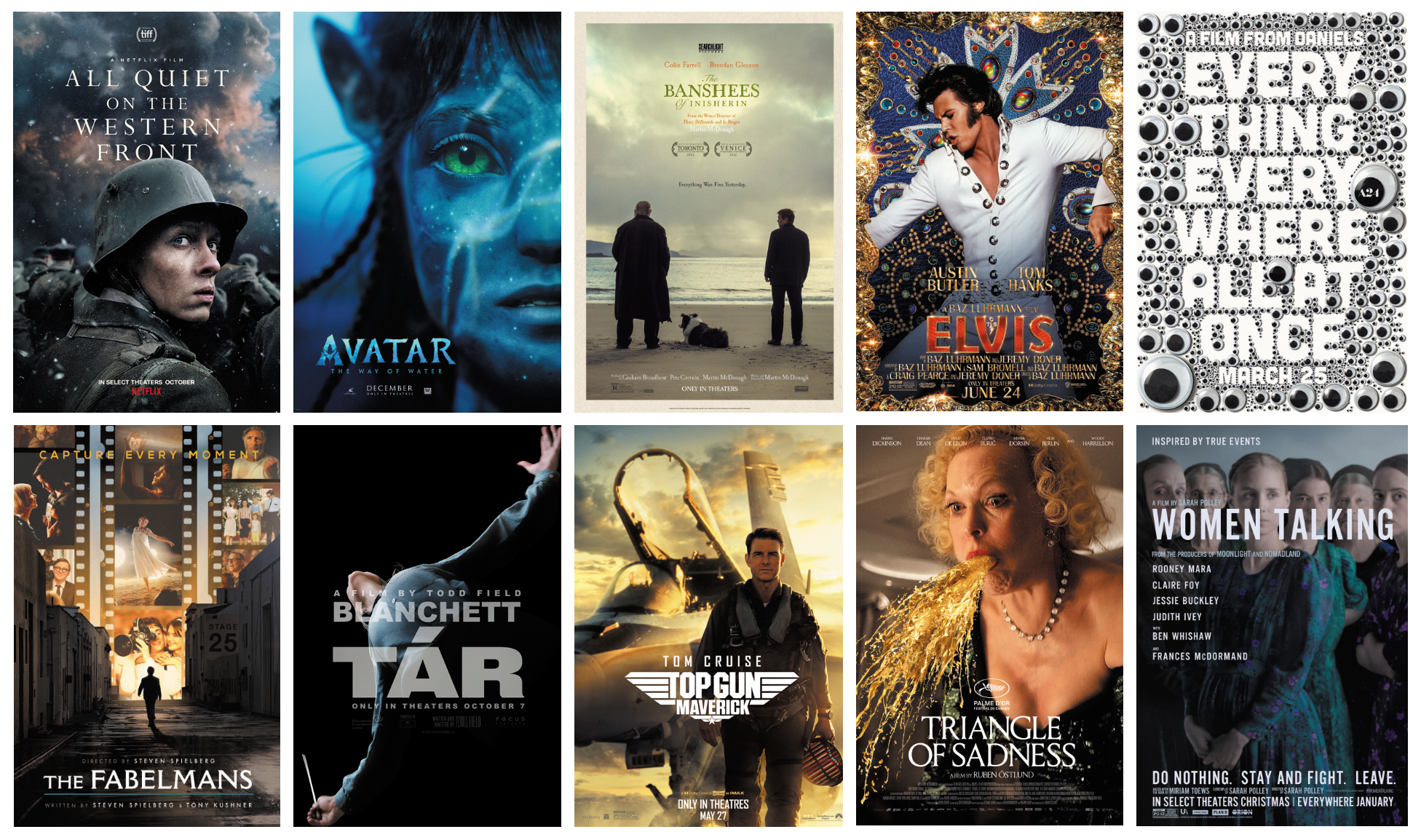 ALL QUIET ON THE WESTERN FRONT
AVATAR: THE WAY OF WATER
THE BANSHEES OF INISHERIN
ELVIS
EVERYTHING EVERYWHERE ALL AT ONCE
THE FABELMANS
TÁR
TOP GUN: MAVERICK
TRIANGLE OF SADNESS
WOMEN TALKING
Leading the pack with 11 nominations is Everything Everywhere All At Once. It's a bold, innovative film that also boasts four acting nominees and a history-making nomination for Best Actress® nominee, Michelle Yeoh. She's the first Asian actress to ever be nominated in the category. The Banshees of Inisherin was second, with eight nominations.
---
Best Actress Nominees:

CATE BLANCHETT: Tár
ANA DE ARMAS: Blonde
ANDREA RISEBOROUGH: To Leslie
MICHELLE WILLIAMS: The Fabelmans
MICHELLE YEOH: Everything Everywhere All at Once
---
Best Actor nominees:

AUSTIN BUTLER: Elvis
COLIN FARRELL: The Banshees of Inisherin
BRENDAN FRASER: The Whale
PAUL MESCAL: Aftersun
BILL NIGHY: Living
---
Actress in a Supporting Role:

ANGELA BASSETT: Black Panther: Wakanda Forever
HONG CHAU: The Whale
KERRY CONDON: The Banshees of Inisherin
JAMIE LEE CURTIS: Everything Everywhere All at Once
STEPHANIE HSU: Everything Everywhere All at Once
---
Actor in a Supporting Role:

BRENDAN GLEESON: The Banshees of Inisherin
BRIAN TYREE HENRY: Causeway
JUDD HIRSCH: The Fabelmans
BARRY KEOGHAN:The Banshees of Inisherin
KE HUY QUAN: Everything Everywhere All at Once
---
To see a list of winners in the 95th annual Academy Awards, visit:
www.cnbc.com/2023/03/12/oscars-highlights-complete-list-of-winners.html
---
Alanna Smithee is a former employee of the Academy of Motion Picture Arts & Sciences and a lifelong movie fan.